There is a lot of research, math, and resources needed to come up with accurate pricing for importing a kayak. Before you grab that paddle, follow us as we maneuver through the 12 things you need to know about shipping a kayak easily and effortlessly.
Shipping a kayak is not as easy as it seems. Many kayaks are shipped overseas to handle consumer demand for the year-round water sports season.
Discover the Dimensional Weight of Your Kayak
What's the dimensional weight of your kayak? If you want to find out how much it would cost to ship a kayak, you need to to the math. Multiply the length times width times height of your kayak, making sure to measure at the tallest and widest points of your vessel. Divide your answer by 194; which calculates the weight in pounds. Need an equation? Here you go: L x W x H/194 = Pounds of dimensional weight of your kayak.
Work with a specialist to make importing and exporting to the USA a hassle-free process.
Get the details you need with our import consulting services.
Wrap Your Kayak to Protect It
Kayaks are delicate vessels. Wrap the cockpits with bubble wrap and thick shipping blankets to keep your boats safe from damage during shipping. However, remember that blankets and extra packing protection will add to the bulk and weight of your shipping total.
Utilize Kayak Manufacturers for Advice
If you are new to the importing business, check with the distributors or kayak manufacturers for any advice they may have on kayak importing. If kayak manufacturers recommend their vessels are shipped in a certain manner, you should follow their recommendations.
Pick a Kayak Shipping Process
Kayaks placed in custom crates or on pallets can be moved via forklift. We recommend using a dry van to transport the vessels on land. Dry vans can protect the boats and stack them efficiently during the transport process. A removable gooseneck is used to place the kayaks in dry van racking.
Prepare Your Kayak for Shipping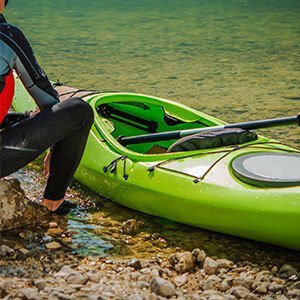 When shipping a kayak overseas, remember to leave your packaging open and accessible. Why? Your kayak freight is susceptible to searches prior to loading onto an airplane or vessel. Transportation and Security Administration regulations and rules require the screening of cargo. Tape guns can assist with quick sealing after last-minute inspections are performed.
Use a Custom Crate
Custom crates decrease shifting that can happen during the kayak transport process. While it will take longer to load and unload your kayak cargo from a crate, the protection the crates provide is worth the extra load time. Crates are lifted by leveraging a forklift that does the heavy lifting for you. Estimate at least two hours into your shipping rate quote for forklift loading and unloading.
Loading Calculation Tip: Try timing your crew to see how long it takes them to load and unload one kayak shipment. Multiply that amount by the number of kayaks you are shipping on one truckload and you'll have a better estimate of your shipping timeline. Crunching the numbers ensures you are prepared ahead of time for potential additional charges.
Go ahead and buy a customs bond today
and get your freight on the way around the globe.
Shipping a Kayak Overseas
If you are shipping a kayak overseas, make sure you prepare to calculate additional taxes, fees, and customs duties.
U.S. Customs and Border Protection (CBP) requirements for importing a kayak into the United States include:
Drop Your Kayak Off at the Shipping Terminal
Looking to save money on kayak shipping costs? Drop your kayak off at the shipping terminal instead of having it picked up somewhere else, which adds to your overall shipping costs. You can save more money by having the kayak picked up at the terminal destination of choice.
Choose a Freight Shipping Company
Select a freight shipping company that can easily handle the size and dimensional weight of your boat. Import paperwork you must follow when importing overseas includes:
Connect with a Licensed Customs Broker
Connect with a Licensed Customs Broker to make sure your imports clear customs when you are shipping a kayak. Customs Brokers handle all of your import requirements. Utilize a Customs Broker when:
Purchase a Customs Bond Today
Kayak imports require customs bonds when their value exceeds $2,500 and you must deal with laws and regulations from other countries. Figure out which customs bond type you need today. We also offer cargo insurance through our network of supply chain companies. Let us walk you through purchasing additional insurance that will protect you and your imports.
Utilize a Licensed Customs Brokerage Service
Are you still confused on shipping a kayak, shipping a yacht and the importing process? Make it easy on yourself and contact us today. Our Licensed Customs Brokers handle your kayak shipping needs.
Our value-added customs brokerage services work seamlessly to provide you with a stress-free importing process. Have questions? Click the chat box in the bottom right corner of your screen and we can answer you right now!