Importing a dog into the United States can often require cutting through miles of red tape. You'll need to find the right import partner, compile the right documents and health certificates, and more. However, things got even trickier for some importers this week, as a new dog import ban went into effect.
As of June 14, 2021, a dog import ban impacting 113 countries is in effect. The Centers for Disease Control and Prevention (CDC) implemented the ban because of an influx of falsified rabies certifications and documents. The ban is a temporary suspension of imports and is expected to last one year.
There are more than 1 million dogs imported into the U.S. each year. This means the importation of dogs is a big business and a big deal for many. Will the new dog import ban impact your business? Read on to learn more and get all the information you need to import a dog in 2021.
Why Was the Dog Import Ban Put Into Effect?
Dog adoptions have surged throughout the 2020 coronavirus pandemic. Adopters flocked to shelters to take home pandemic pooches. Adoptable dogs were in short supply, and many want-to-be pet owners turned to overseas sources for furry friends.
The increased demand for dogs led to an influx of dogs entering the United States from around the world, as many people chose to adopt furry friends from overseas. Adopters found out that there is a lot of legwork and documentation that goes into importing a dog. Dogs from abroad must undergo a health check and come with certificates showing they are in good shape and have had the proper vaccines.
Imported dogs are required to come with a rabies certification. The rabies certification is required by the CDC and must show the name and address of the dog's owner, the dog's microchip number, the dog's identifying information (breed, age, sex, color, markings), the date of rabies vaccination and vaccination expiry date, and the administering veterinarian's information.
However, the increase in demand put pressure on some countries with adoptable dogs to export. This pressure likely led to errors with required dog import documents, specifically rabies certificates. According to information reported by NPR, the CDC found a 52% increase in falsified or fraudulent rabies certifications in 2020. In fact, more than 450 dogs imported into the U.S. in 2020 had falsified or fraudulent rabies certification.
The increase in fake records became a serious problem. The United States eliminated rabies in dogs in 2007 thanks to routine shots and other vaccination programs. Imported dogs with fraudulent rabies certificates might be at risk of potentially having, contracting, or even spreading this disease. Because of these fraudulent rabies certificates, the CDC enacted a dog import ban from 113 high-risk countries on June 14, 2021.
An Import Guide That's For The Dogs!
Everything you ever wanted to know about importing dogs into the US is packed in this compact but comprehensive eBook.
A HUGE state-by-state rundown of requirements for dog imports
A thorough explanation of the required documentation
A complete list of companies that physically transport animals all the time
And who was it written by? The premier licensed professional experts in importing into the US.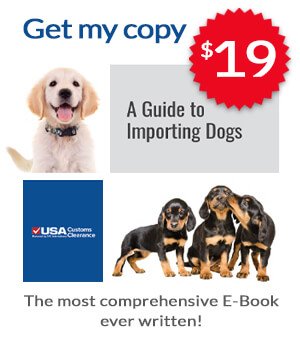 What Countries Are Affected by the Dog Import Ban?
Dogs from 113 countries are banned from import into the U.S. These countries have been deemed high-risk by the CDC. About 6% of the 1 million dogs imported into the U.S. each year come from these high-risk countries.
Countries around the world are affected by the new dog import ban. What countries are affected by the dog import ban? The 113 countries impacted by the CDC's 2021 dog import ban are:
Afghanistan
Algeria
Angola
Armenia
Azerbaijan
Bangladesh
Belarus
Belize
Benin
Bhutan
Bolivia
Botswana
Brazil
Brunei
Burkina Faso
Burundi
Cambodia
Cameroon
Central African Republic
Chad, Comoros
China (excluding Hong Kong and
Taiwan)
Colombia, Cuba
Côte D'Ivoire (Ivory Coast)
Democratic Republic of the Congo
Djibouti
Dominican Republic
Ecuador
Egypt
El Salvador
Equatorial Guinea
Eritrea
Eswatini (Swaziland)
Ethiopia
Gabon
Georgia
Ghana
Guatemala
Guinea,
Guinea-Bissau
Guyana
Haiti
Honduras
India
Indonesia
Iran
Iraq
Jordan
Kazakhstan
Kenya
Kuwait
Kyrgyzstan
Laos
Lebanon
Lesotho
Liberia
Libya
Madagascar
Malawi
Malaysia
Mali
Mauritania
Moldova
Mongolia
Morocco,
Mozambique
Myanmar (Burma)
Namibia
Nepal
Nicaragua
Niger
Nigeria
North Korea
Oman
Pakistan
Peru
Philippines
Qatar
Republic of the Congo,
Russia
Rwanda
Sao Tome and Principe
Saudi Arabia
Senegal
Sierra Leone
Somalia
South Africa
South Sudan
Sri Lanka
Sudan
Suriname
Syria
Tajikistan
Tanzania (including Zanzibar)
Thailand
The Gambia
Timor-Leste (East Timor)
Togo
Tunisia
Turkey
Turkmenistan
Uganda
Ukraine
United Arab Emirates
Uzbekistan
Venezuela
Vietnam
Western Sahara
Yemen
Zambia
Zimbabwe
When Was the 2021 Dog Import Ban Put in Place?
The dog import ban was put in place on June 14, 2021.
How Long Will the Dog Import Ban Last?
The 2021 dog rabies import ban is expected to last one year, which is through June 2022. However, the CDC has stated that it will review the situation and the ban periodically.
What Else Do I Need to Know About the Dog Import Ban?
The CDC has released a few other details about the 2021 dog import ban.
One important piece of information about the dog import ban is that it applies to dogs that are transported as cargo or checked as baggage on passenger flights or are hand-carried into the U.S. at an international airport. Service dogs, emotional support animals, and puppies are required to comply with the ban's guidelines.
Can I Request an Exception?
It is possible to request an exception from the CDC. You may request an exception to the dog import ban by seeking written approval from the CDC. The request to import a dog from a country impacted by the ban should be made at least 6 weeks in advance of the desired import date.
To request an exception, you need to complete the CDC Dog Import Permit paperwork and email the CDC directly at CDCanimalimports@cdc.gov. Be sure to include all supporting documents as an attachment.
Keep in mind that the CDC is only issuing exceptions to the 2021 dog import ban on an extremely limited basis. Remember, the ban is in effect to protect the health and safety of all dogs, not just those imported into the United States.
Need help communicating with the CDC or other government agency about your imports? An importing consulting session can provide answers from a real, live expert.
Download Our Dog Import Guide Now
Even though the dog import ban has set some limitations, it is still possible to bring a furry friend into the U.S. from abroad.
If you need help with the process, you'll find all the information you need to get started in our Guide to Importing Dogs. The downloadable guide provides instant access to regulatory requirements on a state-by-state basis and an exhaustive list of partners ready to help you import a dog right now.