As if 2021 wasn't hard enough, West Coast port congestion is plaguing shippers and importers. A surge in the traffic of cargo coming into United States ports on the West Coast is causing serious delays and detentions, leading to all kinds of frustrations. What's making the situation even more difficult is that it's predicted to get worse before it gets better.
It's a fact. West Coast port congestion is a serious issue for all kinds of importers. The congestion is being caused by a perfect storm of conditions, from capacity limits to logistical bottlenecks. Importers and shippers might be able to avoid West Coast port congestion by redistributing cargo to other ports, using better demand planning strategies, and working with a strategic importing partner.
Get the information you need to fully understand the problems facing those importing goods through West Coast ports and marine terminals and let your cargo steer clear of congestion. Avoid supply chain disruption by getting assistance from a strategic import partner.
Having trouble with the west coast port congestion?
Our import experts have solutions to help you
What is the Definition of Port Congestion?
You know that port congestion is a problem, but do you know exactly what it is? What is the definition of port congestion?
The definition of port congestion is simple. It occurs when a cargo ship arrives at a port and cannot berth because the port is already full. It leaves ships waiting in a line waiting for a place at the port to open. It is a "traffic jam" of ships at the port complex.
Port congestion is frustrating for everyone involved, from port operators to ocean carriers to importers to customers who need a strong supply chain.
There are many factors leading to port congestion, especially on the western seaboard. Ports in Los Angeles and Long Beach are seeing serious congestion, but even the Port of Oakland and the Seattle Port in Washington are backed up. Let's look at some of the reasons behind West Coast port congestion.
Why are West Coast Ports Congested?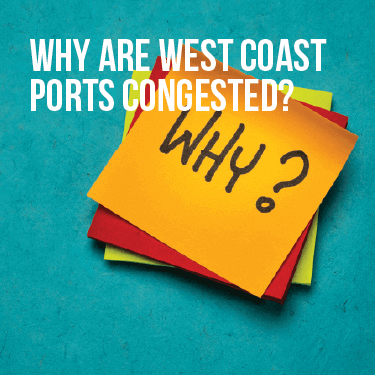 We've established that West Coast port congestion is a problem and even defined it. Now let's look at some of the reasons why posts in California and up the western seaboard are dealing with heavy traffic and congestion.
A few of the factors causing West Coast port congestion include:
Shipping container shortages
Capacity crunch
Increased volume of imports
Logistical bottlenecks
Take an in-depth look at each of these factors and get the answers you need about the reasons behind the problems at West Coast ports.
Shipping Container Shortages
Shipping containers are the backbone of global trade. These large corrugated vessels are essential in transport overseas, via rail, and even down highways. However, like many kinds of essential equipment in 2021, shipping containers are currently in very scarce supply.
How bad are the shipping container shortages? Imports coming out of India and China often have to wait weeks to start moving because shipping agents simply can't find a container to move the goods.
Importers and shippers are having trouble finding containers because they are simply in the wrong spots, according to information from business news site Quartz. How did this happen? When the COVID-19 pandemic raged around the world, freight essentially stopped moving out of Asia. As a result, empty freight containers started piling up in the U.S. You might find a surplus of empty containers in rail yards across the country and other places where they aren't helpful to importers.
It is impractical and expensive for transport and logistics companies to haul the empty containers back where they belong, so they are simply staying put and creating a shortage.
There is a solution in sight though. Container production is at an all-time high, which means there will be many shipping containers available on the market soon. Some business experts predict the shortage will be resolved in 2022.
In the meantime, you can check out our recent post about how to get help with the shipping container shortages.
Capacity Crunch
Another factor leading to West Coast port congestion? Reduced truckload capacity. What does domestic truckload capacity have to do with shipments getting stuck and causing problems at ports? A lot.
If shippers can't find trucks to move items away from ports, they get backed up and linger there. This means there isn't room for more shipments coming in and creates an ongoing backlog, leading to even more problems with port congestion.
Cargo and container ships are huge. Just how much do these behemoths carry? It might take up to 8,000 trucks to transport the goods moved on a single container vessel. That's a lot of trucks and creates a serious backlog when truck capacity isn't available.
Why is truckload capacity so tight as 2021 rolls into 2022? There are fewer available drivers on the road today due to an aging workforce, the COVID-19 pandemic, and other factors. This means there are simply fewer trucks on the road today to move freight.
Increased Volume of Imports
West Coast port congestion also stems from a very simple factor. The volume of imports coming into the U.S. is surging.
Year-over-year numbers from Supply Chain Dive indicate that imports were up 23% at the Port of Los Angeles in December 2021 when compared to December 2020. The Port of Long Beach had similar year-over-year numbers, up 26%. Long Beach and Los Angeles are the only ports reporting a surge, as this trend is seen nationwide.
What is causing the increase in imports? As the nation's economy recovers from the COVID-19 pandemic, consumer spending is on the rise. In fact, data from the Bureau of Business Analysis show that consumer spending in the U.S. rose 6.5% in the second quarter of 2021.
Increasing demand is driving the need for goods from overseas and creating a growing number of imported goods. The growth is expected to continue into 2022.
Logistical Bottlenecks
Imports are getting stuck at terminals and creating logistical bottlenecks, leading to West Coast port congestion.
How bad are the bottlenecks? According to information from the Pacific Merchants Association, a quarter of all shipments coming into West Coast ports are simply sitting there for more than 5 days.
These dwell times are stemming from a labor shortage. Port workers simply can't keep up with the increased volume of imports. Truckload capacity problems aren't helping, either, as sometimes containers just sit until a truck can come to move them.
All in all, the above factors are a perfect storm causing a lot of problems for import delays and port congestion. Not only is this causing congestion, it's also making imports more expensive. We've put together a list of 5 Best Practices to Reduce International Freight Costs to help you keep your budget in the black.
Having trouble with the west coast port congestion?
Our import experts have solutions to help you
Why Are There Container Ships Off the Coast of California?
There have been loaded container ships sitting off the coast of California since early Spring of 2021. In fact, sometimes as many as 4 dozen ships are sitting off the coast.
Why are these container ships waiting off the coast of California? West Coast port congestion. Many of these ships are sitting and waiting in San Pedro Bay to get to the Long Beach and Los Angeles ports. They can't get into the ports because the terminals are full.
The port congesting is being caused by the logistical bottlenecks facing the industry now. The shipping container shortage, capacity crunch, and volume of imports are causing delays.

Another factor causing ships to back up? The reduced number of dockworkers post-COVID has slowed the time it takes to unload ships. For example, it used to take 3 days for dockworkers to unload a single container ship. Now it might take up to 7 days.
The tightened capacity and West Coast port congestion are causing all kinds of problems and leaving vessels to wait off the coast.
Why Are Shipping Containers Being Delayed?
Cargo vessels and shipping containers are seeing delays as 2021 wraps up and 2022 looms.
Numbers reported by the Wall Street Journal in May 2021 indicated that up to 40% of container ships are making it to port on time. In previous years, up to 70% on-time was the average industry benchmark for container shipping.
The container shipping delays started during the COVID-19 pandemic. It normally takes container vessels about 14 days to cross the seas between China and Los Angeles; now it takes up to 33 days. Add on the additional week it might take to unload the container, and your freight is up to 21 days behind schedule based on previous standards.
Why are shipping containers being delayed? It goes back to port congestion. The container vessel carrying your imports might be among the ships stuck in the bay, waiting for a spot to open at the port. Your container might also be slow to unload. It might take additional time to find truckload capacity to move your freight. All these factors can add up to significant delays for shipping containers.
Just how are the container delays impacting supply chains? Some companies are having trouble getting raw materials and the essential components of their products. We've all heard about the semiconductor shortage that has seriously impacted the tech and automotive sectors; other industries are seeing similar challenges.
Let's take a closer look at how West Coast port congestion is impacting imports.
Having trouble with the west coast port congestion?
Our import experts have solutions to help you
How Does Port Congestion Impact Imports?
Almost every industry in the U.S. relies on some kind of imported good. And if goods aren't being imported, they are likely being exported. This means that shipping container delays and port congestion can impact all kinds of businesses.
Port congestion is leading to all kinds of problems. For example, stores might not have inventory to meet consumer needs. Shippers might have to opt to move goods via air freight, which is much more expensive, to ensure timely delivery. Consumers might see the price of goods rise from increased demand. Seasonal goods might not arrive in time for sale. Time, money, fuel, and other resources might go to waste because of congestion.
Almost everyone in the business world is impacted by port congestion. Importers, exporters, brokers, freight carriers, forwarders, and even terminal operators are all dealing with additional stress and cost stemming from the port congestion. This is likely particularly alarming, as peak season for shipments and imports is sneaking up.
The best way to avoid the impact of the problems at today's ports is to avoid congestion altogether. Let's look at a few ways you can avoid West Coast port congestion with your next shipment.
How Can I Avoid West Coast Port Congestion?
October is traditionally the busiest month at U.S. container ports. This means that shippers and importers need to act now if they want to avoid congestion for their peak season goods. While some factors -- like port infrastructure -- are out of the control of those moving goods, there are a few other strategies to implement to avoid the West Coast port congestion.

Let's break down a few things shippers and importers can do to keep their freight flowing despite the logjams caused by West Coast port congestion. Strategies to implement might include:
Find alternative sources for products
Consider using other ports
Pre-plan for product demand
Work with a strategic import partner to find solutions
Let's take a closer look at each of these strategies and see what it takes to implement solutions to West Coast port congestion.
Find Alternative Sources for Products
Many of the ships waiting in limbo because of West Coast port congestion are coming from Asia. China and India are huge sources of American imports which commonly are commonly shipped through West Coast ports.
However, did you know you might be able to get what you need right here in North America and avoid all the congestion? Mexico and Canada are major exporters of goods to the U.S. You can find all kinds of raw materials and products coming from companies right here.
If you can't source the goods you need from North American, Europe or South America might be other options. Goods imported from these continents can enter East Coast or even Gulf Coast ports.
Consider Using Other Ports
Can't find what you need from sources outside Shanghai? That's okay, too. You can still avoid West Coast port congestion by shipping goods through the Suez Canal to an East Coast or Gulf Coast port.
Volume is up at ports around the country, but congestion remains minimal. In fact, information from the Journal of Commerce suggests that volume at East Coast ports from Southeast Asia is actually down 33% in 2021 over 202.
Major East Coast ports to consider using instead of Los Angeles or Long Beach include the Port of Charleston, Port of Wilmington (NC), Norfolk International Terminals, Port of Baltimore, Port of Miami, and Port Jersey.
The longer transit times it takes to get to the East Coast port still might be quicker than dealing with West Coast port congestion and delays.
Pre-Plan for Product Demand
Crunch the numbers and consider your company's transportation demand planning. If you can, lengthen the transit times you require between the point of origin and final destination to accommodate potential delays and other problems at the port.
If you build the right demand forecast and accommodate for congestion, you likely won't feel the crunch some shippers do when facing the potential delay of a shipping container. Take the stress and guesswork out of demand by properly planning ahead.
Work with A Strategic Import Partner
The single most important strategy you can implement to help avoid the West Coast port congestion is to partner with a strategic ally when importing goods.
What is a strategic import partner? Look for a Licensed Customs Broker partner, like USA Customs Clearance, that is ready to go to work for you. From getting the information you need to properly plan your shipment with inclusive Import Consulting Services to taking advantage of robust U.S. Customs Brokerage Services, a strategic partner can handle all your importing needs.
The right partner can plan a shipment of goods from overseas around the congestion on the West Coast and even ensure you clear customs without hassle. Having a strategic import partner on your side is a game-changer when bringing in goods from overseas.
In addition to helping you avoid shipping into a gridlocked port, a strategic import partner like USA Customs Clearance can help you avoid financial penalties and fines, cargo seizure, and other disasters at the border.
Having trouble with the west coast port congestion?
Our import experts have solutions to help you
Navigate Congested Ports with USA Customs Clearance
Are you ready to start importing goods with a strategic partner? Let USA Customs Clearance, powered by AFC International, be your guide to avoiding West Coast port congestion and much more.
You'll find that USA Customs Clearance can even help you get the right import bond you need to bring goods into the U.S. and ensure all required duties and fees are paid. We can help you plan your shipment with top ocean carriers and avoid getting bogged down in port delays.
USA Customs Clearance, powered by AFC International, can even help find truckload capacity when it's time to unload the container and get your goods to the warehouse or market. Our network of carrier and broker partners is ready to go to work for you.
What are you waiting for? Take the hassle and guesswork out of importing goods by letting USA Customs Clearance navigate the congested (and confusing) waters for you. Reach out today by calling (855) 912-0406 to speak to an agent now!