Importing art into the U.S. is often a necessary step to success for American art collectors and resellers. Few things compare to the thrill and excitement of finding the perfect piece of artwork to add to a personal collection or gallery for resale. However, shipping art to the U.S. can be challenging due to many requirements.
When importing art into the U.S. for commercial use, you must complete CBP Form 7523. If the value of the art is over $2,500, an ACE Manifest must be submitted and a customs broker needs to process the import. When importing art for personal use, an oral declaration is sufficient.
What are the Rules and Regulations for Importing Art Into the U.S.?
There tend to be fewer rules and regulations when it comes to importing art compared to other items. However, there are still a couple of important pieces of information worth nothing. Before beginning the process of shipping art, it helps to know this information to avoid potential problems. Some of the required details include:
Value of the artwork- Different rules apply depending on the cost of the items being imported. Always be as accurate as possible when providing the value. Typically, the customs duty or import tax applied to an import is based on a percentage of the overall value of the items. For this reason, border agents are on the lookout for misrepresentation of value when it comes to artwork. Be sure to obtain and provide official documentation confirming the value of your imported items.
Tariff Classification- Imported items that pass through U.S. customs must have the correct associated tariff code listed for each item. These codes are listed and organized in the Harmonized Tariff Schedule of the United States (HTSUS). Each specific code relates to a category of goods that determines the duty rate for all imported items. Listing the wrong HTSUS code can lead to potential delays for your import.
No matter how complex your art shipment is, a Licensed Customs Broker can assist in navigating all of the necessary guidelines.
Is There an Import Duty on Art?
In the majority of situations, original works of art are exempt from import fees or duties. Chapter 97 of the HTSUS defines original artwork as art that the original artist created, exclusively by hand and without any mechanical process. Therefore, mass-produced reproductions are not eligible for the same duty free exemption.
Another exception can be the frame included with the artwork. As long as the frame that accompanies the art is standard for the work of art, then the frame itself will be duty-free as well. If the frame that accompanies a work of art is not typical for that type of art, it should be classified separately according to the HTS and could be eligible for a duty fee.
Importing Antiques Into the US
Antiques are exempt from import duties. To qualify, antiques must be at least 100 years old and have documentation included that confirms the age. Imported antiques found to not be at least 100 years old can be subject to an import duty between 5.2 and 25 percent depending on where the antique came from. CBP Form 7523 must be submitted with the antique. If the value of the item(s) is over $2,500 an ACE manifest needs to be submitted and a customs broker must complete the import.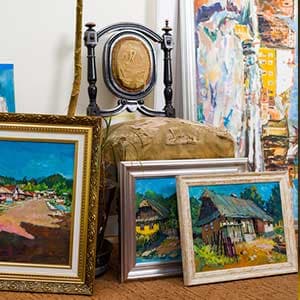 Signs to Look for in a Trusted Artist or Dealer
It's important to make sure you're working with a reputable business or individual. Buyers need to be aware of potential scams when buying art. Purchasing from an established and notable gallery or museum is usually a safe transaction. However, when purchasing from a private individual, there are steps to take to ensure your seller isn't a scam artist.
Research and consider the following when working with a private artist or art dealer:
Does the individual have a business for their art?

When someone has taken the steps required to form a business for their artwork, that establishes a high level of credibility. There are specific guidelines to follow when conducting official business. Being familiar with these guidelines shows the individual is comfortable with formal business.

Have they displayed their work in an official capacity?

If an artist has worked with art-based organizations in the past, they should be familiar with meeting strict requirements. This experience for the artist can come in many forms. Some of this experience can include displaying art at a reputable museum or participating in art festivals or fairs that have a detailed application process.

Does the individual belong to professional art organizations?

Depending on whether you're working with an artist or an art dealer, there are a number of professional groups that they could be members of. Each organization has its' own guidelines for joining. Some have a more accessible and open policy, while others are quite strict and exclusive in their membership. Belonging to professional organizations further confirms the individuals' dedication to their craft and overall professionalism.
When importing art, it helps to have peace of mind knowing that you are working with a qualified and professional individual.
How Should I Pay to Import Artwork Into the U.S.?
Once you've confirmed the credibility of the seller, there are quite a few choices available for how to pay for the art itself and the import process. Some artists or galleries have a preferred method of payment and often will not accept other types.
Most international buyers and sellers complete transactions for artwork via International wire transfer. However, when there is an opportunity to choose how to pay for artwork, it helps to know the pros and cons of your payment options.
PayPal-

PayPal is a popular choice due to the ease of use and added benefits. These benefits include no processing fees for the buyer, encrypted financial data, and the ability to file claims and disputes through PayPal's platform.

International Wire Transfer-

This method of payment is often used for international transactions involving commercial goods. Since banks for both the buyer and seller must participate to complete a wire transfer, there is a sense of security in completing transactions this way. Be aware that there are fees associated with international transfers which vary from bank to bank.

Letter of Credit-

If you plan to import art regularly from the same seller, a letter of credit can be a beneficial option. Banks provide a letter of credit to the buyer. When given to the exporter, this lets them know how much credit is available to you as the importer. If an exporter accepts a letter of credit, the bank is responsible for outgoing payments. The buyer then pays the bank in accordance with the specific terms of the letter of credit.

Documentary Collection-

Paying by documentary collection is generally a safe payment method. Similar to wire transfers and a letter of credit, this process involves the banks of the importer and exporter. Payment is authorized when specific, agreed upon shipping documents are received and processed.
Regardless of the type of payment method used when importing art, it's important to consider a number of factors including the specific situation and the seller's preferred method of payment. Working with a Licensed Customs Broker can simplify the payment process.
How Should Artwork be Packed and Shipped?
Since artwork comes in many different shapes, sizes, and textures there isn't one particular packing and shipping method that works for all situations. For example, you wouldn't use the same process to pack and ship an eight-foot watercolor painting, that you would for a twenty-foot tall wooden sculpture. Specific details such as climate can even come into play when working to preserve the quality of the artwork. The process and costs can also vary when it comes to how your artwork is shipped.
When importing multiple pieces of artwork you may have to decide between a full cargo load (FCL) or loose cargo load (LCL).
Full Cargo Load-

If you have a large volume for your shipment, FCL shipping is typically recommended and is sometimes the cheaper option. FCL shipping will face fewer delays since all of the freight will be in the same category.

Loose Cargo Load-

When there isn't enough inventory for a full cargo load, LCL shipping will likely be the way to go. Since your artwork could be included with other types of goods, it could face unforeseen delays. Additional paperwork from multiple vendors could also slow down the shipping process.
A Licensed Customs Broker has experience in all aspects of shipping your art and can recommend the best choice based on your unique situation.
Shipping Art from Canada to the U.S.
When shipping art from Canada to the U.S., importers need to complete CBP Form 434 and CBSA Form B232. These forms allow for goods exported from Canada into the U.S. be exempt from import and export duties in most cases. Both forms need to completed, otherwise a shipment can face possible delays.
This duty exemption exists as part of the North American Free Trade Agreement (NAFTA). NAFTA dictates that most goods exchanged between Mexico, Canada, and the U.S. are exempt from import duties. For this reason, shipping art from from Canada to the U.S. typically requires less paperwork and is cheaper when compared to other countries, making Canada an attractive option when importing art.
Some Canadian artists or art dealers may sell artwork in the U.S. at a tradeshow or other event. In this situation, CBSA Form B232 will allow the artwork to gain re-entry into Canada without facing any import duties.
Guidelines for Shipping Art from the U.K. to the U.S.
Artwork from the U.K. is in high demand due to its' unique style. Museums and galleries across the U.S. often display this work to give Americans a glimpse into their culture.
When importing art from the U.K., collectors and resellers need to be mindful of possible restrictions on artwork. Cultural goods (art, antiques, furniture) older than 50 years may require a special export license. The application for this license is available online.
This protocol was put in place to monitor goods that may have specific cultural importance to the country. Before completing the import of any art from the U.K., verify if the export license is needed to avoid a delay.
Additionally, UK exporters may require some additional documentation when shipping artwork to the U.S. This is needed in some cases to avoid Value Added Tax (VAT) rates when exporting goods from the country. Ultimately, abiding by the additional document requirement will keep import costs low by avoiding this tax.
What if Artwork is Damaged During Shipping?
Receiving your artwork should be the end of your import journey. If your items arrive damaged though, there's more work to be done. Luckily, following some simple steps can make this process easier.
Pay for the shipment of the art. Even though the artwork arrives damaged, the documentation of the delivery will be needed during the claims process. When damage is noticed at the time of delivery, you need to note it on the delivery receipt.

Take photos of the damaged goods as soon as you can, before they're unloaded if possible. This will help avoid potential disputes with the carrier that the goods were damaged by you during the unloading process. Provide these photos along with required paperwork when submitting the claim.

File a claim with the carrier as quickly as possible. For most carriers, the timeline to submit a claim is within 60 days of a received shipment. Be sure to have all necessary paperwork when filing the claim including: Description of damages and loss including quantity and value of the damaged goods, copy of the bill of lading, and copy of the invoice from the supplier.

If the damage isn't noticed until after the delivery has been made, you must request an inspection by the carrier. Some carriers require an inspection request be completed within 21 days and a written notice as well.

Keep all damaged items until the claims process is complete. Some carriers may want to further inspect the damage during the process.
Be sure to save all documents related to your claim even after it's been completed. If you're having difficulty during the claims process, your Licensed Customs Broker may be able to assist you.
Do I Need a Customs Bond to Import Art?
When importing art into the U.S., if the total value of your shipment exceeds $2500 a customs bond is required. Having a customs bond will ensure that all taxes and fees are paid and reduce the likelihood that your shipment will face delays at the border.
Customs bonds can be purchased individually or a Licensed Customs Broker may recommend using their bond when importing your shipments.
Which Type of Customs Bond Should I Use?
When a customs bond is required, there are a couple of options to choose from. It helps to know the differences between the two to be sure you select the best choice for your situation.
Single Entry Bond

- As the name implies, this bond is typically recommended for importers that are looking to import only one shipment during the course of the year. There is a minimum amount requirement which states the bond needs to cover the value of the goods, as well as taxes, fees, and duties that may be included. An additional amount may be required to meet other regulations as well.

Continuous Entry Bond

- For importers looking to bring in multiple shipments of artwork throughout the year, a continuous bond is recommended. The cost of a continuous bond will vary based on specific needs, but a minimum of $50,000 in coverage must be included. This type of bond will cover all of the importer's shipments into the U.S. for one year.
You can purchase a customs bond through USA Customs Clearance powered by AFC International. Your Licensed Customs Broker may also suggest using their bond to cover your imports.
Using a Customs Broker to Import Art
Needless to say, there are many important details to consider when importing art. Navigating all of this information can be time-consuming and stressful. For this reason, many art importers work with a Licensed Customs Broker. During the import process, a customs broker can assist with the following:
Ensure your shipment meets all rules and regulations set forth by Customs and Border Protection (CBP)

File all necessary paperwork

Determine the best shipping and entry methods for your items
When combined, these services work to make sure that your shipment arrives on time and avoid any issues at the border.
When you're ready to start importing artwork or other items like importing fitness equipment, our support agents are ready to assist you. Use the chat feature below and a team member will answer your questions and help you get started.