If you're considering importing heavy equipment from Canada, chances are either you or your customers have a big construction job to do. So what if you can't find the tools needed in the U.S. or can't find said items at a desirable price? This is where you begin to consider importing heavy equipment from Canada, America's neighbor to the north. While this is a viable option, it still has its own hurdles to overcome. So the biggest question ends up being how to most easily and efficiently undertake this process?
To import heavy equipment from Canada you'll need to comply with requirements in place through CBP and the EPA. Imported heavy equipment must meet emission regulations set forth by the Environmental Protection Agency. Due to the complexity of ensuring compliance with these rules, many importers work with a Licensed Customs Broker to import these products.
Our comprehensive guide below provides you with a complete breakdown of everything that goes into importing heavy equipment from Canada.
Importing heavy equipment from Canada comes with many challenges
Consult with our equipment importing specialists to get the help you need.
What Types of Heavy Equipment Comes From Canada?
Over the course of history, heavy equipment came in many different forms. The original iterations evolved from using animals such as horses to graduation to steam-powered equipment. From there, kerosene and ethanol took over before giving way to more modern diesel-powered machinery. While diesel is the current standard, it might not be long before completely electric machines began to take over.
Besides a mere history lesson, knowing where the equipment has come from and knowing where it's heading can be helpful when trying to pick out the best equipment for the job, or the products that your customers are clamoring for.
Before diving into the world of heavy equipment manufacturing in Canada, it's helpful to take a look at what falls under that category. The answer might be surprising, since it's a vast array of different machines, mostly in the use of construction projects of all sorts. While this isn't an all-encompassing list of every single piece of heavy equipment available, it does touch on some of the most common ones:
Mining equipment, such as tractors and trucks
Loaders
Bulldozers
Tractors
Graders
Excavators
Backhoes
Harvesters
Loaders
Cranes
Forklifts
Cherry pickers
Steam rollers and pavers
Hydromatic tools such as drilling machines, ballast tampers, etc.
Dump trucks
Lowboys
There are some large heavy equipment distributors in Canada that deal with a variety of heavy equipment, both new and used. One example is Amaco Equipment. Located in Mississauga, Ontario, this company deals in a lot of different construction equipment from around the world. A potential buyer can therefore have access to heavy equipment manufactured and shipped from many different countries to the Great White North.
Why Import Heavy Equipment From Canada?
There are a plethora of reasons why you would choose to import heavy equipment from Canada. Your unique situation will guide whether you actually need to import from Canada or whether it's simply more advantageous to do so.
Some of the most likely ones are:
The item is cheaper than what can be found in America.
The particular equipment is not produced or available in the U.S.
The machinery is currently out of stock or backordered in the United States.
The equipment is located close to the job site, meaning lower shipping costs.
Another scenario where it could be attractive to buy heavy equipment north of the border is if it was originally built in the USA and exported to Canada in the first place. If you are re-importing this machine back into the U.S., the customs process is much simpler, to the point where you might not need a broker at all.
Many dealers in Canada are used to getting customers from south of their border wanted to purchase and import something such as a tractor. These dealers that have experience in this arena are willing to handle the customs paperwork for you for an additional fee, which should be welcomed by any buyer. Otherwise, while it's not explicitly mandated, you should heavily consider employing a customs broker to handle this part of the process. The reasons why will be laid out a bit later in this article.
Clearing Heavy Equipment through Customs
The first rule of clearing all of your heavy equipment through the U.S. Customs and Border Patrol (CBP) is having all of your paperwork filled out and available about 7 to 10 days before the date of the importation. This is a requirement so that when your equipment is presented at the border, it has already been validated on a documentation level and there are no surprises in that respect. In fact, the Canadian Trade Commissioner agrees with this.
The CTC points to incorrect or incomplete paperwork or documentation as the biggest reason that an exported shipment from Canada into the U.S. might be delayed or rejected. In fact, their website urges potential Canadian exporters to set aside some extra time for the task of wholly and accurately filling out the documentation so that there are no unexpected holdups once you're ready to begin the process.
Clearly, this leaves a very big question behind — what is the documentation needed to import the heavy equipment into the U.S. from Canada? There are several pieces of paperwork required with the shipment itself. They are:
Bill of Lading: This documentation contains information about every item in a single shipment and is generally in the form of a longform document with information about its manufacture, its weight and also your business' info. This paperwork also represents the order's "receipt".
Commercial invoice: This plainly lists the monetary value of the shipment and adds even more description of the machinery being exported. This invoice is specific to a Canada-to-U.S. journey and should not be confused with a Canada Customs Invoice, which is used for items going from the U.S. to Canada.
Proof of delivery: Just as the name states, this document officially lets all parties involved know that the heavy equipment has been delivered.
USMCA Certificate of Origin: This allows the shipper and receiver to claim preferential treatment for goods traded between Canada and the U.S. in this case. It is the document that lets the CBP know where your shipment came from and is required so that the correct amount of duties are charged.
CBP Form 5106: This form needs to be completed before importing any goods classified for commercial sale into the U.S. It also goes by the name of Importer Identity Form.
Another form that will be required in most situations involving equipment imports is EPA Form 3520-21. This form is required for all vehicles, engines, and equipment that are subject to emission regulations by the EPA. Since most heavy equipment produces emissions, this rule will be in effect. Completing this form correctly can be an extremely complex and confusing task. For this reason, many importers seek the assistance of a Licensed Customs Broker.
Importing heavy equipment from Canada comes with many challenges
Consult with our equipment importing specialists to get the help you need.
Now that you know the paperwork you will run into, there are two ways in which goods can be imported from Canada to the United States: informal or formal entry. Any heavy equipment will have to enter the U.S. as a formal entry because it will fall under the regulatory eye of the Environmental Protection Agency (EPA). This is not specific to heavy equipment: any goods entering the U.S. that require one of the country's agencies to monitor it will have to be processed as a formal entry.
Another aspect of a product needing to be processed as a formal entry is its overall value, which is any single shipment that is worth $2,000 or greater. Most heavy equipment will easily hit that mark, very likely for a single unit, let alone multiple pieces. Also, the CBP recommends that you hire a customs broker to help you file for a formal entry because of its complicated nature. However, they don't state that it is an absolute requirement to do so.
Nailing the importation process with customs is a must. If you don't follow the rules closely, you could be subject to a $5,000 fine for each shipment you're not in compliance with. So it pays to know and follow the instructions.
Importing Farm Equipment From Canada
Agricultural, or farming, equipment is both a want and a need for those who grow America's crops. It's a need to do the basics of a labor-intensive occupation but — like many consumer goods — you can buy farming equipment with more bells and whistles that might not be needed but will make the process of your work easier and maybe even somewhat more enjoyable.
For the purposes of the actual importation of farm equipment, it's really no different than any heavy equipment. It is regulated by the EPA and almost any farm equipment will probably hit the $2,000 mark in value, so this will need to be processed as a formal entry as well. Listed earlier as pieces of heavy equipment, the most common types of farm equipment imported will be harvesters, combines and planters.
Still, while it falls under heavy equipment, there are still some aspects of its importation that you should consider when choosing the right farm equipment. Namely if the specific equipment is permitted in the U.S., or if it must be inspected before entering America.
Do I Need A Customs Bond To Import Heavy Equipment?
That is a question that comes up often about clearing customs and for good reason. Knowing whether you need a customs bond or not can be a crucial aspect of the importation process and, in many cases, ends up being a requirement.
Let's first define what a customs bond is and why an importer would need one. A customs bond in its most simple terms is insurance purchased by the importer from a third party to cover the costs of duties and taxes owed to the U.S. government. This insurance comes into play so that the government is paid these fees in the event that the importer finds themselves unable to pay. The bond is then paid out by the third party — generally an insurance company of some sort — on the importer's behalf to the CBP.
Having a customs bond is necessary for a formal entry, since the requirements for both a formal entry and a customs bond overlap almost perfectly. Heavy machinery is governed by the EPA, which means it would also need a customs bond. Customs bonds are also a necessity for any shipment worth $2,500 or more, so again, it is very likely that often expensive heavy equipment will easily exceed that amount and will require a customs bond.
One thing you should investigate on your own, though, is whether or not a single-use or continuous customs bond is right for your shipment. If you plan on importing one or two lower-value pieces of heavy equipment in a year, a single entry bond might be the right choice. However, if you are planning on importing multiple times throughout the year and/or are bringing high-value equipment into the country, a continuous bond will be a better overall value.
Ready to buy your continuous customs bond for your heavy equipment import?
Get the customs bond you need through our simple and hassle-free process.
Importing Heavy Equipment With A Customs Broker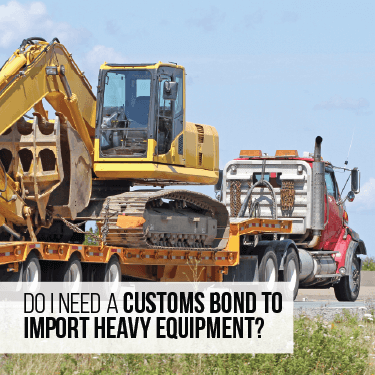 Now that it's been established the amount of work (and paperwork) that is involved in the importation of heavy equipment, it might have proved eye-opening to see how much assistance in this matter could greatly help. With that in mind, any business looking to import should think about employing a customs broker for this task.
The customs clearance company itself or the broker who works for them can also secure a customs bond for you. For heavy equipment in particular, and any situation where you're importing $2,500 worth of goods or more in a single entry, it is a requirement by the CBP that your shipment is covered. Whether a single-entry or continuous customs bond is the best fit for you depends on how often you plan to import. Your customs broker, if you use one, should very easily be able to assist you in choosing the best option.
The aforementioned paperwork and forms that must be completed with 100 percent accuracy could be something you don't have the time for, or the desire to undertake. Using a licensed customs broker takes this off your plate and also increases the likelihood that your equipment will gain entry more easily, since a customs broker is an expert at this.
Besides just helping with the paperwork or securing the needed bond, it never hurts to employ a savant who can also proficiently and patiently answer any questions you might have or just walk you through the basics. Remember, a licensed customs agent should also be well-versed in the USMCA along with the general rules of imports and exports. So there's no reason for you to put the wrong foot forward in this area.
The broker can receive the items on your behalf at your preferred port of entry if you're unable to be there. This is another service that can save you time and effort that might be better spent in other areas of running your operations.
Importing Heavy Equipment With USA Customs Clearance
When you're at the point to start importing heavy equipment from Canada, put in a request to USA Customs Clearance, powered by AFC International and R+L Global Logistics, to give you the helping hand you need to succeed. With our intimate knowledge of the entire customs process, the resources to handle nearly anything imaginable and additional services to support your imports, we're the right choice for the job.
We know the ins and outs of the importing business, and are fully up to speed with the USMCA and its effects on all goods coming from Canada, including heavy machinery. Yet the main reason you might be here is for help to clear customs, which USA Customs Clearance can absolutely assist you with.
Whether you want to pair with one of our licensed customs brokers in order to help you clear customs at any U.S. port of entry or you think you'd benefit from an individual import or customs consulting session, USA Customs Clearance is the right choice to make that happen. Whether it's as part of our customs brokerage services or as a standalone item, we can also procure a single or continuous customs bond on your behalf at a reasonable price.
USA Customs Clearance can also provide other value-added services, which include:
Freight shipping
Flatbed trucks
Heavy haul trucking
Warehousing
Order fulfillment
As part of an organization with a vast amount of experience in the logistics field, USA Customs Clearance can cover much more than just your customs questions. We're here to serve as your go-to source for all of your logistics and supply chain needs.