Consumers are daydreaming about cruising the crystal clear blue waters of the Bahamas or the Mediterranean Sea in a yacht. Meanwhile, importers are looking for ways to maximize profits by utilizing a yacht transport service that works.
Make sure there are no breakables in the cargo area before you ship a yacht. Customs Brokers take care of all your import requirements on the back end and help you learn how to ship a yacht.
Learn how to ship a yacht in 11 easy steps! We provide a yacht shipping process that utilizes a smooth sailing importing process from start to finish.
Cruising Certain Waterways Requires Yacht Transport
Are you interested in cruising the Mediterranean Sea or the South Pacific Ocean? Navigating channels to get to enticing cruising waterways can prove to be difficult. Yacht transport using overland transport or lift-on/lift-off yacht transport ships is the easiest way to ship a yacht to your destination of choice. Save money on yacht transport costs by scheduling your boat transport three to four months ahead of time.
Over Land Options for Yacht Shipping Exists
Hauling an oversized boat on land is a difficult process but one that can be handled easily if performed by the proper boat transport process. You must follow set hours provided by local and state highway permits, which mandate when oversized trailers can haul boats on transit highways.
How Much Does it Cost to Ship a Yacht?
Boat transportation costs depend on which form of boat shipment service you are using and how far of a journey your yacht is traveling. The length and weight of your yacht also affects your shipping costs. Boats that exceed 16-feet wide and/or 15 feet high start to rapidly increase your boat shipping costs. Are you shrink-wrapping a new yacht? That will cost approximately $30 per foot and must be done at the marina before shipping.
Work with a specialist to make importing and exporting to the USA a hassle-free process.
Get the details you need with our import consulting services.
How to Ship a Yacht: Preparing Your Vessel Before Shipment
You should secure cabinet doors and all items below the deck. On the exterior of your yacht, fuel tanks must be close to empty. To satisfy customers or prepare for a journey once the yacht arrives, have a delivery crew on standby to detail the boat and stock it with food and fuel.
Allot for Yacht Transport Delays
Mother Nature, traffic, and unforeseen issues with shipping a yacht overseas or even across state lines can prove to be difficult. Always factor in these potential delays when you are shipping a boat across the Atlantic or across the continental United States. Keep delivery crews on standby to avoid paying for unnecessary costs.
How to Ship a Boat and Trailer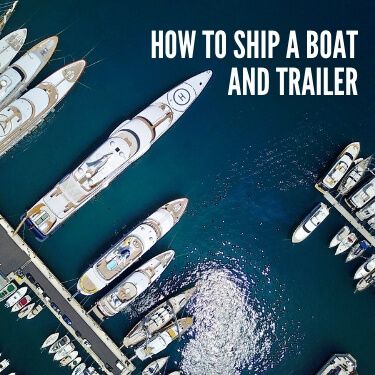 When you are learning how to ship a yacht, you discover quickly that every yacht shipping job is different. Whether you are choosing a qualified marine shipper within the continental U.S. or discovering how to ship boats overseas, we have the best solution for your boat transport.
When you are using a boat transport service on land, remember that:
Small boats ship via container using blocking and bracing.
Medium boats ship via flatbed with ramps or custom frames and with the help of a heavy-duty forklift.
Large boats ship via permitted load on a flatbed truck with escorts with the assistance of a large crane.
File the Correct Importing Paperwork
When shipping a yacht, you must file the correct import paperwork. Your paperwork should include:
An arrival notice from the U.S. agent of record.
A packing list that details your yacht purchase.
A bill of lading listing your yacht purchase as a receipt.
A commercial invoice that includes the purchase price, tariff classification of your yacht and the country of origin for your imports.
Go ahead and buy a customs bond today
and get your freight on the way around the globe.
Follow Rules from Other Countries
If you are importing yachts from manufacturers in other countries, you must follow their importing regulations. Find the proper import duty, or tax, for your yacht imports, which require a customs bond.
Work with a Licensed Customs Broker
When you work with a Licensed Customs Broker, you are making sure your imports clear customs during the boat transport process. Utilize a Customs Broker when:
There are strict deadlines to meet and you need to import a yacht quickly and meet strict deadlines.
You have an importing value that exceeds $2,500, which requires you to purchase a customs bond.
You seek efficient and quick approvals with the U.S. Customs and Border Protection (CBP).
Purchase a Customs Bond Today
Yacht imports require customs bonds. To receive the correct customs bond to achieve customs clearance success, figure out the customs bond type you need today. We also offer cargo insurance through our network of supply chain companies. Let us walk you through purchasing additional insurance that protects you and your imports.
Utilize a Licensed Customs Brokerage Service
Are you still undecided on how to ship a yacht, how to ship a kayak and handle the importing process? If yacht importing seems like a daunting task, contact us today to allow our Licensed Customs Brokers to handle all of your yacht importing needs. The skill sets that a Licensed Customs Broker provides can also make the import process move quickly and efficiently.
Our value-added customs brokerage services work seamlessly to provide you with a stress-free importing process. Have questions? Get in touch with our team of experts today. We'll answer all of your questions and help you import your yacht.