If you're in the foodservice business, you've likely seen a lot of supply chain disruptions over the past few years. Unfortunately, another threat is looming. As 2021 rolls into 2022, a tomato shortage is threatening markets in the U.S., Canada, and beyond.
The 2021 tomato shortage is putting this popular crop in very short supply. Domestically, the shortage is partially due to drought conditions in California, where these juicy crops normally flourish. Italian tomatoes are also under threat. One way businesses can overcome the tomato shortage is to import from alternative suppliers.
What does the 2021 tomato shortage mean to today's consumers? It could change the way they eat. After all, spaghetti without marinara is just a bowl of naked noodles. Let's look at what's causing the 2021 tomato shortage, why tomato prices are skyrocketing, and how importing tomatoes from other countries could solve your supply chain woes.
What's Causing the 2021 Tomato Shortage?
Tomatoes are one of the world's favorite fruits and vegetables. You'll find them on your salad, in all kinds of sauces, sliced on sandwiches, and even in drinks. However, consumers might have to go without this crop and all the things made from it as a massive tomato shortage looms in 2021.
The supply of processing tomatoes is under the tightest squeeze. These are the main ingredient in marinara sauce, tomato soup, canned tomatoes, tomato paste, ketchup, and other pantry staples. You'll likely still find fresh tomatoes in your grocery store's produce section, but the jars of sauce stocked across from the pasta aisle might look thin.
What's causing the 2021 tomato shortage? Like with other supply chain disruptions, there are many contributing factors to the scarce supply. According to information from the Washington Post, the 3 ingredients in the recipe for the current undersupply of tomatoes are:
Pandemic hoarding
Reduced inventory
Extreme drought
Causes of the 2021 Tomato Shortage: Hoarding, Low Inventory, Drought
The 2020 COVID-19 pandemic sent the economy into a wild tailspin. Consumers stocked up on non-perishable goods, like canned tomatoes and pasta sauces, in case food became unavailable for a number of reasons.
Consumer hoarding of canned tomatoes and similar products reduced inventory of these goods on store shelves and in warehouses. The pandemic-reduced labor force couldn't process last year's crops quickly enough, further reducing inventory.
Now, in late 2021 as things inch toward normal, extreme drought in California threatens tomato growers even more. California is the country's largest producer of processing tomatoes, growing more than 12.1 million tons annually most years. The extreme weather here will impact supplies around the country.
On a global scale, Italian tomatoes are also in scarce supply but for another reason. Producers in Italy can't source steel for cans, which means the tomatoes grown there cannot be processed and are left rotting in the field.
All of these factors are causing a tomato tornado and making supplies tight across the country and even abroad.
Why Are Tomatoes So Expensive in 2021?
No matter whether you're running a commercial kitchen or just stocking a home pantry, you've likely noticed high prices for both fresh and canned tomatoes.
Why are tomatoes so expensive in 2021? The answer is simple. Supply and demand.
The tomato shortage is forcing prices through the roof. Another factor impacting the price of tomatoes is that inflation and the rising costs of fuel and supplies mean it costs farmers more the grow the popular veggie (which is technically a berry).
This means that consumers are paying more for all kinds of tomatoes and all kinds of products, from pizza to brunch Bloody Marys.
There is a potential solution to the tomato trouble with today's supply chain. Businesses might be able to source tomatoes and tomato products from overseas suppliers to keep consumers happy until domestic supplies become more available.
Tomatoes aren't the only food product in tight supply in late 2021. The flavored syrups used in delicious drinks and coffees are also seeing scant inventory. Importing offers a possible supply chain solution.
Can I Import Tomatoes?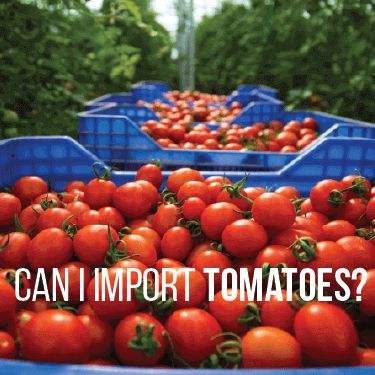 Importing tomatoes is a potential solution to the supply chain problems caused by the shortage. If you can find a supplier overseas, you can import tomatoes.
Major producers of tomatoes include:
China
India
Turkey
Egypt
Iran
Spain
Brazil
Mexico
You might be able to source tomatoes and tomato products from any of these countries. However, importing food products doesn't come without obstacles. There are quite a few rules and regulations around importing tomatoes and other fruits and vegetables.
There are even a few government agencies involved with the importation of tomatoes. You'll need to deal with Customs and Border Protection (CBP), the Food and Drug Administration (FDA), the U.S. Department of Agriculture (USDA), and Animal and Plant Health Inspection Service (APHIS).
There's also a lot of paperwork involved with importing tomatoes. You'll need to fill out PPQ Form 587 and CBP Form 7501. You'll need to meet labeling requirement guidelines. You'll need a Bill of Lading, commercial invoice, packing list, and you'll need a customs bond.
USA Customs Clearance, powered by AFC International, has all the information you need to import fruits and vegetables, including tomatoes. Our detailed guide offers a step-by-step tutorial that can help guide you through the process.
A customs bond is required for tomato imports
Get a bond quickly to secure your tomato import
Catch-Up With The Tomato Shortage with a Strategic Import Partner
Overcome the supply chain woes caused by the 2021 tomato shortage by importing from alternative suppliers. USA Customs Clearance, powered by AFC International, is ready to go to work for you as a strategic import partner.
From sourcing tomatoes from overseas to ensuring your customs clearance paperwork is correct to supplying the proper customs bond, let us do the legwork each step of the journey. We are ready to provide a quick solution to your supply chain problem.
Reach out now for 1-on-1 assistance with your importing hurdles. A simple phone call to one of our Licensed Customs Brokers or Importing Experts can save you both time and money by removing barriers to import success. Call 855-912-0406 now.