Businesses today need to stay competitive on a global scale, which is why importing is more important than ever in today's marketplace. Do you know the top reasons for importing goods? Whether you are importing to the USA, discovering who needs a customs bond or discovering how to import wholesale from China, take advantage of our lessons and reasons for importing goods to give you a leg up on the competition.The top reasons for importing goods are diverse. Reasons for importing goods might include:
Meeting customer demand
Sourcing products that don't exist in the country's borders
Cost of importing is lower than the cost of manufacturing
Quality of the product is better when imported
With so many reasons to import goods, you'll find that bringing products into the country can be a boon for your business.
Learn Why Importing is Important
Let's start at the beginning. So why do nations import goods? They import because none of them, even the United States, are totally self-sustaining on their own products.
Work with a specialist to make importing and exporting to the USA a hassle-free process.
Get the details you need with our import consulting services.
What Prompts a Country to Import Goods?
Countries need to import services or goods when those goods are:
Essential to a country's economy.

Not available to a country's domestic market.

Manufactured at a cheaper cost somewhere else.

Sold at lower prices when produced from another country.
The United States Depends on Imports
The closest country to self-sufficiency there is on this planet, the U.S. has large amounts of silver, iron, copper, coal and nickel natural resources. However it still needs help from countries from around the world to get products consumers demand.
The United States Still Depends and Craves Some Imports
The U.S. does not produce enough of some goods, including tungsten and oil. These types of goods are imported from other countries. The U.S. continues to depend on certain imports to meet energy needs and save money when imported goods are more economically prudent.
Consumers in America are also a different kind of consumer. They crave imports even when their own country is able to make domestically produced products at home. Examples of overseas imports American consumers crave in large quantities include:
Foreign cars

Wine

Cheese

Shoes

Clothes

Electronics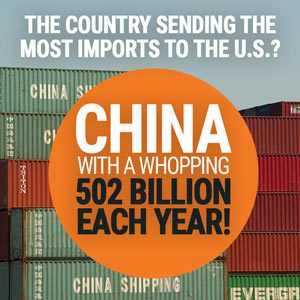 Top 10 United States Trading Partners
So which countries import the most goods and services to the United States? The countries that send the most imports to the U.S., in billions with a capital B, include:
1. China: $502 Billion
The largest U.S. exporter, China sends everything from computers and smartphones to clothes and more to the U.S. every single year.
2. Canada: $302 Billion
Our North American neighbor to the north sends vehicles, machinery and oil to the U.S. each year.
3. Mexico: $297 Billion
Our North American neighbor to the south is responsible for a bulk of U.S. imported machinery, cars, computers and more.
4. Japan: $134 Billion
Automobiles are Japan's No. 1. Exported item.
5. Germany: $75 Billion
Passenger vehicles top the list, followed by machinery and pharmaceuticals.
6. South Korea: $74 Billion
Electronics, oil, machinery and cars are popular U.S. imports.
7. United Kingdom: $59 Billion
Machinery now tops the list, followed by automobiles.
8. France: $48 Billion
France is popular for its beverages, aircraft manufacturing and machinery imports.
9. India: $46 Billion
Gemstones, oil and pharmaceuticals are the Top 3 demands from U.S. consumers.
10. Italy: 45 Billion
Wine, wine and more wine. U.S. consumers also purchase other beverages, pharmaceuticals and machinery from Italy.
Countries that Handle the Most Importing
Do you know who the top 10 importing countries are globally? Take a look at the countries that handle the most importing business on a global scale:
United States: $2.2 billion
China: $1.5 billion
Germany: $1.05 billion
United Kingdom: $635 million
Japan: $606 million
France: $573 million
Hong Kong: $547 million
Netherlands: $503 million
Canada: $416 million
South Korea: $406 million
Go ahead and buy a customs bond today
and get your freight on the way around the globe.
Every Country's Biggest Import
What does your country crave the most? Take a look at some of the world's biggest countries and what they import the most.
United States: Cars
Canada: Cars
Japan: Petroleum
Mexico: Vehicle Parts
Spain: Petroleum
France: Cars
Germany: Cars
Russia: Cars
Iran: Cars
Brazil: Petroleum
Australia: Cars
China: Petroleum
India: Petroleum
Do you see any similarities here? The majority of the world's countries need cars and petroleum. Ninety-seven out of the world's 187 countries crave refined petroleum the most. Cars come in second place, with 54 countries importing manufactured cars as their top import. Food is the top import for the globe's remote and poverty-stricken countries. Here's your breakdown:
Fuel: 97 countries
Transportation: 54 countries
Food and Produce: 12 countries
Metal, Mineral and Organic: 10 countries
Electronics: 6 countries
Medical: 4 countries
Textiles: 3 countries; Speaking of textiles, check out our article on importing textiles to the U.S. for a complete guide on how the process works.
Weapons: 1 countries
Imported Oil is Big Business
As you can see from above, imported oil is the No. 1 import worldwide. In 2017, the United States imported more than 10 million barrels per day of imported oil from more than 80 countries. Imported oil includes:
Biofuels

Crude oil (79% of gross imported oil comes from crude oil)

Ethanol

Diesel fuel

Natural gas plant liquids

Liquefied refinery gases
Top Five Imported Oil Countries
The top five countries that produced the most imported oil for the U.S. in 2017 were:
Canada

Saudi Arabia

Mexico

Venezuela

Iraq
Top Five Exported Oil Countries
The United States is also an exporter of crude oil. The top five countries that received the most oil from the U.S. in 2017 were:
Mexico

Canada

China

Brazil

Japan
Importing into the United States
There's more to understanding imports than just knowing the top reasons for importing. In fact, you need to know the process for importing goods. In many cases, the hassle of importing goods is well worth the benefits. Importing into the United States brings new products to the market and introduces U.S. consumers to goods from around the world.
Importing into the United States takes some knowledge and insight. In fact, some importers believe that the paperwork and customs complications involved with importing into the United States is the most difficult part of the job. From knowing the associated costs to getting the right kind of clearance, there are many hoops to jump through when importing into the United States.
The process for importing into the United States is two-fold. It involves:
Filing the necessary documents to have your products released at the border

Filing the necessary documents for assessing and paying duties
Working with a Licensed Customs Broker can help accomplish both these goals.
When your documents are presented with your imports at the border, customs officials will decide if your shipment needs to be examined or inspected. If customs officials decide your imports need further examination, they will check for legal and regulatory violations and release your goods when they pass inspection. This is an important part of importing into the United States.
When customs officials look at your shipment when importing into the United States, they are looking for certain pieces of information. Things customs officials look for include:
The value of the goods and any applicable duties

Whether or not the imported goods are marked with the country of origin, per regulations

Whether or not the imports includes prohibited items

Whether or not the imported items are invoiced correctly and in the correct quantities

Whether the shipment contains narcotics and other illegal items
It's important to be prepared for inspection when importing into the United States. You might find that your items will clear customs quickly if you keep a few things in mind. Considerations for clearing customs quickly include:
Clear invoices and packing slips with the proper information

Each package or shipping container is easy to identify and correlate with the invoice

All of the items in the package or container are described on the invoice

The imports' country of origin is clearly designated

The imports comply with all laws and regulations. Many consumer products are regulated by other government agencies
It is also important to know when importing into the United States that your goods will likely be subject to duties and tariffs. Unless your shipment of imports is duty-free, you'll be charged one of 3 types of duties:
Ad valorem

Specific

Compound rates
You can find more about duties and tariffs on the Harmonized Tariff Schedule of the United States.
There are other costs and procedures associated with importing into the United States.
What is the Cost of Importing and Exporting to Your Importing Business?
Do you know the costs involved to your overall business as an importer? First, let's look at the top reasons that importing and exporting improve your business model:
Opportunity to grow variety of products

Domestic market share increases

The costs for material to produce your imports decrease
Work with a specialist to make importing and exporting to the USA a hassle-free process.
Get the details you need with our import consulting services.
Top Importing Costs
The main importing costs you need to factor include:
Transportation

: You have to pay for freight companies to move your goods via sea, air, rail or road.

Warehousing, Inspection and Port of Entry Fees

: Your goods are an open book. They are always open to inspection by customs agents at any time. With inspections come fees you must be aware of. You should also stay on top of your warehousing fees, which is the amount it costs to store your imports. You owe port fees at the time of inspection as well.

Agent Fees

: Don't forget the fees for customs agents to inspect your goods can sometimes be found folded into your inspection charges. Remember to pay for an arrival agent at your port of entry to help arrange warehousing plans.

Inspection Charges

: Remember that your inspection fees will vary from border to border. Make sure your imported freight has been inspected closely by a Licensed Customs Agent so it meets the stringent requirements of all customs clearance laws and regulations in the countries you are doing business with.
Importing Brings New Products to the Market
Importing helps businesses discover if there is consumer demand for different imported products in their markets. Once a new product is introduced to the European or American markets from India or China, for example, it can take a year or so for the product to take hold and be popular in other markets.
Importing Benefits Consumers
When countries begin importing goods they lack within their own borders, it benefits consumers, which in turn benefits your importing business. Consumers and the local economy benefit from purchasing products that are not produced locally.
Marketing to Other Worldwide Markets
When you are importing and exporting to other world markets, you are responsible for introducing products to other parts of the world that otherwise might never utilize these resources.
Importing Increases Profits
When you are importing products, you are increasing profits. Since foreign need for imported goods is in high demand, you are making more money and receiving more orders than you would from domestic buyers.
Boosting the Economy and Jobs with Importing
Importing is important to United States jobs, the economy, and global development. Did you know the import business is responsible for 16 million jobs in America? Imports also support job growth in insurance and the finance industries.
Advantages of Importing
What are the main reasons for importing? There are many but the main benefits of importing include:
Introducing new merchandise to a market that can't receive the product otherwise

The reduction in manufacturing costs

Providing countries with a quality imported good

Increasing your own company's sales and profits

Boosting efficiency

Creating price stability worldwide

Making consumer products cheaper

Creating communication and technical advice for countries that crave it.

Fostering production on a large scale

Encouraging production at a lower cost

Creating more availability of goods

Helping each country optimize its use of natural resources, which reduces natural resources waste.
Disadvantages of Importing
There are some disadvantages of importing. These include:
Unemployment goes up

Reducing income of our own country

Manufacturers locally may lose business

Paying taxes on imported goods

Reducing the economic growth of the country you are working with
Importing Goods to USA
With so many advantages, it's easy to see why importing goods to USA is big business. If you're thinking of starting a business importing goods to USA, it is important to keep a few things in mind.
There are a number of different types of import and export businesses bringing goods into the U.S. Types of businesses importing goods to USA can include:
Export management trading company:

An export management trading company handles all facets of export operations. They can source products, find dealers, send invoices, arrange financing and even help market products.
Export trading company:

An export trading company can work to find foreign buyers of products and match them with domestic providers of that product.

Import/export merchant:

Many small import businesses are considered import/export merchants. They work on importing goods to USA and resells the goods for a profit.
When you're importing goods to USA, it is important to find your own niche market. You'll likely want to narrow down a list of target products and then figure out your own import formula. You might work directly with a manufacturer in another country or find better luck with a wholesaler. You can attend foreign trade shows to find products, contact foreign trade development offices or even browse the web. This means you'll need to research the following four topics:
The imported product you'll sell

The clientele you are trying to gain, like B2B or B2C

The country you plan to export from

How you'll sell your products
After you have your products narrowed down, you can think about startup costs. Things you'll need when importing goods to USA might include:
Office space

Computer and phone system

Internet service

Business and accounting software

Trade leads or market research

Office supplies

Travel expenses for tracking down products or manufacturers overseas
A simplified business path you might follow when importing goods to USA might be as easy as:
Finding the right product to import and negotiating a price

Figuring out how to pay for the imports (like opening a letter of credit)

Making sure the imports have been shipped

Getting the right documents from the exporter

Ensuring the imports get through customs clearance

Claiming your merchandise and getting it to your warehouse
With so many paths to importing goods to USA, it is smart to weigh the advantages and benefits. Learn more about the advantages of imported products and what it takes to succeed in international trade.
What are the Advantages of Imported Food?
Importing food is big business for importers that import everything from rice from india to other types of food all over the country. Do you know the advantages of imported food? Get your plates and silverware out as we teach you the ways of imported food.
Food Safety Modernization Act Demands High-Quality Food
The Food Safety Modernization Act was signed in 2011 and is worth a whopping $1.4 billion. Our neighbor to the north, Canada, is also tights with its food import regulations. Importers have to be careful they follow the Food Safety Modernization Act closely.
Go ahead and buy a customs bond today
and get your freight on the way around the globe.
5 Advantages of Imported Food
1. Cheaper Food
For many food products, it's cheaper for a country to import them to produce the food within its own borders. Sometimes it's because the country doesn't have the proper resources such as the proper soil to create the right crop. As a result, these countries can sell their food, even imported food for a lower cost than what that country would have to charge if they tried to produce that food locally.
2. Better Quality
Believe it or no, local food isn't always regulated properly. Imported food has strict regulations at border patrol and US ports of entry. You can be sure that imported food that is approved by U.S. customs agents went through a rigorous customs clearance process. Rest assured that the quality of imported food is top notch.
3. Good for the Environment
Who would have thought that imported food was good for the environment? How? Think of it this way. Sometimes the energy it takes to plant and cultivate a crop in a country on the other side of the world is much less than it would take to make the same crop here in America. We save money and reduce energy conservation here locally when we buy many imported foods.
4. More Variety
The more imported food we have, the more variety of imported food we have available to us as consumers. In the United States, we owe the importing and exporting food business for consumers having access to food such as bananas, tomatoes and several other crops no matter what time of year it is within our own borders.
5. Food Importing Creates Economic Opportunities
Local farmers in your country usually think importing means less jobs for them and less money in their pocket. Both importing and exporting, however, is crucial to your local economy and typically creates jobs that would not be available without the food importing and exporting process. Since there is less and less demand for farming workforce positions moving forward each and every year, the demand for imported food continues to grow.
Work with a specialist to make importing and exporting to the USA a hassle-free process.
Get the details you need with our import consulting services.
Advantages and Disadvantages of Import and Export in India
There are both advantages and disadvantages of import and export in India.
Advantages include:
A vast network of banking available to importers

A workforce that is both skilled and works for less than average labor costs

Working in an area with an economy on the rise.

Working in a market with a rising average income, which is creating a new middle class market for consumers

Easy access to southeast Asian consumer markets
International Trade Tips You Need to Know
Do you know everything you need to know about international trade? Let's start with the definition. International trade is the bartering of services and import goods across country borders. International trade contributes greatly to the overall gross domestic product (GDP) share.
What are the Types of International Trade?
There are a variety of international trade types, which include:
Intra-industry trade:

Importing the same type of imports that are in competition with goods produced within that country's borders. The car industry in America is a perfect example of intra-industry trade.

Inter-firm trade:

This is the trading of goods between different types of companies that make different products.

Intra-firm trade:

This is trading that is limited to divisions of multi-national companies. An example of this is a company with large-reaching international subsidiaries.

Inter-industry trade:

When two countries swap goods that are not made in each other's country, this is known as inter-industry trading. This happens because the trading countries lack the manpower, technology or the natural resources to produce these goods themselves.
What are the 10 Benefits of International Trade?
There are plenty of benefits of international trade and international trade agreements like the United States-Mexico-Canada Agreement (USMCA), the Trans-Pacific Partnership and others. Those benefits include:
More variety.

International trade, for instance, gives United States consumers more opportunity to purchase goods that otherwise wouldn't be readily available.

More jobs.

Trade typically brings more jobs to all trading partners involved.

Harmony. Countries that continue trading with each other successfully rarely enter into a military battle with each other.

Technology.

To trade goods successfully while making money and still offering an affordable product, trading partners are always looking for ways to trade more efficiently. This involves thinking outside the box with new technology that can benefit other aspects of a country's economy.

More money.

Trade encourages international partners to invest cash to improve both their efficiencies and their products.

Faster product lines.

Increased trade means increased product line. This forces companies to make their production lines work effortlessly and fast.

Economy revitalization.

When countries that don't have natural resources to be self-sustaining but have enough of one product those other countries crave, they can jumpstart their economy to become an economic engine for that in-demand product.

Cheaper costs.

International trade makes products cheaper for consumers and decreases the chances of certain products seeing large price upticks at certain times of the year.

More product availability.

International trading allows countries to keep more products on the shelves, resulting in less empty shelves for high-demand items.

Opportunity to get rid of surpluses.

International trade gives your country the opportunity to unload the surplus of natural resource products on other countries. This alleviates the potential for goods saturation that can make the economy sputter.
Go ahead and buy a customs bond today
and get your freight on the way around the globe.
How to Find a Manufacturer Overseas
You found an amazing product you want to market globally as an importer. So now what? Your first step is finding someone that will manufacture that product overseas.
Search for Contract Manufacturing
When you utilize contract manufacturing, a hiring firm schedules manufactures both locally and all over the world to make the product. Contract manufacturers can also find manufacturers to make parts of the product if it can't be assembled in one factory.
Hiring companies are responsible for coming up with a design and manufacturing formula that copies the product perfectly for overseas production and improving upon its design if possible. These companies also work to sell and market the products you will be importing down the line.
What to Look For in a Manufacturer Plant
When you are looking for a manufacturer plant, make sure you find a company that:
Contains a facility that is spotless and runs efficiently

A company that can solve production issues

Is running on all cylinders financially

Has a good reputation management track record

Hits or beats production deadlines

Works well with your processes and technology

Is flexible and can handle special orders

Meets quality standards
What to Look For in a Manufacturer Overseas
When you are looking for an overseas manufacturer, look for the following characteristics:
Employees you can trust

Workers that speak your language

A manufacturer that is able to comply with the rules and regulations of two countries for importing purposes.

A company that's close in proximity to an accessible airport

A manufacturer with affordable labor that meets production deadlines.
Domestic Sourcing Versus Foreign Sourcing
Foreign sourcing for your products typically costs less than domestic sourcing. You might be able to save as much as 75 percent or more in labor costs by taking advantage of foreign sourcing. These savings allow you to tack on more money for importing and/or product development.
Domestic Sourcing Pros and Cons
If you want your products to stay close to home, then domestic sourcing is the way to go. The United States' manufacturing industry has a good track record for manufacturing specialty products that consumers demand. If you don't have much time to investigate importing your product from overseas, the USA is known for its better domestic production labor practices and has a better work track record.
Domestically-made products also have strict property rights, which means your products have a much better chance of not being copied if you go the domestic sourcing route. Shipments can also likely be produced and shipped faster. There is also better communication during the production process because most Americans speak English and there won't be any miscommunication. Remember that the "Made in the USA" stamp is also a plus for your buyers looking for seals of approval and labels that prove they are purchasing a quality product.
Domestic sourcing hang-ups, though, include paying more because manufacturing and labor costs are more expensive.
Foreign Sourcing Pros and Cons
Countries which offer incentives to attract companies are able to land foreign sourcing clients. These incentives include tax breaks, fewer regulations, free property or warehousing facilities and more.
Foreign sourcing, though, does create some hiccups. Depending on the location of the foreign sourcing, shipping for imports can take weeks or longer. You must investigate the customs clearance process in other countries carefully to avoid delays and fines. While looking for the most cost effective approach for your foreign sourcing is important, make sure you find a happy medium that allows you to save money while delivering a quality product within an acceptable delivery time period.
File the Proper Import Documents
You need to file the correct import paperwork to avoid any customs clearance hurdles. Fill out all your forms in English and make sure everything is filled out. Locate and fill out this import paperwork in its entirety to handle the customs clearance process effectively:
Commercial Invoice
Commercial invoices are used for foreign trade. They contain overseas importing details, including:
Packing List
Packing lists act as a to do list to make sure you have everything you need and the cargo you provide to freight forwarders and shippers is correct. The packing list works along with the commercial invoice to assist customs agents with everything you need to achieve clearance approval. Customs officials use this list to double check imports for customs agents.
Bill of Lading
Bills of ladings (BOLs) have tracking numbers to monitor your imports. These forms, which list international shipping details, are distributed by carriers to your import shippers. Exporters utilize BOLs to obtain payments. These forms allow importers to get paid for damages, lost or delayed imports.
Arrival Notice
When you receive an arrival notice, your goods have arrived at their port destination. This means it's time to schedule a pick-up for your imports.
Work with a specialist to make importing and exporting to the USA a hassle-free process.
Get the details you need with our import consulting services.
Incoterms Outline Your Transfer of Shipments
Now it's time to crack your three-digit code. The three-letter digits used for imported and domestic freight are known as Incoterms. These numbers classify the conditions for your goods and outline your import contracts. Licensed customs agents can make sure your goods are labeled with the proper Incoterms.
To learn more about Incoterms, read our article "What Are Incoterms?" We'll help you understand the ins and outs of Incoterms.
Find Your Port of Entry
Are your goods heading to a west coast port of entry or an east coast port of entry? There are so many US ports of entry to choose from. Allow a licensed customs broker to plan the most efficient route for your imported goods that works best for your importing needs.
Sign a Power of Attorney
Sometimes it's easier to let a customs broker handle tasks for you so you don't miss anything. A Licensed Customs Brokers can do the following when you sign a power of attorney:
Comply with Importing Laws from Other Countries
Remember that you have to following the importing rules and regulations from other countries too. Do your homework and find the correct import duty, or tax, for your overseas imports.
Work with a Licensed Customs Agent
Working with a Licensed Customs Agent allows you to avoid customs clearance hurdles during the tedious importing process. Customs Brokers can handle all of your import requirements. Utilize a Customs Broker when:
You need to move imports fast.

Your importing value exceeds $2,500, which mandates you to purchase a customs bond.

You have to meet tight deadlines.

You seek someone that knows the ins and outs of the U.S. Customs and Border Protection's (CBP) importing rules.
AFC International and other brokers, though, require bonds on all imported goods no matter what the shipment value is.
Customs Bonds: Which Type Works Best for You?
Did you know there are two types of customs bonds available for your importing needs? Pick which customs bond type works best for you below:
Single Entry Bond Definition
Single entry bonds work best for importers needing to ship one specific shipment to a port of entry. These bonds are suited best for importers that only need to import every so often. They also work well for freight that is lower in overall value. You can only use a single entry bond though if you import less than four shipments a year.
Continuous Bond Definition
Continuous bonds work best for those that work all year long to move freight overseas to US ports of entry. Why? Continuous bonds renew every year and you can use them to import multiple shipments throughout the year. These bonds also work best for shipments with high-cost values.
Purchase a Customs Bond Today
Customs bonds are required for your imports. To receive the proper customs bond to conquer the customs clearance process, calculate the customs bond type you need. We also offer cargo insurance through our network of supply chain companies. We will help you through purchasing additional insurance that protects both the importer and the freight.
Utilize a Licensed Customs Brokerage Service
Are you still confused with the reasons for importing goods and how the process works? If the importing process is overwhelming, contact AFC International today to allow our Licensed Customs Agents to alleviate all of your importing issues. Licensed Customs Brokers are trained to make the import process simple.
Our value-added customs brokerage services work seamlessly to provide you with an importing process that allows you to concentrate on your business. Have questions? Click the bottom right box to chat and we can answer you right now! Clear customs easily with us today by requesting a customs bond quote! We are here to serve you!