A customs bond, whether continuous or single, is there to serve as financial protection for you, the importer, and all other parties involved in international trade. Customs bonds ensure that required fees and duties are paid to the appropriate parties after importing into the United States. Available as a continuous or single purchase, you should consider which best suits your import needs. 
A continuous customs bond will renew annually and allow for ongoing imports at any port of entry. Continuous bonds stay in place until canceled. A single entry bond will only cover one import transaction and must be filed at specified ports of entry. Either bond is required for commercial imports valued at $2,500 or more.
Understand the difference between continuous and single entry bonds in this walkthrough and make the best choice for your business.
What is a Continuous Customs Bond?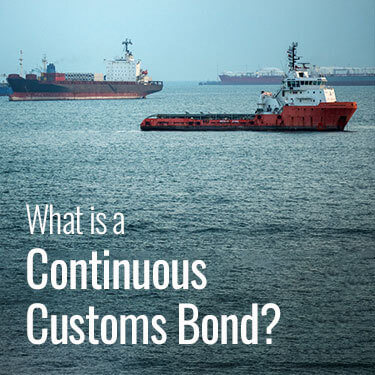 A continuous customs bond is one that you can renew indefinitely. When you initially purchase a continuous customs bond, it will be effective one year from the date of issue. At the time of purchase, an importer can choose to set the bond to renew automatically at the end of each fiscal year.
There are multiple benefits to obtaining a continuous bond if you are a commercial importer who receives shipments year-round or more than four in a single year.
Some of these benefits of a continuous customs bond include:
The ability to apply to multiple shipments
Automatic renewal
Being acceptable at any U.S. port of entry
Usable by multiple customs brokers (if necessary)
Purchasing a continuous customs bond for your shipments may provide you with peace of mind knowing that all taxes and duty fees will be paid to the U.S. Customs and Border Protection (CBP) correctly, regardless of when or where your products are coming in.
How Long Does a Continuous Customs Bond Last?
A continuous customs bond is good for one year from the initial date of issue. This means if you purchase a continuous bond in February, it will be good until February of the following year. At the end of that year, you may choose to renew it. 
Surety companies and customs brokers will generally offer importers a way to set their renewals to automatic. A continuous customs bond on automatic renewal will be good for as long as you keep up with payments.
How Do You Calculate Continuous Customs Bonds?
What you pay for a continuous customs bond will depend on the amount of taxes and tariffs imposed on the product being imported. The value of the shipment itself is only significant in terms of requiring a customs bond or not. Any commercial import that is valued at $2,500 or more will require a customs bond.
The calculation for a continuous customs bond is typically 10 percent of the total taxes and tariffs required by the CBP on an annual basis for the shipment of your product. The typical starting amount, as well as most common, is $50,000. 
Continuous customs bonds may then be calculated as follows:
Customs Bond Calculation
| Total Duties and Taxes | Bond Size |
| --- | --- |
| $0 - 499,000 | $50,000 |
| $500,000 - 599,000 | $60,000 |
| $600,000 - 699,000 | $70,000 |
As the number of duties and taxes rises, so does the cost of a bond. The bond amount is equal to what the surety company will pay up to in a 12 month period. These payments not only include the total duties and taxes owed to the CBP per entry or transaction, but they may also cover any fines or penalties imposed. Once purchased, bonds may take up to 10 days to fully go into effect. 
For more information on customs bonds, check out our article, "What is a Customs Bond?"
What is a Single Entry Customs Bond?
A single entry customs bond, or SEB, serves the same basic purpose as a continuous entry bond. It is meant to ensure that all applicable duties and taxes are paid to the CBP upon arrival in the United States. 
However, a single entry bond can only be applied to a single shipment or transaction and it must be specific to a pre-specified port of entry. For the purposes of a SEB, a single shipment is defined per the Master Bill of Lading (MBL). Multiple containers can therefore be covered if they are all included on the same MBL. 
How Long Does a Single Entry Customs Bond Last?
Single entry bonds are not subject to a specific time period.
Purchase of an SEB is meant to:
cover a specific shipment
arriving at a specified date
entering into a previously specified port of entry
After the completion of that specific transaction, a single entry bond will expire. It will only last the necessary time for the shipment to be completed.
How Do You Calculate Single Entry Customs Bonds?
Calculations for the bond amount on single entry bonds vary slightly from continuous bonds. At a minimum, you must purchase a bond amount equal to the value of the products in the shipment plus any import duties and taxes the CBP requires. 
However, if your products are regulated by any other agency besides the CBP, the bond amount will need to be three times the value of the shipment. As an example, if you are importing $5,000 in wine regulated by the Bureau of Alcohol, Tobacco, and Firearms (AFT), your bond amount needs to be worth at least $15,000. 
You should also consider that if you have purchased a single entry bond for a shipment arriving by sea, you will also need to purchase additional coverage to meet International Security Filing (ISF) regulations. 
The CBP maintains a list of monetary guidelines for determining bond amounts. However, speaking with a Licensed Customs Broker is generally the best way to ensure your purchased bond will cover everything you need it to.
Continuous Bond vs Single Entry Bond: Know the Difference
Ultimately, the main differences between a single entry bond and a continuous bond will be the number of shipments they can cover and the manner in which they are calculated. Having a clear idea of their differences is important.
Comparison Chart
| Continuous Bonds | Single Entry Bonds |
| --- | --- |
| Purchased for at least one year | Purchased for a single transaction |
| Set to renew indefinitely  | Only renewed with a continuation certificate |
| Covers all U.S. ports of entry | Shipments must arrive at a specified port of entry |
| Calculated based on 10% of annual taxes and fees owed | Amount must be equal to total value + applicable taxes + fees |
| Effective within 10 days of purchase | Bond amount might be 3x the shipment value |
| May cover additional fines and penalties | Additional coverage may be required per shipment method |
Despite their many differences, there are some key similarities as well. Importers should remember that both are customs bonds and will be reviewed by the CBP. Specific characteristics to keep in mind are that both are:
Required for any commercial shipment values over $2,500
Required for any commercial shipment of products subject to regulation by any agency other than the CBP, regardless of value or duty-free status
Covering duty taxes and fees owed to the CBP upon entry into the U.S.
Ultimately, you, as an importer, must decide which will be the most cost-effective for your business. Importing goods can be costly. If you are an established importer with frequent shipments, a continuous bond is likely your best option financially.
If you are in the process of growing your import business, single-entry bonds could be the best option until your business grows to the point where a continuous bond is a better financial option.
There are many types of customs bonds out there and it can be difficult to determine which one you need. Check out our article Types of Customs Bonds - Activity Codes And Uses to learn more.
Can I Renew My Customs Bond?
All customs bonds are eligible for renewal. A majority of importers who purchase a continuous customs bond will have it set to renew automatically at the end of the year. Sureties and customs brokers may offer single or multi-year payment plans. 
Even when a continuous customs bond expires, it will remain on file with the CBP until a termination notice is received.
If you have purchased a single entry bond, it can be renewed with a continuation certificate. This will not turn it into a continuous bond. You will still be purchasing a customs bond that covers only a single transaction. To qualify for a continuation certificate, the value, duties, and taxes must be the same as the original SEB. 
Any additional shipments you wish to import must have their own unique customs bond if you continue to use single entry customs bonds.
Obtain a Customs Bond with USA Customs Clearance
Purchasing an import bond is a big step in creating and maintaining a successful import business. Make the best decision for your business and work with the experts at USA Customs Clearance to make sure you get a continuous customs bond that works for you.
USA Customs Clearance offers continuous customs bonds to match your shipping needs. Speak with one of our experienced and Licensed Customs Brokers 1-on-1 to get the guidance your business deserves. During a 30 minute session, our customs brokers can clarify questions on customs bonds, importer of record registration, document submissions, and more.
Get the advice you need today by giving us a call at (855) 912-0406 and we will be happy to advise you on all your import needs.