People are turning to online shopping now more than ever. From specialty items to common household needs, eCommerce is on the rise. New importers may benefit from these tips to avoid common pitfalls while strengthening their businesses.
Eight eCommerce tips that new importers should follow include:
Strengthen Your Online Presence
Ensure Compliance with Government Agencies
Determine What Documents are Required
Learn How to Source Your Products
Familiarize Yourself with International Laws and Trade Agreements
Educate Yourself on Tariff Classification
Work with a Licensed Customs Broker
Create a Strategy for Logistics
Check out these 8 eCommerce tips for new importers to make your eCommerce business venture a success.
8 eCommerce Tips for New Importers
Due to the growing eCommerce industry, it's now more possible than ever to start your own business. Whether you are a new importer seeking to start your own small business or an experienced entrepreneur seeking to expand an existing business, it is important to consider the many steps involved.
While there is no single correct way to run a successful eCommerce business, you can still follow best practices and tips that you can adjust to fit your unique needs.
1. Strengthen Your Online Presence
Given that you are entering the world of eCommerce, a strong online presence is a must. Having an online presence is more than just appearing in a Google search.
You may be able to use a basic website using any of the various web builder services out there, but to really grow, you need the ability to manage all aspects of your business digitally. From inventory and product sourcing to advertising and client communications, the right platform will aid you in streamlining your business process.
A strong online presence may be achieved by improving visibility. Using the right keywords on your site is necessary to ensure the people looking for your products or services can actually find you. Hiring an SEO company or marketing agency to evaluate your site is one way to make sure that your site content contains the necessary keywords to reach your target audience.
These companies may also track site traffic and make suggestions for improvement. Suggestions usually include adjustments to social media platforms and participation in online forums for your specific products.
Build an Online Store that Meets Customer Needs
A strong draw of eCommerce is its fully online nature. This satisfies the, now common, social distancing practices of many modern consumers who are increasingly purchasing products online.
Your website is likely to be your first opportunity to introduce your products to potential consumers. You want to make a good impression by having the look your target customers relate to. Consider it to be the online version of window shopping; the more appealing it looks, the more likely the customer will enter and purchase.
The platform you use to launch your online store will need to match the needs of your business model. Many small businesses sell through established platforms, such as Amazon. Benefits to this approach include access to a wide customer base, reliable payment systems, and options to promote your listings above others.
For a more individualized approach, many website builders offer hosted platforms for building an eCommerce store unique to your brand and products. The ability to customize your website domain and the variety of services you can offer to customers varies depending on which hosting platform you use.
Some of the services offered by these hosting platforms include:
Creation and registration of a unique domain name
Email services for customers and employees
Customer security services (especially payment services)
Automatic updates for improved services
Customer support services
Bandwidth capable of managing high site traffic
Regardless of how you choose to market and sell your imports online, taking the time to find the best fit is important. The approach you take may also depend on the products you plan to carry, your market research, and your budget.
2. Ensure Compliance with Government Agencies
New importers need to make sure they are staying in compliance with the variety of government agencies involved in the import and export of consumer products.
All importers need to familiarize themselves with the U.S. Customs and Border Protection (CBP) agency, which oversees all imports into the United States. The CBP maintains the guidelines for the regulation of products and is the agency you must notify when you have shipments arriving.
In turn, CBP partners with a variety of other government agencies specific to particular products. Due to the variety of imports possible, no one agency can truly regulate them all. Therefore, you must determine which one regulates your specific products and what requirements must be met. These requirements may include import licenses or permits, specific ports of entry that must be used, special packaging or labeling, and more.
The CBP frequently partners with the Consumer Product and Safety Commission (CPSC) when consumer merchandise is imported. All products must meet CPSC regulations for safety to pass through customs.
Should there be a question as to the product's admissibility, CPSC may place a customs hold on the product. It is important to remember that safety standards are not universal and what one country considers a passable safety standard may not meet CPSC standards.
3. Determine What Documents are Required
While international shipping has become more streamlined, large- and- small-scale imports alike must satisfy documentation requirements.
Even before taking into account the individual needs of the government agencies that oversee the products you're importing, certain core documents need to be taken care of. CBP entry forms must be filed within 15 calendar days of a shipment's arrival to a U.S. port of entry.
Documents that detail the physical description, quantity, monetary value, and origin of the product are also needed. Having all of these documents close at hand will prove vital to getting through customs efficiently.
Additional documents that may be required include:
A commercial invoice from your supplier(s)
The Bill of Lading
Customs Bonds (on any shipment valued over $2500)
A cargo manifest
Registration for the Importer of Record
When a product requires a specific import license or similar permit for entry into the United States, it must be applied for through the specific government agency that oversees the product. This falls under the administration of the CBP which maintains a list of government agencies and the products that fall under their oversight.
Contracting a Licensed Customs Broker may be the best solution to ensure compliance with CBP and the variety of government agencies they partner with. A customs broker may walk you through the application of import licenses and advise you on how to prepare the proper documentation.
4. Learn How to Source Your Products
The success of your eCommerce business will also depend on the quality and availability of your products. Finding and choosing a dependable supplier should be a top priority. Once you choose products to sell, you need to make certain that you will be able to provide those products long-term.
Other factors to consider are shipping costs and the ability to order in bulk. These will play a role in how you price your products. If your goal as a new importer is to successfully begin an import business, you need to ensure that you are able to profit from your products.
There are two common methods for sourcing your products. The first is to find a supplier through a web-based marketplace such as Alibaba or TradeKey. These marketplaces are frequently used in B2B transactions and have the ability to connect you with multiple suppliers.
An online marketplace provides a way to ensure your supplier is legitimate by showing which ones have passed inspections verifying that they are who they claim to be and they carry the products listed. Oftentimes, legitimate suppliers will allow you to purchase initial samples to verify the quality of the products before importing them in bulk.
Reputable marketplaces that provide verified suppliers include:
Alibaba
TradeKey
GlobalSources
ThomasNet
Take time to research each one to determine which is best for your eCommerce business. Once you decide on a supplier, work to build a good relationship with them. Strong business partnerships make long-term success easier.
Another way of sourcing your products is to become your own supplier. This can be done by buying into existing production centers in countries you choose to import from or even opening your own manufacturing site.
You might also work with the local government to connect with businesses or individuals in the area to partner with. If you are thinking of becoming your own supplier, there are further logistics to consider. The cost of travel, your ability to personally handle shipping arrangements, and possible language barriers may all play a role in the process.
Regardless of what you choose, always be sure of the quality of the product. Be sure your goods aren't violating any intellectual property rights (IPR) laws. IPR violations include any product that infringes on U.S. trademarks or copyrights.
Counterfeit products are subject to seizure by the CBP and may result in destroyed merchandise and fines up to twice the suggested retail value. The CBP may also choose to press criminal charges.
CBP IPR Seizures (2017-2020)
| | | | | |
| --- | --- | --- | --- | --- |
| | 2017 | 2018 | 2019 | 2020 |
| Total Seizures | 60,336 | 50,952 | 62,509 | 73,708 |
| IPR Seizures | 34,143 | 33,810 | 27,599 | 26,503 |
| YoY Change in IPR Seizures | - | -0.98% | -20.22% | -4.05% |
Source: https://www.cbp.gov/newsroom/stats/trade
Familiarizing yourself with your suppliers and verifying the quality and origin of your imported products is a critical aspect of eCommerce.
5. Familiarize Yourself with International Laws and Trade Agreements
Importing goods requires you to become familiar with regulations of other nations, not only the regulations of the United States. Familiarizing yourself with international law may help you avoid CBP custom holds down the line.
The United States is a member of the World Customs Organization (WCO), an organization that strives to work with its members to foster international standards that make fair and legitimate trades possible for all parties involved.
The CBP has committed to developing best practices for eCommerce businesses to operate successfully and in accordance with all laws and regulations. Some tools that they are working to make available to the small and medium-sized businesses that make up over 90% of U.S. importers include:
Mobile applications
An eCommerce resource library
A database of trustworthy importers vetted by the CBP
Becoming knowledgeable on U.S. trade agreements with other nations is important for eCommerce business or any import/export business to manage budget and product pricing.
Trade agreements impact import tariffs and are specific to different nations and products. An agreement may lower tariffs on some products while raising tariffs on others.
The office of the U.S. Trade Representative (USTR) keeps a database of trade agreements between the United States and other nations.
There are three categories of agreements and treaties that new importers need to be aware of:
Free Trade Agreements (FTA): Countries with whom the United States has agreed to specific obligations for trade in goods and protections for investors and IPRs. These agreements may be bilateral between the U.S. and one other nation, or they may be multilateral between several parties.
Trade and Investment Framework Agreements (TIFAs): A provision that allows for nations to discuss any trade or investment issues during initial development of trade agreements.
Bilateral Investment Treaties (BITs): In the private sector, BITs protect private investment and develop market-centered policies with other nations.
As a new importer, you may find this information overwhelming. Laws and regulations are constantly being updated as eCommerce grows and creates new challenges for the CBP and their foreign counterparts.
Contracting the services of a Licensed Customs Broker may help you stay abreast of changes and keep your bottom line in the black.
6. Educate Yourself on Tariff Classification
All products imported to the United States are classified under a Harmonized Tariff Schedule (HTS) code. HTS codes determine how much duty, or tax, you will pay on a product. Codes are overseen by the U.S. International Trade Commission and the CBP.
Having the correct HTS codes on all imported products will guarantee that you only pay the taxes you are required to. Even when a mistake seems to save you money initially, the penalties levied against you when the mistake is discovered might easily put your venture in the red.
Due to the diversity of products the United States imports, HTS codes are extremely specific. Importing goods is a costly venture but eCommerce has given online sellers a way to also make it very profitable.
Products coming in with mistaken HTS codes may severely undermine those profits. It may also cause your shipments to be held up at the port of entry, creating further delays and further fees for product storage.
Some HTS codes are automatically flagged by the CBP and CPSC when entering the United States. These products are screened more carefully and any mistakes in classification or documentation may result in a customs hold.
Hiring a customs broker to correctly identify HTS codes is one of the best ways to avoid costly errors. Experienced customs brokers are familiar with product classification and will save you money in the long term.
7. Work with a Licensed Customs Broker
As a new importer, whether you're operating from inside or outside of the United States, you may be very knowledgeable about your business and product, but not about basic customs regulations and laws.
The CBP has worked hard to address some of these issues by putting out educational material that goes over the basic requirements. However, to truly navigate the U.S. customs system, you need an expert. A licensed customs broker is that expert.
The rise of eCommerce has expanded access for foreign sellers' markets and has rapidly changed the way that customers shop. These rapid changes have posed a challenge to agencies like the CBP who are working overtime to adjust to changing import styles.
Many online sellers aren't bringing in huge shipping containers of products. Instead, packages tend to be smaller and personalized, catering to a changing consumer who wants custom products and wants them quickly.
However, these small packages create special challenges for CBP inspectors trying to clear shipments quickly. Any mistakes in labeling or documentation may create extreme delays.
A Licensed Customs Broker specializes in import regulations and laws. They are able to determine which HTS codes your products need to be classified under and provide step-by-step guidance for completing the necessary paperwork.
A broker's familiarity with product admissibility laws means that you may avoid import mistakes altogether. This knowledge may prevent you from discovering too late that the product you have sitting in port will never make it through customs.
8. Create a Strategy for Logistics
For many, the fully online nature is the most appealing aspect of running an eCommerce business. Advertising, customer communications, monetary transactions — all of these things can be handled digitally. However, even the most promising eCommerce store or marketing strategy will fail if you can't fulfill orders.
Your logistics strategy for shipping, warehousing, and distribution is something that needs to be addressed before you ever get customers. In the eCommerce industry, selling products might be the simplest part. Making sure that your product can get into your customer's hands is another challenge to conquer.
Attempting to personally coordinate the hiring of a shipping company, rental of a storage facility, and contraction of services for shipping leaves very little margin for error. Many U.S. ports of entry have become overwhelmed due to labor shortages, inspection hold-ups, and a series of changing travel restrictions.
If you are trying to ship directly to customers from a warehouse or distribution center outside of the United States, these events pose a serious risk to selling products successfully.
Perhaps the easiest way to bypass that particular headache is to outsource those needs to a 3PL, or third-party logistics company. Partnering with a 3PL streamlines the process by keeping everything under a single point of management.
This minimizes communication errors while providing an infrastructure that can grow with your eCommerce business. It also provides avenues for getting products to your customers that would not be feasible independently.
We can provide expert advice on this service and begin working with you on what could be the cornerstone of a successful business.
Boost Your eCommerce Business By Working with USA Customs Clearance
Starting a business is an exciting venture, but is not without its risks. Following certain eCommerce tips for new importers may help you mitigate those risks. Working with USA Customs Clearance may help you, even more, when you take advantage of the expertise available by working with one of our Licensed Customs Brokers.
Your slice of the eCommerce pie is at your fingertips. Making your business a success is easier than ever before. USA Customs Clearance can provide you with customs bonds, Importer of Record registration, and more. A 30 minute, 1-on-1 session with one of our experienced and professional brokers will be one of the best investments you will make for your business.
Call us at (855) 912- 0406 to request a no-obligation price quote or send us a contact request. Help for your eCommerce business is only a few clicks away.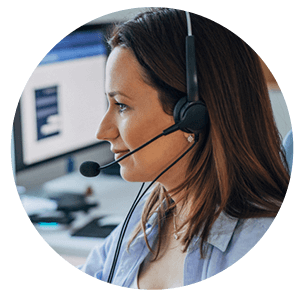 USA CUSTOMS CLEARANCE
Your Business Does Not Deserve Border Delays
Worried about the Strict Regulations? Ask Our Experts.
Our 30 Minute Licensed Expert Consulting Will Personally Guide You.
Contact our Licensed Expert Consultant >