For many years, cars from Japan have been a dominant force in the U.S. auto market. Consumers crave these vehicles for a variety of reasons including dependability, modern design, and fuel efficiency. What consumers don't see is exactly how these popular cars make it to the U.S. from Japan. Before embarking on this journey, there are specific steps you need to follow and be aware of.
To import cars from Japan to the USA, you'll need to go through the following steps:
Check whether or not your vehicles conform to DOT and EPA standards
Identify your responsibilities for the shipment and import of your vehicles
Coordinate the transportation details
Obtain and fill out required documentation
Submit completed documentation to CBP upon entry
In our step-by-step guide below, we explore key details related to each step of the process. With our guide, you'll have the information you need to successfully import vehicles from Japan to the U.S. including finding the right partner to get the job done.
Important note- This guide is written for importers that are planning to import vehicles for resale or commercial use. If you're looking to import a vehicle for personal use, check out our ebook A Guide to Importing a Car to the U.S.
1. Verify the Conformity of Your Vehicles
The first step in the process is arguably the most critical as it will affect everything else. Every country differs in terms of safety and emission standards for on-road vehicles. In the U.S. these standards are maintained and enforced by the Environmental Protection Agency (EPA) and Department of Transportation (DOT). Vehicles must be compliant with the regulations of both of these agencies to be legally driven on public roads in the U.S.
EPA Sticker
To confirm whether or not your vehicles meet EPA emission standards, you'll want to look for an EPA vehicle emission label. Often referred to as an EPA sticker, this label contains information that outlines key details about the vehicle in terms of EPA emissions compliance.
Information listed on the label includes:
Manufacturer name
Engine group number
Test group number
Type of fuel used by the vehicle
Statement noting compliance with EPA (and possibly California) emission standards
Model year
In most cases, this label can be found on the engine compartment, on the underside of the hood, or on the strut tower plate.
If the label isn't present on the vehicle, you'll need to take some additional steps to determine if the vehicle in question is actually compliant. In the case of your vehicles not being compliant, you'll need to go through a different process than the one outlined below.
Our team of Licensed Customs Brokers can walk you through the steps of determining a vehicle's compliance in the case of a missing label. We'll also guide you through the entire process of what's needed to legally import cars from Japan to the U.S. 
FMVSS Compliance Label
Not too different from confirming compliance with EPA standards, you also need to make sure your vehicles are compliant with Department of Transportation (DOT) requirements. The actual requirements are referred to as the Federal Motor Vehicle Safety Standards (FMVSS). Just like the EPA emissions sticker, compliant vehicles will include a FMVSS label stating compliance.
The FMVSS label can be found on the driver's side door. If the label isn't there, all hope is not lost. It may be possible that your vehicles do conform to the FMVSS, but weren't manufactured for the U.S. market and are simply missing the label. You'll need to take some additional steps to determine whether your cars are compliant.
Again, a Licensed Custom Broker can assist you with these steps and make the process quick and easy.
2. Confirm What Your Responsibilities Are For the Shipment
After you've determined the compliance or non-compliance of your vehicles, you'll want to confirm what your responsibilities are related to shipping the vehicles. Your responsibilities include the financial side of things, as well as specific tasks that need to be completed.
Not having a clear understanding of your responsibilities can lead to major issues including:
Shipment delays
Unexpected costs (duties, transportation costs, warehousing)
Delivery at wrong destination
And more
Below, we explain how to determine what your responsibilities are.
Find Your Shipping Terms
Before you agree to purchase your vehicles, you'll sign a purchase order with the foreign supplier. Within your purchase order will be an area that includes the shipping terms, commonly referred to as Incoterms®. Short for international commercial terms, Incoterms® are displayed as a group of 3 uppercase letters. Because there isn't a standardized format for purchase orders, the location of the shipping terms can vary.
In total, there are 11 unique Incoterms® rules:
EXW- Ex Works
DAP- Delivered at Place
FCA- Free Carrier
CPT - Carriage Paid to
FAS- Free Alongside Ship
CIP- Carriage and Insurance Paid To
DPU- Delivered at Place Unloaded
DDP- Delivered Duty Paid
CFR- Cost and Freight
CIF- Cost, Insurance, and Freight,
FOB- Free on Board
Each individual rule outlines the responsibilities for the buyer and seller regarding the shipment. For example, in a DDP shipment, the seller covers the costs of goods to the port of unloading, as well as the task of customs clearance for the export and import portion. On the opposite end of the spectrum, in an EXW shipment, the buyer covers the majority of costs and responsibilities.
The range of possibilities when it comes to the shipping terms illustrates the need for having a clear understanding of this aspect. Assuming any of the details related to which party is responsible for the costs or coordination of your vehicle import will lead to problems.
Our team has a deep understanding of Incoterms®. Before you agree to purchase your vehicles from Japan, speak to our experts. We'll confirm what the shipping terms mean for you to help you decide if you're comfortable with moving forward.
Wanna learn more about Incoterms®? Check out our article What Are Incoterms®?
Calculate Your Import Duty
Determining how much import duty you'll need to pay can often be a confusing and complicated process. Surprisingly, vehicles are fairly straightforward when it comes to calculating the duty percentage.
Most cars are subject to a duty rate of 2.5% of their value. Trucks are dutiable at a rate of 25%, while motorcycles are either duty-free or assessed at a rate of 2.4%.
With that being said, some vehicles can be subject to a gas-guzzler tax. This only applies to vehicles with a fuel economy rating less than 22.5 miles/gallon.
In addition to import duty, you'll also need to pay a Merchandise Processing Fee (MPF). This fee is 0.3464 percent of the value of your vehicles. However, the fee has minimum and maximum thresholds.
Since your cars will be imported via ocean, you'll also need to pay a Harbor Maintenance Fee (HMF). The HMF is .125 percent of the value. There isn't a minimum or maximum threshold for this fee.
While the fee amounts for vehicles is fairly clear, it's important to ensure that you have an accurate value for your vehicles. Listing an incorrect, lower value will act as a red flag for CBP agents and cause issues for your imports.
3. Arrange For Transportation of Your Vehicles
Once you've determined how much of the shipment you'll be responsible for and what your fees will be, you'll need to find someone to ship your vehicles. It's also important to note that your vehicles must be thoroughly clean at the time of import. This requirement is to ensure that foreign soil isn't present on the vehicles which presents a possible risk of foreign pests. Imported vehicles that aren't clean are at risk of being detained or exported back to the shipper.
There are a couple of ways to go about finding a company to ship your vehicles:
Contact individual carriers
Get in touch with a freight forwarder
Reaching out to individual carriers is effective, but it isn't necessarily the most efficient method. Freight forwarders operate by working with multiple carriers, which makes it possible to significantly speed up this step.
The way that most freight forwarders collaborate with their carrier network is by having already established rates for specific commodities and lanes. This makes it so that when you can contact a freight forwarder, they can simply compare the details of your shipment to their "catalog" of established rates and quickly find the best option for you.
In addition to providing you with customs clearance services, we have an exclusive partnership with freight forwarder, R+L Global Logistics. This means that you'll be able to get everything you need to import your cars from Japan to the U.S. in one place. Better yet, thanks to our partnership you'll benefit from reduced costs when you utilize both importing and freight forwarding services. To learn more about what costs you can expect to pay when importing from Japan, check out our article on import costs from Japan.
4. Gather and Complete Required Documentation
Along with step 1 of our process, step 4 and 5 are often the other most challenging tasks. Import documentation on its own is confusing and complex. Importing cars adds another layer of difficulty with a couple of additional forms that need to be completed and provided to CBP.
EPA Form 3520-1
This form from the EPA serves as a document outlining the vehicles' compliance with EPA emission control requirements.
Information about the vehicles required on the form include:
Make
Model
Manufacture date
VIN number
In addition to the above details, the form also requires notice of which condition the vehicles are compliant to. If the vehicles are not compliant with the emission standards, the proper condition for exemption is required.
In total, there are 21 conditions/code to choose from. Selecting the incorrect compliance code can delay your shipment and lead to further issues.
NHTSA Form HS-7
To cover the FMVSS side of compliance, importers need to complete and submit NHTSA Form HS-7.
This form is similar in nature to its EPA counterpart in that it requires basic information about the vehicles being imported. The form also requires a selection of a specific condition under which the vehicles are compliant or non-compliant with the FMVSS.
There are a total of 13 options to choose from. When some of the conditions apply to your imported cars, additional documentation is required.
Standard Import Documentation
In addition to the 2 vehicle-specific forms discussed above, there are a few documents required for ALL imports into the U.S. that also need to be completed.
Other standard documentation required for your Japanese car import includes:
Commercial Invoice
Packing List
Entry Summary (CBP Form 7501)
Bill of Lading
Customs Bond
ISF Filing
All of the documents above are critical to safely and quickly importing your cars into the U.S. The ISF Filing is a requirement specifically for ocean shipments. It's also a particularly punishing requirement when it's not completed and submitted properly. Late or missing ISF Filings are subject to a standard $5,000 fine for each violation.
Gathering and completing all of these required forms is one of the most tedious and time-intensive aspects of the process. Thankfully, our team can help you quickly locate and complete all of these forms. In fact, you can buy a customs bond for just $245 directly on our site.
5. Provide Required Documentation to CBP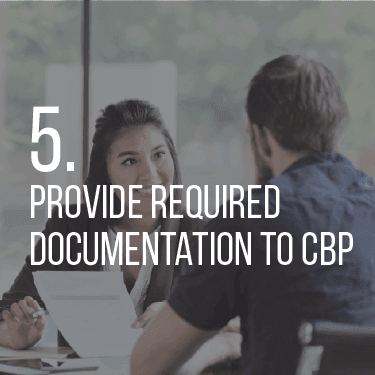 In addition to finding and completing the necessary documentation for your import, everything also needs to be submitted to CBP in accordance with their timelines and submission requirements.This is a task in itself as it takes time and there's opportunities for mistakes to occur.
While it is possible to file these documents directly with CBP at the port of entry where your vehicles will arrive, we strongly suggest working with a Licensed Customs Broker.
When submitting documents directly to CBP, you'll need to sign up for various data portal accounts, and in some cases submit paperwork in person at the port of entry. Additionally, making mistakes when submitting the paperwork through CBP's portal will slow down the process.
Licensed Customs Brokers have access to specific tools that are designed to make the process simple and quick. On top of that, these brokers have experience in using these tools every single day. Working with a Licensed Customs Broker and letting them handle the heavy lifting will take the burden off of your shoulders and lead to a smooth and hassle-free import.
Import Cars From Japan With USA Customs Clearance
When you're ready to import cars from Japan to the U.S. we're here to help you. Our extensive knowledge and experience in importing vehicles provides peace of mind. You won't need to worry about unexpected issues or unwanted surprises. We ensure that your import experience is smooth and hassle-free.
If you already have a shipment planned and just need a quote, request a customs brokerage services quote today.
Still have questions or want specific help? Schedule a 1-on-1 consulting session with our Licensed Customs Brokers. They'll walk you through the entire process of importing cars from Japan to the U.S. and give you everything you need.