Importing pharmaceuticals into the U.S. can be both an admirable and financially lucrative endeavor. However, it's never as simple as just loading up the products and having them appear in pharmacies across America. If careful steps are not taken, the entire business could fail before it ever starts.
The United States Food and Drug Administration (FDA) regulates the import of pharmaceuticals into the U.S. Their regulations include submitting the product for FDA approval prior to import, providing advance notification of pending shipment, and more. Complying with all FDA and CBP import requirements is critical to success.
Working with a Licensed Customs Broker eases many of the challenges faced by businesses when importing pharmaceuticals. At USA Customs Clearance, our knowledgeable and experienced brokers work directly with you to ensure that your pharmaceutical import quickly and legally clears customs. Take advantage of our customs consulting services to get everything you need for your importing needs.
Compliance with the FDA
If you're planning on importing pharmaceuticals into the United States, registering with the FDA is a necessary step in that direction. This is not an optional step either, you must do so in order to bring any prescription drugs into the country.
In order to complete this, the starting point is electronically filing online. With extremely few exceptions, this is a mandatory step that must occur before your import business can start selling pharmaceuticals in America.
Particular information will be asked for and must be included in order for your registration to be accepted. The form to be filled out is called the Establishment Registration SPL document and asks for the following information:
The name and Data Universal Numbering System (DUNS) number
Contact information for the person who will receive correspondence from the FDA
Any and all relevant business operations
If you are a foreign enterprise attempting to import pharmaceuticals into the U.S., you would be required to supply the name and DUNS of a U.S. agent and all importers.
FDA's Role In Overseeing Pharmaceuticals
While the previous section deals with how to register with the FDA in order to begin the importation process, it's also useful to know how the organization regulates and approves pharmaceuticals so that they can be sold in the United States.
The FDA will start off by spending an indeterminable amount of time, which can take months, analyzing new drugs and then setting regulations for them. If you are importing prescription drugs that are already established, you shouldn't have to worry about this.
Still, once the imported drugs have met the FDA's criteria, the organization will still periodically check in to ensure the drug or drugs keep their efficacy and do not become less safe for the American public.
So in summary, you will not be able to import a single pharmaceutical item unless it has already been cleared by the FDA. There is no point in trying to do so until you're sure it has been.
If you're unsure about any of the importing process, it's wise to consult with an importing professional. Our team of licensed experts will review the details of your shipment and go over everything that is required. Additionally, we can provide with numerous supply chain services including warehousing, order fulfillment, domestic & international transportation, and more.
Work with a specialist to make importing and exporting to the USA a hassle-free process.
Get the details you need with our import consulting services.
How Do I Clear My Pharmaceuticals Through Customs?
Hopefully you're at the point where you know the FDA has cleared the pharmaceuticals you want to import as safe and approved them. While it's obviously crucial to pass FDA muster first, clearing your shipment through customs is arguably the biggest and most important part of the entire process.
If you can't successfully navigate the CBP in order to clear customs, you'll have wasted a lot of time, effort and money only to see your imports be rejected. First, before you do anything else, you will be swimming in forms to fill out. There is no way around this; if any of the required forms are missing, incomplete or feature incorrect information, your shipment could be delayed or rejected.
Here are the most important pieces of paperwork you will be required to include:
Packing List
Bill of Lading
Importer Security Filing (ISF)
Commercial Invoice
CBP Form 3461
CBP Form 7501
Arrival Notice
Customs Bond
Commodity Specific Documentation
Also you need to be cognizant that the CBP can choose to search your cargo for any reason. If this occurs, they will bill you for the cost of doing so.
Filing an ISF To Clear Customs
If your pharmaceuticals are coming from overseas, it stands to reason they will be arriving into U.S. ports via ocean vessel. If that is the case, an ISF (also known as a "10+2") must be filed with the CBP a minimum of 24 hours prior to your cargo leaving its country of origin.
The reason the form is known as a 10+2 is for the 10 ISF requirements coupled with the 2 carrier requirements.
These are:
Buyer
Seller
Consignee Number
Importer of Record Number
Ship to Party
Manufacturer or Supplier
HTSUS Number
Country of Origin
Consolidator
Container Stuffing Location
The carrier requirements are:
Container Status Messages
Vessel Stow Plan
After compiling this information, you have two choices on how to file it. You can file yourself, which means you'll have to go to the CBP website and apply for an Automated Commercial Environment (ACE) account. One you possess an account, you then register your Importer ID number by filling out CP Form 5106 and submitting it to the CBP. You can also visit an American port of entry and register your ID number.
Once your eligibility for the ISF portal is confirmed, only then will you be able to enter your information into the ACE portal. However, to bypass some of those steps, you can hire a customs broker to help with this.
The CBP instituted this in 2009 to reduce the instances of goods being illegally or unlawfully imported into the U.S. Being in compliance should be a big incentive for any importers because of the alternatives, which include monetary fines, cargo being delayed and additional future inspections.
It is important to note that this is only for ocean transport. If your cargo is being shipped on a truck, train or plane, this is not needed at all.
Need help with the ISF Filing? Our team of experts can help you with this. Failing to comply with ISF requirements can lead to extremely frustrating situations. Don't let this happen to you.
Work with a specialist to make importing and exporting to the USA a hassle-free process.
Get the details you need with our import consulting services.
Packaging Pharmaceuticals For Shipping
While this part might not have to do with the clerical process of importing your pharmaceuticals, there's no reason to go through so much time and exert so much effort if your products end up damaged at sea because they weren't protected against physical damage during shipping or damage from the elements.
For a long ocean voyage, the medicine should be boxed. Waterproofing packaging might be tough but the box should at least give basic protection against heat, moisture or humidity if possible. Your pharmaceuticals will be loaded into a shipping container, so hopefully weather isn't a huge issue.
Pharmaceuticals generally come in individual packaging that protects against these elements in the form of thick plastic bottles or other forms. These also help protect against things like contamination, spoilage, reduced efficacy and more.
Also when importing from overseas on an ocean vessel, it could be a weeks long journey. So any medication that has a very short shelf life shouldn't be imported in this manner if there's a possibility of it degrading before it arrives on U.S. shores.
Importing pharmaceuticals for commercial use from Mexico or Canada is currently illegal, so any of the drugs legally imported will be from overseas.
Where Does the US Get Its Pharmaceuticals?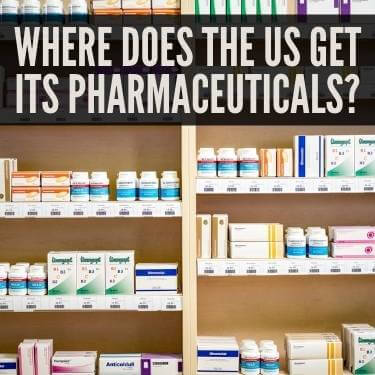 The United States has a robust pharmaceutical industry in all aspects — development, research and manufacturing. The first two parts of that equation are dealt with domestically but not all pharmaceuticals are manufactured in the country. When understanding why that is, it's important to think about how big of an industry pharmaceuticals are.
It's no wonder why this would be such an enormous industry: in 2018 alone, nearly half a trillion dollars were spent on pharmaceuticals and/or medicine. Furthermore, the total economic output of the pharmaceutical industry in America has only risen since it was estimated to account for $1.3 trillion in 2015.
The pharmaceutical industry in America is made up mostly of generic drugs to manage the high cost for consumers. To further drive down the financial impact on the U.S. public — and for companies to turn more of a profit — much of that manufacturing comes from overseas, namely China and India. Since a lot of the pharmaceuticals that Americans need are not domestically produced, it therefore needs to be imported to reach the people who require it.
The US still does produce its own pharmaceutical products but it is less each year as the outsourcing becomes larger. The companies that do make medicines domestically focus on name-brands over generics. Americans want their pharmaceuticals to be safe and effective but also affordable.
In some cases, when that hasn't been possible for various reasons, United States citizens have crossed their northern and southern borders to buy prescription drugs from Canada or Mexico. Unfortunately, commercial importers of pharmaceuticals are not allowed to import from either of those two countries since it is illegal. So your business will have to go another route in finding medicine to import into the United States.
Do I Need A Customs Bond To Import Pharmaceuticals?
A customs bond, also known as a surety bond or import bond, is purchased by the importer to ensure that the duties and taxes owed to the U.S. government are covered in the event that the importer is unable to pay them.
There are two specific reasons when a custom bond is absolutely required. Coincidentally, this encompasses most imported shipments. The first requirement for needing a customs bond is when the commercial goods you are importing have a value of $2,500 or more. With the quantity of pharmaceuticals even a small-time importer would be moving, this benchmark is easily hit.
The second requirement, especially for pharmaceuticals, covers a host of different products. When the imported goods are subject to requirements imposed by a federal agency, the shipment must be covered by a customs bond. In this case, pharmaceutical products are regulated by the FDA, so they automatically must have a customs bond.
One other aspect to consider when purchasing customs bonds is whether you want a single entry bond or a continuous bond. The single entry bond is just like the name sounds — good for one entry into the country. A continuous bond is good for many importations over the course of one year. If you're a regular importer of pharmaceutical products, a continuous bond is the way to go.
The only way you can get out of having to purchase a customs bond is if you're willing to instead put down a large amount of cash — which could be tens of thousands of dollars — to cover the cost of current and future duties and taxes.
The only positive is you will get the money refunded to you in whole versus the sunk cost of purchasing a customs bond year to year. However, it can take several years for the money to be released and it also can be a large enough amount of money that would be better used in other areas of your business.
Go ahead and buy a customs bond today
and get your freight on the way around the globe.
Importing Pharmaceuticals with A Customs Broker
Seeing all the different requirements of importing pharmaceuticals can make the entire process seem pretty overwhelming if you need to do it all yourself or if you're a first-time participant in the process. There is definitely a lot of paperwork to fill out while the rules and regulations alone can make your head swim.
But it's not an undertaking you have to tackle alone. In fact, a customs broker can help you with pretty much every aspect of the importation process. It's been established that you need a customs bond for instance. You can make the choice to either find your own bond or partner with a customs broker to secure one.
Moving onto the customs process itself, an experienced customs broker can fill out the associated forms with the correct information provided by you and file it on your behalf. In fact, you might prefer this approach since the customs broker deals with the forms regularly and knows exactly how to complete them.
Once your items reach US ports or border crossings, a customs broker can then help you clear your items so that you can receive them and move them around the country where you want them.
A customs broker that has a lot of resources or is connected to a larger overall company can also help you in other ways. For instance, if you need freight shipping services once your pharmaceuticals reach the US, your customs broker can either connect you with a provider of that service or is part of a business that offers them.
A customs broker that is affiliated with a company that provides logistics can even help connect you with the right people if you find yourself in need of warehousing for your pharmaceuticals or even need order fulfillment.
As you can see, using a customs broker can come with a variety of benefits both directly and indirectly related to the importation of your pharmaceuticals. While a customs broker will be paid by you to render these services, it could really be well worth the money so that you can be assured your customs clearance will happen without a hitch. The potential hitch in this scenario can see your imports get delayed or, worse, rejected because forms weren't correctly completed.
A final thing to note is a customs broker is not mandatory to import goods. However, as stated above, they can make the entire process much easier for your enterprise.
Importing Pharmaceuticals With USA Customs Clearance
Now that you have a firm grasp on importing pharmaceuticals, take the next step by reaching out to USA Customs Clearance to help with guidance during the importation process.
We offer import consulting services in 30-minute increments, where you receive a 1-on-1 session with a customs expert or licensed customs broker. This allows you to get clear, concise answers for your questions and a sole focus on the issues you want to address. When consulting with a licensed customs broker, you get even more in-depth assistance
You can also buy your continuous customs bond through us and have it approved quickly. USA Customs Clearance can get you same-day approval after submitting your customs bond form and have it completely finalized within two days. For a flat yearly cost, USA Customs Clearance will provide you with a customs bond — which will be good for a year from purchase — and even renew it before it is set to expire.
Also, we can assist during the entire process if you wish. That means we will help fill out forms, help you register with the necessary entities to file information and even communicate with the CBP on your behalf to help your pharmaceuticals clear their port of entry.
So when you're ready to begin importing pharmaceuticals into the US, let USA Customs Clearance be a guiding hand for you. To set up a consultation or a free quote on any of the services we provide, call us at 855.912.0406.
Work with a specialist to make importing and exporting to the USA a hassle-free process.
Get the details you need with our import consulting services.