If you've ever considered importing plants to the USA, then you've probably noticed that it's not the simplest process you'll ever take part in. Whether you're doing so for personal reasons or for business ones, a little extra work needs to go into it than you might have initially thought. There are many different rules and regulations, and, for someone completely out of this circle, it can be somewhat awkward to deal with.
When importing plants to USA, one must follow the correct steps in order to complete this transaction cleanly and legally. Importing plants and plant products differ in some ways, so you need to make sure you know where you stand before committing. For instance, when importing fruits and vegetables, one can check the admissibility by checking APHIS' Fruits and Vegetables Import Requirements (FAVIR). Regarding propagative plant material, they should be bare-rooted, wrapped in damp material to prevent drying out, and must be accompanied by a phytosanitary certificate from the country of origin. Twelve or fewer plants are inspected by CBP at the first port of entry. Thirteen or more will be inspected by APHIS personnel. If they do not meet the requirements, they will be returned or destroyed.
At USA Customs Clearance, powered by AFC International, we want to be able to help you with whatever questions you may have regarding importation. We'll allow you to book a customs consulting session while offering a customs bond so that your shipment is covered financially.
Work with a specialist to make importing and exporting to the USA a hassle-free process.
Get the details you need with our import consulting services.
Plant Import Requirements
As previously mentioned, different requirements exist for different kinds of plants and the industries with which they operate under. Let us now run through some of the typical import requirements:
Endangered Plant Species (CITES):
- If you are looking to import or export CITES or ESA plants and plant products, then USDA regulation 7 CFR 355 requires you to possess a valid USDA Protected Plant Permit. CITES-listed plants are required to enter the US through a designated port.
- The fee for the Protected Plant Permit is $70 and should be paid via check or money order made payable to Plant Protection and Quarantine.
Fruits And Vegetables:
- APHIS has a searchable, online, free-to-use database, known as the Fruits and Vegetables Import Requirements (FAVIR) database.
- It allows people to search for authorized fruits and vegetables and their requirements for importation into the US.
- Commodities approved under the Q56 revision will not be reflected in the Code of Federal Regulations, but rather in the FAVIR online database.
Hemp Seeds And Plants:
The requirements for safely importing hemp plants and hemp seeds differ slightly. There are also different requirements regarding whether they're imported from Canada or not.
- Importing hemp seed from Canada:
These may be imported into the United States under a specific condition. Hemp seed imports need to include an official phytosanitary certification from the CFIA (Canada Food Inspection Agency). This certificate confirms that the seed contains no evidence of pests.
They're also allowed to be imported if they're accompanied by a Federal Seed Analysis Certificate for hemp seeds harvested from plants grown in Canada.
- Importing hemp plants from Canada:
Hemp plants may also be imported if accompanied by a phytosanitary certified from Canada's NPPO to verify the origin.
- Importing hemp seeds and plants from anywhere else:
Hemp seed for planting may be imported into the United States from countries other than Canada if accompanied by a phytosanitary certificate from the exporting companies NPPO.
They'll be inspected upon arrival to ensure they meet APHIS regulations. Hemp plants, again, need the requested certificate but also need to be accompanied by a PPQ 587 permit.
Plants And Products Covered By The Lacey Act:
- The Lacey Act combats trafficking in illegal wildlife and plants. It is unlawful to import certain plants and plant products without an import declaration.
- The official APHIS website will be able to provide you with a plethora of information regarding the requirements and regulations of plants and products covered by the Lacey Act.
How To Get A USDA Plant Import Permit
Permits are required in order to import plants to USA. Plant and plant product permits include plants for planting such as nursery stock, fruits and vegetables, timber, cut flowers, and small lots of seed. There are many different kinds of permits, and the convoluted set may confuse some onlookers. Here are the currently available permit applications:
- PPQ 585: An application for a permit to import timber or timber products.
- PPQ 587: An application for a permit to import plants or plant products, including:
Plants for planting (including seeds)
Fruits and vegetables
Rice and rice-related plants
Indian corn or maize, broomcorn, and related plants
Miscellaneous products associated with Khapra Beetle
Sugarcane products and by-products
Foreign cotton and covers
Cut flowers
- PPQ 546: An application for propagative plants that require post entry quarantine
- PPQ 588: Controlled import permits to import plants or plant products for experimental, therapeutic or developmental purposes
- PPQ 621: An application for a protected plant permit to engage in the business of import, exporting, or re-exporting protected plants (CITES)
- PPQ 586: An application for a permit to transit plant products, plant pests, and soil through the US.
Work with a specialist to make importing and exporting to the USA a hassle-free process.
Get the details you need with our import consulting services.
Will My Plants Need To Undergo A Post-Entry Quarantine?
In some cases, plants will need to be quarantined and treated accordingly. The USDA APHIS will determine the type of treatment necessary when a pest of quarantine significance is prevalent in the country. Treatments can be chemical and non-chemical.
Fresh fruits and vegetables that are admissible into the United States may require quarantine treatment prior to being allowed into the country. Irradiation treatments that have been developed recently are considered viable phytosanitary options for mitigating against certain quarantine significant pests.
The post-entry quarantine is in place to widen the range of plants and foreign sources where plants can be imported from. Through careful monitoring during quarantine, plants can be confirmed to be free of pests before entering the marke. The regulations are listed and specified in 7 CFR 319.37-23. The requirements for post-entry quarantine are located in the plants for planting manual.
Duties And Fees When Importing Plants
There will be an array of fees that one has to pay in order to get this kind of transaction over the line. Inspection or handling fees, including customs duty, will be taken during a successful importation into the US. If you wish to learn about the kinds of fees you might have to pay during this process, then you find everything you need here on this database.
Ultimately, the duty will vary based on where the plant is coming from and what type of plant it is. In addition to duties collected on the import, a Merchandise Process Fee is also collected.
The responsibility of paying duties always falls on the importer of record. However, the importer of record will change depending on the Incoterms of the shipment. To learn more about Incoterms , take a look at our blog What Are Incoterms?
Importing Plants From Thailand
Thailand is home to some of the most beautiful and exotic plants this entire planet has to offer. This deep array of flora attracts people from all over the globe – and, more specifically, the USA, leading them to import. Here are just are a few that are on offer from Thailand:
Ratchaphruek: Also known as the chaiyapruek or the golden rain, the Ratchaphruek flower bursts into bloom at the end of the cooler seasons and is the national flower of Thailand. It's a flower that can be seen in an array of different settings – you'll see them in places like parks and roadsides, usually. Their pretty aesthetic, contrast with the summer sky, and tendency to fall from their trees make them a very popular flower to import.
Lotus: The lotus flower is popular all over the globe, so it's no surprise that it gets imported into the United States on a regular basis. It's a heavily religious symbol, too, as it is seen as the flower of Buddhism. While Buddhism may not be the leading religion in the United States, there is still a hefty number who practice it on this continent.
The contrasting colors make it a delight on the eyes, and its seeds are also an edible delicacy. The leaves can be used to wrap food, and the root can be turned into soup.
Orchid: There are more than one thousand species of orchid in Thailand – this glorious array gives those interested a lot to choose from, meaning the desire from them from all over the globe increases. Thailand has the most orchids of any country in Southeast Asia and is one of the world's leading exporters of the planet, so any importer would know that they'd receive the right kind of service and a smooth transaction when working with this kind of process.
Jasmine: Jasmine is the symbol of Mother's Day in Thailand. It has a wonderful smell to it and represents pure and unconditional love between a mother and her child. This kind of message and representation is more than enough to boost its popularity with those in the west. It is also used on desserts to add a lovely fragrance and is sometimes used to make tea. The flower may also be used to make perfumes and essential oils, which is another very popular activity among people all over the globe.
Bat Flower: The bat flower is a more polarising flower in that some enjoy the look of it, and others may not be so crazy about it. Named because of its resemblance to a bat, it's also known as the 'devil flower.' It grows primarily in the jungles of Thailand and thrives in humid conditions. This unique and strange look makes individuals and groups alike wish to import to the USA.
Hibiscus: This flower is seen all around Thailand and comes in a variety of shapes and sizes. We can use it to make tea and is seen as a traditional herbal remedy in many areas of the world.
Such beauty regarding these Thai flowers leads nurseries in the US to decide that importing from Thailand is the right way to go.
Work with a specialist to make importing and exporting to the USA a hassle-free process.
Get the details you need with our import consulting services.
How Should I Ship Plants?
You'll have many different methods of importing plants into the US – it's just a case of picking the right method that suits the kind of item you're bringing in. You can import via air, sea, truck, and rail. Let's quickly go through the different options on offer:
Air: Air transport is obviously a very convenient way of shipping goods such as plants all over the world. The positives of air freighting are that you can pretty much guarantee safety and security due to the protocols and controls associated with each flight. It's also the safest mode of transport in general, of course. You can also take into account the speed at which the goods will be delivered.
You have to think about cons such as the weight and size limits, however, as planes only allow a certain amount per party. The cost might be a little higher than you'd like, too.
Sea: Importing goods via sea or ocean is a helpful way of working as it can work at relatively cheaper than other options. You're also able to carry lots of times – both heavy goods and smaller ones at a high volume. It's an eco-friendly way of operating, too.
Some cons are that it's a pretty slow method as water travel isn't exactly light-speed. There can be delays, too, resulting in customers choosing another supplier if they're unsatisfied with the time taken.
Road: When it comes to shipping domestically, you'll know all about road courier services as you'll have dealt with them before. Using for long-distance imports are a little different, though. The pros are that it's a relatively low cost and that scheduled and next-day deliveries are a viable option. You can track the location, and it's usually a secure and private process.
Some cons are that, of course, the longer-distance imports will take quite a long time. Traffic and breakdowns can also be an issue. There is a risk of the goods being damaged over time, too.
Rail: Importing via rail is a smooth option for an individual or group as it's environmentally friendly and will get speedy transactions done through the likes of Mexico and Canada. It's more expensive than, say, road courier services. You also have to deal with the fact the routes are not as flexible as you'd like, and that the final destination won't be your final one – you'll need further transportation.
If you're on a tight deadline and need your products quickly, you'll need to opt for international expedited shipping. While expedited shipping comes with a hefty cost, it's a necessary evil when time is of the essence.
How Can A Customs Broker Help Me?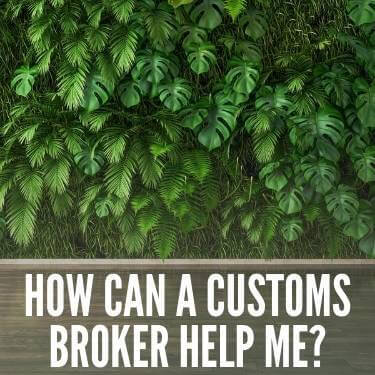 A customs broker's (sometimes known as an import broker) job is to ensure the import and export of goods goes as planned. They'll deal with the formalities and facilitate the clearance of goods through customs processes. Much like a broker in any other walk of life, they'll represent a party and do what's best for them. They'll handle tasks such as paperwork, monitoring shipments, and coding goods.
As someone looking to import plants into the USA, you'll need to make sure everything is in order so you do not have a flawed transaction. A customs broker will be able to take the stress and strain away from you while this process is ongoing and allow you to smoothly import what you desire. They'll work directly with you and allow you to understand what is going on during every step. Due to their experience, they will be able to oversee pretty much everything and answer any query you might have along the way.
Need Help Importing Plants to USA?
We know that this kind of process isn't going to be the most straightforward thing you've ever done – especially if this is going to be your first time. Nobody likes heading into something without having the knowledge about what's ahead, so that's why we want to help you out. If you're importing plants to USA – or looking to do anything regarding importing or exporting – then USA Customs Clearance is here to help.
We'll help you with consultations whenever you need them. Whether it's regarding imports or exports, we'll have the knowledge to provide you with what you need. We've years of experience, so we know a thing or two about dealing with some of the most tedious of instances in terms of worldwide distribution.
When it comes to exporting goods from the US, we're aware that dealing with movement to Canada or Mexico can carry a few more implications, so we offer specific consulting with regards to the two aforementioned territories as well as a general consulting service.
If your imports are related to commercial activities or are required to meet federal regulations, then you'll need a customs bond in order to guarantee the payment of import duties and taxes. This is where we can also help as we'll offer you an annual customs bond for $245.00, allowing you to freely import plants to USA for the next twelve months – and to begin straight away!
Go ahead and buy a customs bond today
and get your freight on the way around the globe.