The U.S. has been the largest importer of bicycles for many years. Bicycles are so popular among Americans that the U.S. imported as much as $1.26B worth of bicycles in 2020. Despite the number of bikes that are imported into the U.S., the importing process can still be confusing, especially if it's your first time.
Under most circumstances, you don't need special documentation to import bicycles. You only have to pay the applicable duty fee. Most bicycles are imported from China and Taiwan due to the quality and quantity they produce. The total import cost of a bicycle will depend on its cost in addition to the duty fee.
Our guide below will run through all the basic information you need to successfully import your bicycles.
Rules and Regulations For Importing Bicycles
Customs and Border Control (CBP) is the primary agency that oversees imports coming into the country. Their guidelines do not require you to have any special documentation regarding bicycles under most circumstances.
The only time you will need paperwork for your bicycles is if you are importing them for personal use or if they have a value of $2500 or more. Under this circumstance, you will need to obtain a customs bond. There are two types of customs bonds each with its own distinct purpose.
The single-transaction bond is good for one use while the continuous bond works for any number of imports for one year. However, most bicycles will not cost you $2500 unless you order a large quantity.
Other than possibly needing a customs bond, you do not need any special documentation to import bicycles.
Where to Import Bikes From
There are so many countries that you can import bicycles from that it can feel a little overwhelming. To narrow your search, consider these countries who were the top 5 exporters of bicycles in 2020:
China
Taiwan
Netherlands
Germany
Cambodia
China leads all these countries by a large margin. China alone accounted for 38.3 percent of exported bicycles in 2020.
While they don't export as large of an amount as China, Taiwan is another popular country to export bicycles from. In 2020, Taiwan produced and exported $1.1 billion worth of bicycles. This accounted for 11.7 percent of all bicycles exported in 2020.
The reason that China and Taiwan are such popular places to export bicycles is that the cost of labor to build them is so cheap. Typically low-end to mid-level bicycles are made in China. High-quality bicycles are usually made in Taiwan or the home country of the bicycle company.
Some of the top bicycle companies that build their bicycles in China, Taiwan, or both are:
Trek
Schwinn
Specialized
Raleigh
Many consumers worry that the quality standards of products from China and Taiwan are low. However, bicycles made in these two countries are of great quality.
Since the top bicycle companies import from China and Taiwan you have the reassurance that any bicycles you import will meet your quality standards.
If you plan to pursue importing your bikes from China, it will be worth your time to learn more about the specific of importing from China. For more information, check out our blog Importing From China: Everything You Need to Know.
How Much Will It Cost To Import a Bicycle?
There are a few matters you will have to take care of to know the cost of your bicycle. What you should first consider is the cost of the bicycle you want to import. Depending on the brand, type of bicycle and quality will determine its cost.
What Is The Import Duty For Bicycles?
The next area of concern is the duty rate for bicycles. The general duty rate is given by the Harmonized Tariff Schedule of the United States (HTSUS). In the majority of cases, the duty rate for bicycles is 11 percent.
However, the U.S. does have free trade agreements that eliminate or reduce duty rates for bicycles. Unfortunately, neither China nor Taiwan is part of U.S. free trade agreements.
Importing your bicycles from a country under a free trade agreement can be a worthwhile venture. For more information, take a look at our article on U.S. Free Trade Agreements.
Are There Different Import Duties for Different Types of Bikes?
There are various types of bicycles all with their own unique characteristics. Some specific bicycle types are mountain bikes, beach cruisers and road bikes to name a few.
Despite these different types of bicycles, the HTSUS does not give different duty rates for every single type of bicycle. What HTSUS does give is a reduced duty rate for certain design features a bicycle could have.
Bicycles that have these design features will be subject to a 5.5 percent duty rate rather than the general 11 percent rate. The two design features are as follows:
Bicycles that weigh 16.3 kg without accessories and that are not designed to have a cross-sectional tire with a diameter over 4.13cm.
Bicycles that weigh less than 16.3 kg without accessories that have a front-wheel between 55cm and 63.5 cm in diameter with a rear-wheel exceeding 63.5cm in diameter that is not designed to have tires with cross-sectional diameter over 4.13 cm and with a value of $200.
If the bicycle you decide to import has one of these features be sure to apply for reduced duty treatment.
Calculating Total Cost
Now that you know the duty rate for bicycles we can focus on calculating the total cost of your bicycle import. Unless your bicycle has two of the criteria above you can count on an 11 percent duty rate.
However, bicycle prices can vary across the different types. The quality of the bicycle is another factor that you have to consider as well.
However, we can give you an easy formula that you can use to calculate the total cost of your import. The step by step process of the formula is as follows:
Find the total cost of the bicycle itself
Convert the duty rate to percentage into a decimal (general duty rate of a bicycle is 11 percent and as a decimal, it will be .11)
Multiply the cost of the bicycle by the decimal to get the duty amount
Add the duty amount to the bicycle cost
In the table below we give you some examples of how to use this formula with estimated prices for different types of bicycles that you might come across.
This table will show you how you would apply this formula. Bicycle prices can vary across different types of bicycles and the quality of the bicycle.
| | | | | |
| --- | --- | --- | --- | --- |
| Type of Bicycle | Cost of Bicycle | Duty Rate (11%) Converted to a Decimal | Cost of Duty | Total Cost of Import |
| Mountain Bike | $550 | .11 | $60.50 | $610.50 |
| Road Bike | $450 | .11 | $49.50 | $499.50 |
| Beach Cruise | $300 | .11 | $33 | $333 |
| Touring Bike | $950 | .11 | $104.50 | $1,054.50 |
The same formula will mostly be the same if your bicycle qualifies for the 5.5 percent duty rate. The difference is that you will multiply the cost of the bicycle by the decimal 0.055 instead.
What About Electric Bikes?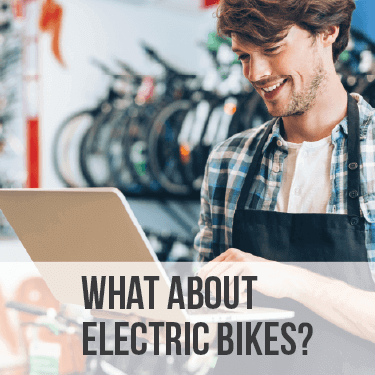 Over the past few years, there has been a spike in the popularity of electric bicycles, also known as e-bikes. According to HTSUS, e-bikes are considered motorcycles and are given the same duty-free exclusion.
Just as with bicycles, the U.S. imports most of its e-bikes straight from China. E-bikes that come from China have great quality standards as their regular bicycles do.
One difference between e-bikes and regular bicycles that you should know is that e-bikes are much more expensive. That is because e-bikes have more complex parts that are more expensive than regular bike parts.
USA Customs Can Help You Clear Your Bicycle Imports
Successfully importing goods into the U.S. often requires the help of a knowledgeable and experienced customs broker. At USA Customs Clearance we have a dedicated team with over 100 years of combined experience.
USA Customs Clearance can help you with everything you need when it comes to importing. On our importer of record registration page, we can get your business registered as an importer with the CBP. If you'll be importing a large amount of bikes ($2500 or more), you can buy a continuous customs bond for only $275 directly on our site. 
If you need some in-depth guidance on importing bicycles, a 1-on-1 Licensed Customs Broker consultation will greatly benefit you. Not sure where to start? Contact our team of customs experts and we'll guide you in the right direction.