Solar panels are shipped internationally every day and have become one of the best alternative forms of energy. The process that encompasses importing solar panels can be quite time-consuming and require many steps and materials along the way. Businesses should be aware of the standards and requirements, as well as the licensing and certifications involved with the installation and importing of solar panels.
It is essential for businesses and proprietors to be aware of all the steps involved with importing solar panels. You must become familiar with the rules and regulations to ensure you're not acquiring any unnecessary fines. It is also essential to effectively choose a location of importation, as well as a suitable manufacturer.
Many importers that ship solar panels to the U.S. rely on the services of a custom broker. USA Customs Clearance has the experience and resources required to help you safely import your solar panels.
Work with a specialist to make importing and exporting to the USA a hassle-free process.
Get the details you need with our import consulting services.
What Are the Rules and Regulations for Importing Solar Panels?
There are many rules and regulations that one must follow when choosing to import solar panels. During the installation process, the codes one must adhere to are building codes, fire codes, and electrical codes.Individuals run into issues regarding these codes when changes to rules haven't been implemented for upgrades in photovoltaic panel models. Additional problems arise when there are variations in codes amongst jurisdictions and when the enforcement of codes is made unclear or is inconsistent between manufacturers.
Depending on the location, these regulations are endorsed at either the state level or local level. The local level, or "Home Rule," gives the power to the local jurisdiction, whereas with "Dillon's Rule" the power resides in the state.
Building codes protect the public health by complying to standards for safe installation and operation of the solar system. Authorities having jurisdiction hold inspections to approve that one has followed the code of standard and authorize their equipment and materials as satisfactory.
In the majority of instances where PV panels are installed, the National Electrical Code needs to be adhered to. This states that a qualified professional is needed to assemble such electrical equipment. A necessary degree of knowledge, such as a licensure or certification ensures that safety precautions are taken. Depending on whether the installation takes place at the state level or local level will determine which type of licensing is required.
Demand For Solar Energy
The demand for solar panels is growing rapidly. The use of solar panels has become very prevalent because of their affordability and accessibility. The growth rate has increased by nearly 50% during the last decade. To put that into perspective, the amount of power made available through solar panels is equal to supplying 12 million houses with power.
There are a multitude of benefits that come with utilizing solar energy as opposed to conventional energy. The potential advantages of using solar energy include:
The solar industry has proven job growth throughout the country. The need for photovoltaic installers is in high demand, reaching nine times the average job growth.
The entire United States could be supplied with solar energy while only using .6% of the nation's land. This proves the potential of the product and its ability to lessen contamination, serving as an alternative for electricity.
Solar panels can be installed directly on rooftops to avoid potential land impacts and to utilize the space provided.
Other assumed benefits of using solar energy is environmental management. Lowering the carbon released through utility can have a substantial effect on national security as well as the economy.
The guaranteed performance in power outages can serve as a considerable perk alone.
Because of these recognizable benefits, many homeowners and businesses are investing in the importation and installation of solar panels. Because of the fact that the solar energy market is the main driver for a reduction in global warming and environmental pollution, an investment tax credit was developed in 2005.
This bill allows individuals to deduct a percentage off their federal taxes for carrying out the use of solar projects. Owning a solar energy system makes you eligible for a solar investment tax. When filing for your yearly tax return, you should incorporate your solar project.
The primary provider for this renewable electrical source has predominantly been Germany. However, as of 2018, the United States and China have become the leading solar conductors internationally. The demand and competition amongst competitors have significantly impacted the pricing of PV modules.
Where Should I Import Solar Panels From?
Choosing where to import your solar panels from is a fundamental part of the process. There are particular aspects to consider when electing a place of importation. These include the quality as well as the price of the products offered. In 2018, a tax tariff was placed on all imported photovoltaic cells into the United States as a result of a claimed unfair competition with China.
This tariff is intended to cover the cost of the manufacturing processes as well as the importation of solar cells and modules. Company headquarters occasionally differ from where the actual products are actually being manufactured. With that being said, looking solely into a company's headquarters may not provide insight on where they were manufactured and the quality of the product.
One of the major questions to consider is: Will a lower cost prove to be as effective as other top brands? China's ability to manufacture products cheaply in the solar industry is the reason behind the immense drop in prices worldwide.
In addition, they are leading solar panel suppliers, ranking number one. China enables companies to import solar modules for an affordable price. Because of the fact that not all suppliers assemble solar panels in the exact same way, product quality varies based on manufacturer brand, regardless of country. However, this does not rule out the fact that China offers undeniably low prices in comparison to other countries.
On the other hand, solar panels imported from Germany can have many benefits. Germany marks their solar panels with "Made in Germany," which indicates that the manufacturing was exclusively performed there. It is associated with and known for its quality in products as well as precision. They are known for their consistency and have achieved a reputation for producing solar PV units with the "best" quality.
Some manufacturers located in Germany have been acknowledged as "Tier 1" manufacturers. This implies that they assemble their products from start to finish, whereas Tier 2 and 3 companies operate differently. In these circumstances, companies may elect to purchase a copious amount of the parts required and only produce a limited amount. In some cases, these second- and third-class tiers may choose to buy all their parts separately. For that reason, German solar suppliers are often favored as they make up the vast majority of Tier 1 companies.
How Do I Import Solar Panels From China?
As previously mentioned, China offers solar panels for a very affordable rate making their industry flourish. There are terms to abide by when importing PV panels from China. There are language barriers and other terms that may interfere with the process of importation, price consultations, quality control, as well as handling customs. Becoming familiar with the taxes involved with this particular class of imports can provide a business owner comfort during the transaction. A wide range of codes that are related to trading with China can be found when researching rules and regulations. There are a variety of teams and management systems available to offer assistance during the importation process.
Get Started on Importing Solar Energy from China
Get started by researching the various suppliers that China has to offer. In addition, it is beneficial to establish a relationship with the vendor of choice and provide them with details about your business. It is always a good idea to look into the amount of experience they have acquired. Information such as how long they have been manufacturing the product as well as if they have been involved in any trade shows could support their eligibility.
The next step is negotiating pricing. During this process, one should evaluate the quality of the products offered and whether it proves to have equal value for the money spent. To make certain the business owner approves of the supplier's claimed warranty, insurance coverage, and other factors such as packaging style, they may request a pre-trial order.
Analyze the importing terms associated with China. The term FOB stands for Free on Board, meaning that the seller is responsible for the product until it is shipped. Once that has taken place, the buyer is now responsible for the goods. CIF, Cost, insurance and freight, yields this liability onto the seller, and also states that any additional costs associated with paperwork, inspections, or customs will also fall on the seller. Becoming familiar with these terms and determining the overall cost can be tricky. Working with an experienced customs broker is beneficial throughout this entire process.
Ensure that you are abiding by the regulatory standards set forth. Custom broker agents are available to ensure one is meeting these conditions.
Elect a customs brokerage management team. Doing so could ease the process immensely, transferring the price calculations duty onto someone else.
Obtain a trial order during this time.
To prevent receiving items that are non-compliant or otherwise of poor quality, one should hire an items inspector. These individuals are located in the production territory and can provide a full report of the specified desired qualifications.
There are documents required to facilitate imports and exports nationally. A hired customs broker will handle the clearances during the time of transportation.
It is valuable to store importation records after one has received a shipment.
Import Duty on Solar Panels From China
As previously stated, solar trade with China will be subjected to a tariff of up to 30%. Anti-dumping duties come into play when foreign imports, such as that from China, are priced significantly below the common price that it is sold for in the United States. This duty protects the local businesses and saves domestic jobs, which would otherwise decline due to the low prices available elsewhere. Solar panels fall into the category that individuals consider as being dumped. To reach a fair marketable value, the government International Trade Commission (ITC) issues a tariff on these products.
Go ahead and buy a customs bond today
and get your freight on the way around the globe.
Importing Solar Panels From Germany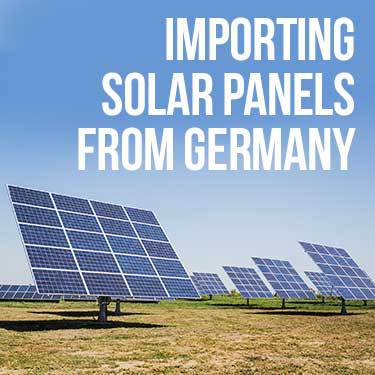 As previously stated, Germany is known for its premium solar panels. One thing to consider when importing from Germany is their VAT tax and custom rules. VAT tax is different from your typical sales tax that we are accustomed with in the United States. Contrary to sales tax which is applied at a single level of the transaction, VAT tax applies to each of the individuals involved leading up to the final sale. However, businesses that import products supporting renewables are not required to pay this tax. In this case, it is important to ensure you are not being charged for it in the process.
Additionally, when importing products from Germany, it is important to verify that the products being shipped meet U.S. standards. Germany's standards, rules and regulations may differ from other countries. With that being said, it is the importers duty to become aware and hire the necessary individuals during the process. During this time, it is also vital to determine the conditions of trade, such as who is liable under different circumstances.
Just as China offers an FOB (Free on Board) shipping service, Germany does as well. As stated, this implies that the seller is only liable for the product until it is shipped. Then, the buyer bears the risk of any damages during the shipment process. EXW is a term that states that once the seller has provided the product at their premises, the buyer is then liable for the rest of the transport costs.
When choosing which service to select, it is relevant to consider all the costs included in each. For example, electing an FOB incoterm might result in extra charges to have your products brought to a port. Other expenses to consider when shipping from Germany is the customs clearance and taxes that are involved with that process. Custom brokers become very useful during this time to make certain that the custom duties are handled properly. Other factors to consider when shipping from Germany are the transit time due to the location of the manufacturer.
Choosing a Manufacturer
There are a multitude of solar company manufacturers in the market as solar energy is on the rise. There are a few things to consider when choosing which production industry is the best option. One of the obvious determining factors is the price and quality as mentioned earlier. Apart from this, it's critical to look into the manufacturer's history. A large number of suppliers offer a reasonable warranty. Looking into what exactly their particular warranty entails and the duration of time it covers can be very beneficial in the long run. In accordance with the seller's history, the reputation of their business is revealed. Putting in the effort to examine a manufacturer's background can lessen the likelihood of electing a solar business that has the potential for bankruptcy. If this were to take place, the warranties in place can become void.
A company's average solar panels wattage is also an important aspect to consider when choosing a manufacturer. A solar module with a higher wattage is naturally going to produce a greater amount of energy per unit. Consequently, fewer units are required. Depending on the intended solar location, such as a rooftop placement, a higher wattage may also be useful when space is limited. Efficiency levels of solar units are also calculated for buyers and can make a huge difference on the value of the product.
An individual investing in solar panels should take into account the amount of proficiency the manufacturer's customer service line has to offer. Whether you need to contact their representative regarding a warranty claim, installation assistance, or if you just have general questions, it is beneficial to have a supplier with a well briefed customer service. Businesses that do not provide a form of contact should be ruled out. Compiling a list of potential companies along with their pros and cons can make it easier when evaluating numerous solar panel providers simultaneously.
One of the details that should be discussed before choosing a manufacturer are the Incoterms for the shipments that will take place. The Incoterms that are attached to shipments will determine important details regarding shipping costs, liability, and insurance. For more information on this, check our out article What Are Incoterms?
Managing Import Costs
Despite the fact that the average solar photovoltaic cell importation and installation cost have decreased tremendously from 2010 to 2019, it's still possible to overspend. Luckily, there are ways to avoid overspending during the process. Even after the government placed a tariff on the importation of goods internationally, prices have still continued to drop. After the tariff was implemented, there was a drop in demand, leaving solar industries with an oversupply. With a surplus in solar panel supplies, the prices dropped dramatically and continue to fall. Additionally, solar energy has shown to have a payback period of less than 5 years due to a cut back in electricity used. Because importing solar panels is affordable and saves money in the long run, they can be a great investment.
Below are tips to avoid excess spending and factors to consider when importing solar panels internationally:
Calculating all costs beforehand can be very beneficial and help evaluate the best importation option. Duties, taxes, regulatory controls, transportation costs, adjusted lead times, merchandise variation, and other related factors should be included in the total estimated cost.
Ensuring that all required documents are completed and entirely accurate can help avoid added fines. An incomplete document may result in a delay of shipment, which in turn leads to audits and adjustments in the financial statements.
Obeying the rules and abiding by the regulations and requirements put forth by the U.S Bureau of Customs and Border Protection can have a substantial impact on the costs associated with importation. Failing to do so can also result in fines.
Working with third parties can not only alleviate the stress on a business owner but can also reduce unexpected costs. These individuals are skilled in fulfilling the customs clearance process, which may be confusing for the average individual. Managing the process of importing materials internationally is not a simple task. Working with an experienced customs broker is key to success when importing goods into the U.S.
Work with a specialist to make importing and exporting to the USA a hassle-free process.
Get the details you need with our import consulting services.
How Should I Ship Solar Panels to the U.S.?
The importation of solar panels requires the use of freight shipping services. These services are managed by private businesses as opposed to your typical public postal service. They facilitate the shipment of items with security and speed, along with a tracking service. Solar panels shipments vary in quantity and size, and therefore selecting the right service is key to avoid damage during transportation.
The first step in deciphering which service to utilize begins with measuring your shipment. Depending on how many solar panels you are intending to ship, the most appropriate shipment service for your situation will vary. There are other aspects of the delivery process to consider such as which packaging materials and steps are essential to provide safe transportation.
Another fundamental part of the process is deciphering whether to ship by means of air or ocean. Although shipping solar panels across the ocean is considerably cheaper, it is important to take into account the lengthy time required with this option. Selecting an air freight shipment can expedite the process, but is significantly more expensive. If your solar panel shipment is up against a strict deadline, you'll likely need international expedited shipping.
In some instances following the completion of shipment, warehouses and other transportation services are needed. An importer may need to store solar panels prior to installation, which is another primary logistics service. Third party logistic (3PL) services are available and offer assistance with storage and the transportation process from beginning to end. Utilizing these companies can save a tremendous amount of time and money, while allowing the consumer to focus on their business or other important aspects of the operation.
Need Help Importing Solar Panels?
As you can see, importing solar panels can be an extensive and confusing process. Third party companies are available to alleviate stress on business owners and individuals interested in importing solar energy. This is where USA Customs Clearance can help you. We serve as your customs broker and help with this time consuming, complex practice.
In addition to assisting you with clearing your goods through customs, our comprehensive 3PL services offer you even more convenience. We can also arrange transportation of your goods from beginning to end. This allows us to act as your one stop shop when importing goods into the U.S.
When you're ready to import solar panels, schedule a customs consulting session with one of our customs brokers. We'll be able to answer all of your questions and help you successfully clear and import your shipments.
Work with a specialist to make importing and exporting to the USA a hassle-free process.
Get the details you need with our import consulting services.