If you're in the business of importing, then you've probably heard the term "customs broker" mentioned more than a few times. If you've never worked with one before, it can be easy to brush the idea aside, especially if you already have a good grasp of how importing works. However, a customs broker can help your business in more ways than one. Even if you don't need help with the basics of the importing process, you can still benefit from having a professional, licensed customs broker on your side.
The benefits of using a customs broker include:
Guiding you through the customs clearance process
Serving as the Importer of Record
Keeping you informed of new regulations
Clearing shipments quickly
Assisting with damage claims
Maintaining records
Arranging transportation
Applying for duty drawbacks
Reducing costs
Letting you focus on your business
Performing risk management
To show you the advantages of working with a licensed customs broker, we'll first review the basics of their role before explaining the top 11 ways they can boost your business.
What Does a Customs Broker Do?
Customs brokers specialize in navigating the details of U.S. customs clearance. There are numerous rules and regulations around importing, and brokers are trained to ensure the shipments they handle pass through customs without issue.
When you hire a customs broker, you essentially give them the power of attorney for your shipment. This allows the broker to represent your interests should any difficulties arise once your shipment reaches a U.S. port of entry.
Customs brokers also have supplemental tasks such as consulting, assisting with duty drawbacks, and helping their clients partner with 3PL warehouses. Let's dive into some of the specific ways a customs broker would be able to help your business.
Check our article on how to hire a customs broker for additional information.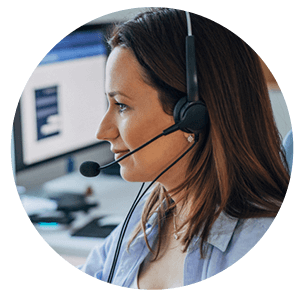 USA CUSTOMS CLEARANCE
Paperwork Mistakes Cause Import Delays
Worried about the Strict Regulations? Ask Our Experts.
Our 30 Minute Licensed Expert Consulting Will Personally Guide You.
Contact our Licensed Expert Consultant >
Top 11 Benefits of Working With a Customs Broker
The following list includes 11 benefits of partnering with a customs broker to handle your import needs.
1. Guiding You Through the US Customs Clearance Process
Customs brokers can walk you through every step of the customs clearance process, and they can inform you of best practices before you make a mistake. If you need guidance on anything related to customs clearance, you know you can count on your customs broker to have the answers you need.
You can also receive customized consulting related to your specific commodity, source, and method of transportation.
If you are a first time importer, a good customs broker can even help you arrange the transportation and pickup of your shipments for you. Hiring a broker that can help you with the transportation of your goods is one of the many benefits of working with a larger freight forwarding business.
Logistics can be tricky to figure out when you're dealing with foreign companies, so being able to use your broker's experience in that situation is a huge help.
2. Serving as the Importer of Record
Customs documentation requirements are complicated and lengthy, which leaves opportunities for errors. Whole document sections can be overlooked, and it can be difficult to determine what rules and regulations apply to your shipment.
Mistakes could delay your shipment by months or prevent its entry into the U.S. entirely. With so much on the line, it makes sense to work with a professional that deals with this process on a daily basis.
When your customs broker submits the necessary paperwork, CBP recognizes them as the "importer of record," meaning they receive the power of attorney over the shipment from their client. Importer of record responsibilities include filing and signing necessary documentation on behalf of the client. They ensure that shipments move through customs as quickly as possible.
There are many documents that you'll need to worry about if you don't work with a customs broker. These are just a few examples of the forms you'll be required to submit:
Bill of Lading (BOL)
Certificate of Origin
Packing List
EIN or SSN
Harmonized Tariff Schedule (HTS) code
Inward Manifest
As you might expect, all that paperwork can get complicated, especially if your imported goods are regulated by more than one government agency. These goods include commodities such as fresh produce and medicines.
If you want to make sure everything gets filled in and submitted correctly, you should trust this part of the process to a customs broker. Not only does this ensure accuracy, but it also frees you up to focus on growing and maintaining your business.
3. Informing You of Regulations Pertaining to Your Shipment
Remember the list of paperwork mentioned above? That only represents forms that must be filled out for every shipment, regardless of the commodity being shipped. There are additional forms and procedures pertinent to specific items, such as:
An Importer Security Filing (ISF) for ocean shipments
A Permit from the Bureau of Alcohol, Tobacco, and Firearms (BATF) for shipments containing alcohol or tobacco, or shipments of firearms and ammunition
A Phytosanitary Certificate and Plant Permit for importing fruits and vegetables
Prior Notice Filing for shipments of food
Lacey Act Declaration form for shipments of wildlife, including fish, produce, wood, animals, and animal products
A Convention on International Trade of Endangered Species (CITES) certification for products from endangered plants and animals
EPA Declaration Form for importing cars
Working with a customs broker is one of the best ways to stay informed about the importing industry and the ever-changing regulations for importing different goods.
Your customs broker can inform you if there have been any changes to the laws regarding your shipment, including tightened regulations, new requirements, and changes to the existing rules. Tariff rates can change, and new regulations can be introduced with little notice.
Customs brokers often have a unique network of connections that allows them to stay on top of global politics. When you import from another country, you're contending with foreign laws and regulations in addition to U.S. regulations. Your customs broker can inform you what implications these laws have for your business.
4. Clearing Shipments Quickly
Working with a customs broker means your shipments are more likely to clear customs quickly.
The customs clearance process is complicated, and an importer's reputation with CBP can have a strong influence over whether a shipment is selected for inspections or not. This is why new importers often have to deal with delays and customs inspections, even if they have done everything right.
An importer that has brought in many legal shipments, followed all regulations, and filed all paperwork correctly and on time earns CBP's trust, and will usually have an easier time dealing with customs inspections for future shipments. This is one of the most helpful benefits of working with a customs broker.
This process works because the broker is registered as the importer of record. Brokers can use their history of successful, legal import transactions to prove to CBP that they know what they're doing. This results in faster processing times for their clients. A skilled and experienced customs broker with USA Customs Clearance can save you substantial money and time at the border.
5. Assisting with Damage Claims
Nothing is worse than when receiving a shipment, opening it up, and finding that it has been damaged. Shipping damages can come from many sources and can have a number of causes, but those might not be clear just from inspecting the damaged shipment.
If you have cargo insurance, you could file a claim, but the process is long and arduous. It's likely you won't have much success if you're inexperienced with such claims.
If you work with a customs broker, however, you're in luck! On top of all the other responsibilities your broker handles, they can also help you file a claim and get refunded for damages quickly. Regardless of who or what caused the damage, a customs broker can help you receive whatever compensation is due to you.
6. Maintaining Records
CBP requires that all importers maintain records of their import transactions for at least five years. If you import frequently, this amounts to scores of documents that you need to store and organize.
Sometimes, documentation gets lost, and though you aren't usually required to show old import documents, you could face consequences if you can't provide those documents at CBP's request. Losing track of old customs documents could make it much harder, if not impossible, to import again in the future.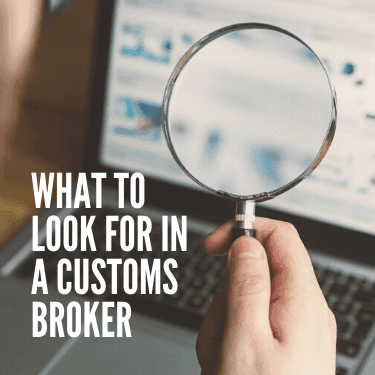 This is where hiring a customs broker once again proves to be valuable. Brokers typically manage several clients, meaning they have the means to maintain a large database of import documentation. No matter how often you import, you can count on your customs broker to keep a copy of every single document for every single shipment.
Usually, in order for your customs broker to keep records of your shipments, you'll need to establish a long-term partnership with them. Only then can you be sure that they are diligently keeping track of every single one of your shipments.
Working with the same broker or brokerage firm consistently rather than jumping from one to another will ensure that your documentation can be readily accessed should the need arise.
Did you know that import data is available to the public - including to your competitors? Find out how to keep your import records secure by checking out our article Manifest Confidentiality: Do Import Records Affect Business?
7. Arranging Transportation and Logistics
Customs brokers frequently work as part of larger import facilitation businesses, which include other services such as freight forwarding. This means they can assist you with getting items from the port of entry to a destination of your choice.
By working with a broker's in-house logistics network, you'll be able to secure safe, professional transportation of your imported goods, often for a lower price than you'd pay to have it done by a separate company. Keeping all of your third party import services under one company roof also makes it easy to maintain and access records such as bills of lading and shipping manifests.
8. Applying for Customs Duty Drawbacks
A customs duty drawback is essentially a refund of tariffs and/or duties assessed by CBP. Under certain circumstances, such as the destruction or export of imported goods, importers may qualify for this refund, which can be as much as 99% of duties and tariffs paid.
A customs broker knows to keep an eye out for the possibility of a drawback in any import transaction. While the drawback process can be complicated, having a broker to represent your interests means you're less likely to miss an opportunity for a drawback and more likely to receive the maximum allowable refund.
9. Reducing Business Costs
It may seem counterintuitive to list cost reduction as a benefit of hiring a customs broker. After all, wouldn't you save money by handling importing arrangements yourself? In the long term, the answer to that question is a decisive no.
When you take into account the infrastructure necessary to fill out the many documents associated with importing and the possibility of fines and seizure of property due to improper filing of that paperwork, it quickly becomes clear that partnering with a customs broker doesn't cost: it pays.
To get a better idea of how much money CBP makes from audits, seizures, and penalties (often from inexperienced importers), take a look at the table below.
CBP Trade Enforcement Activities
| | | | |
| --- | --- | --- | --- |
| Fiscal Year | Audits | Trade Penalties | Trade Seizures |
| 2018 | $42.2 Million | $15.5 Million | $1.4 Billion |
| 2019 | $43.1 Million | $30.1 Million | $1.5 Billion |
| 2020 | $44.6 Million | $20 Million | $1.3 Billion |
| 2021 | $132.2 Million | $21.7 Million | $3.3 Billion |
| 2022 | $77.7 Million | $19.3 Million | $2.9 Billion |
Using a customs broker's services doesn't just save you money, but also time. And what does any responsible business owner do with extra time?
10. Letting you Focus on your Business
While all the previous benefits have demonstrable, material value, this fringe benefit is arguably the most important of all. By letting an expert handle the details of successfully importing the goods you need, you're free to focus on the quality of your products, customer feedback, and the growth of your business.
Importing is a means to an end, and it's easy to get bogged down in the minutiae of the process. By using the services of a customs broker, you'll be setting yourself up for success.
11. Providing Risk Management Solutions
Importing is, by necessity, a complicated process. While the financial rewards can be lucrative, risks such as customs delays, seizures of shipments, and fines from CBP can't be ignored. For all these reasons, hiring a customs broker is a smart move for anyone getting into the import business.
By staying up to date on all of the new and changing regulations, handling paperwork, and ensuring a seamless customs clearance process, a customs broker can handle the risk management side of importing. Easily reducing the risks involved when shipping internationally serves as a huge benefit, especially for new importers.
Do You Need a Customs Broker?
You might be wondering whether a customs broker is specifically required for importing—and the answer is, quite frankly, no. You don't technically need a customs broker. If you're comfortable importing everything on your own, in almost all cases, you can do it all yourself.
However, you would be missing out on the benefits mentioned above. Even if you know what you're doing, a customs broker can be a huge help.
Enjoy the Benefits of Using a Customs Broker with USA Customs Clearance
Licensed customs brokers from USA Customs Clearance, powered by AFC International, possess all of the above qualities and more. If you're looking for a broker that can handle any commodity, from any location, and at any volume, you can count on the experts at USA Customs Clearance to handle your import consulting and international expedited shipping needs.
Not only do our brokers have a consistent success rate, but we can also boast having the best customer service in the industry. No matter what your reasons are for importing, we have your back!
If you're ready to work with one of our customs brokers, or you have more questions about the import process, give us a call at (855) 912-0406 today to speak with one of our representatives or fill out a quote for customs brokerage. We look forward to hearing from you!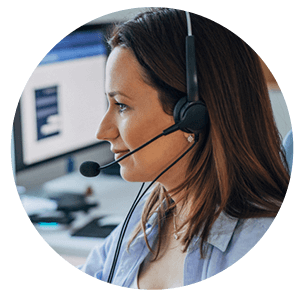 USA CUSTOMS CLEARANCE
Required Import Documents are Complex, We File for Yo
Worried about the Strict Regulations? Ask Our Experts.
Our 30 Minute Licensed Expert Consulting Will Personally Guide You.
Contact our Licensed Expert Consultant >