If you're in the business of importing, then you've probably heard the term "customs broker" mentioned more than a few times. If you've never worked with one before, it can be easy to brush the idea aside, especially if you have a pretty good handle on how importing works already. However, a customs broker can help your business in more ways than one. Even if you don't need help importing, you can still benefit from having a professional licensed customs broker on your side.
Customs brokers can save you time, money, and stress when it comes to importing. Not only can they file paperwork on your behalf, but they can also act as your consultant, your advocate, and your legal partner. They will do whatever they can to get your shipment through customs quickly and with no snags, so you can keep your business running efficiently.
What is a Customs Broker?
A customs broker is, in the simplest possible terms, an individual who facilitates international trade by making it easier for people to import things for their business. They work with importers to make sure their shipments are legal and compliant, and assist in getting those shipments cleared through customs. Customs brokers are typically employees of freight forwarding businesses or brokerage firms that offer a wide range of customs brokerage services.
Aside from that simple definition, however, there's a lot more you need to know about customs brokers. For one thing, in order to become a licensed customs broker in the first place, individuals must pass a rigorous exam that proves they are knowledgeable on the topics of international trade, customs clearance, tariffs, regulations, Partner Government Agencies (PGAs), trade agreements, and a host of other related topics. To get their broker license, customs brokers truly need to be experts in the field of importing, under any circumstances.
Licensed customs brokers through USA Customs Clearance, powered by AFC International, are not just certified test takers. Our customs brokers have proven time and time again to be reliable, knowledgeable, and successful. If you want a customs broker you can rely on, trust in the expertise of our team.
The primary goal of a customs broker is to get a given shipment cleared through customs in as timely a manner as possible. However, there are many ways a customs broker can help importers aside from that. Any time a problem arises with an import, the importer can turn to their customs broker for help.
Work with a specialist to make importing and exporting to the USA a hassle-free process.
Get the details you need with our import consulting services.
What Does a Customs Broker Do?
So, customs brokers get imports to clear customs and come into the United States, but how exactly do they do that?
You'll probably find yourself asking that question if you have any reservations about getting started. It's only natural to be hesitant, but a thorough understanding of the process will likely ease your worries.
Customs brokers are able to assist an importer with getting their shipment through customs by acting on their behalf to comply with regulations. In order to do this, the customs broker must obtain the power of attorney over the shipment. Then, they will be able to submit the correct documentation and get the shipment moving. They can handle everything as if the import is theirs.
Once the proper documentation has been made and submitted to the applicable PGAs, the shipment must pass through customs at a U.S. Port of Entry. Sometimes, shipments pass through the border in a matter of days, but other times, the shipment is selected for inspection by the Customs and Border Protection (CBP) agency. If your shipment is delayed for any reason, even inspections, then you'll definitely want a customs broker on your side to advocate for the early release of your cargo.
What Does it Mean for Customs Brokers to have Power of Attorney?
If the term "power of attorney" caught your eye, you're not alone. That term tends to generate anxiety for importers, since it comes across as sounding like an intimidating legal responsibility. It's a powerful phrase that feels like a big deal—and in some ways it is. But take a deep breath. This is a necessary step in the process of utilizing a customs broker, and though it seems frightening, it's not as bad as it sounds.
Giving a customs broker the power of attorney for your shipment does NOT mean you are forfeiting any responsibility for your shipment. It is your import, and you ultimately make the decisions in regard to it. However, having the power of attorney over your shipment means that your customs broker is able to do things for you. They can legally submit paperwork, speak to customs agents about your cargo, correct documentation, classify, label, and measure your shipment, and much more.
Without the power of attorney, your customs broker wouldn't be able to help you much. Customs would not accept the import documents from anyone that doesn't have some sort of legal authority over the shipment. Customs brokers need to be able to do things on your behalf, but you can still control the level to which you want them to exercise this power. If you want to be responsible for taking care of everything and you just want your customs broker to advise you along the way, that's an option too.
However, there is a certain amount of trust involved with this process. That's why it's extremely important to work with a reliable, licensed customs broker like those at USA Customs Clearance, powered by AFC International, so you don't end up putting your shipment in the wrong hands.
How a Customs Broker Can Help
Once a customs broker has the power of attorney for your shipment, there are a number of ways they can help you. In most cases, customs brokers are willing to help in any way they are able to, so even if a request is a little far from their regular job duties, such as speaking with your suppliers for you, most are ready and willing to help.
Aside from that, though, most customs brokers have a wide variety of tasks that they consider to be normal duties of the job. Let's dive into some of the specific ways a customs broker would be able to help your business.
Work with a specialist to make importing and exporting to the USA a hassle-free process.
Get the details you need with our import consulting services.
Guiding You Through the Customs Process
The biggest allure of working with a customs broker is the benefit of having a knowledgeable expert on hand to answer any of your questions. Through your customs broker, you would have access to a wealth of customs clearance knowledge, and you can receive customized consulting relating to your specific commodity, source, and method of transportation.
Customs brokers can walk you through each and every step of the customs clearance process, and they can inform you of best practices before you make a mistake. If you need guidance on how to fill out paperwork, how to communicate with customs, or you have questions on anything relating to customs clearance, you know you can count on your customs broker having the answers for you.
If you are a first time importer, a good customs broker can even help you arrange the transportation and pickup of your shipments for you. Having a customs broker that is able to help you with the transportation of your goods is one of the many benefits of working with a broker that is part of a larger freight forwarding business. Transportation can be a tricky thing to figure out when you're dealing with foreign companies, so being able to utilize your broker's assistance in that situation can be a huge help.
Handling Paperwork on Your Behalf
Probably the most well-known responsibility of a customs broker is to file customs paperwork on behalf of the importer. This is an extremely helpful perk for several reasons.
Customs documentation requirements are complicated, lengthy, and easy to mess up. Whole document sections can be overlooked, and it can even be difficult to determine what rules and regulations actually apply to your shipment. Mistakes could delay your shipment by months, or prevent its entry into the U.S. entirely. With so much on the line, it makes sense to work with a professional that deals with this process on a daily basis.
When it comes to submitting the paperwork, the customs broker goes on record as the "importer of record," which is a title designated to them after the importer bestows them with the power of attorney. Once they are determined to be the importer of record, then they are able to sign for any documents in your place, and it is still legally viable.
There's a lot of paperwork that you'll need to worry about if you don't have a customs broker. Take a look at just a few examples of the documents you would need to submit:
Bill of Lading (BOL)
Certificate of Origin
Packing List
Customs Bond
EIN or SSN
Harmonized Tariff Schedule (HTS) code
Inward Manifest
And that's just for every shipment. Depending on what you're importing and how you're transporting it, there are additional requirements, like:
An Importer Security Filing (ISF) for ocean shipments
A Permit from the Bureau of Alcohol, Tobacco, and Firearms (BATF) for shipments containing alcohol or tobacco, or shipments of firearms and ammunition
A Phytosanitary Certificate and Plant Permit for importing fruits and vegetables
Prior Notice Filing for Food Shipments
Lacey Act Declaration form for shipments of wildlife, including fish, produce, wood, animals, and animal products
A Convention on International Trade of Endangered Species (CITES) certification for products from endangered plants and animals
EPA Declaration Form for importing cars
And many, many more…
As you can imagine, all that paperwork can get pretty messy, especially if your import is regulated by more than one PGA, such as fresh produce or hazardous materials. If you want to make sure everything gets filled in and submitted correctly, then you should trust this part of the process to a customs broker. Not only does this ensure accuracy, but it also frees up a lot of your time to do other things for your business.
Work with a specialist to make importing and exporting to the USA a hassle-free process.
Get the details you need with our import consulting services.
Informing You of Regulations Pertaining to Your Shipment
Working with a customs broker is one of the best ways to keep yourself informed about the importing industry and the ever-changing regulations for importing different goods. Your customs broker can inform you if there have been any changes to the laws regarding your shipment, including tightened regulations, new requirements, and changes to the existing rules. Tariff rates can change, new regulations can be introduced, and things can change with little notice.
In addition to that, customs brokers often have a unique network of connections that allows them to keep on top of global politics. Any time you're importing from another country, you're contending with foreign laws and regulations in addition to the U.S. regulations. Your customs broker can keep you in the loop on changes to trade compliance laws, trade agreements with other countries, new tariffs and tariff exclusions, new laws in different countries, and more. If anything changes in the global market, you can anticipate your customs broker filling you in on the implications those changes would have for your business.
Customs brokers with USA Customs Clearance, powered by AFC International, are always up-to-date on importing and shipping laws. Whether you're sourcing materials from another country, importing manufactured goods, or bringing in foods from around the world, it is vital to stay on top of regulations.
Clearing Shipments Quickly
Another huge benefit of working with a customs broker is that your shipments will typically get cleared through customs a lot faster. The customs clearance process is a complicated one, but an importer's reputation can have a lot of influence over whether a shipment is selected for "random" inspections or not. That's why new importers often have to deal with delays and customs inspections, even if they have done everything right. However, an importer that has imported many legal shipments, followed all regulations, and filed all paperwork correctly and on time earns the CBP's trust, and typically won't have to worry as much about dealing with customs inspections for future shipments.
The import inspection process is based on many factors, and though no one can say for sure what exactly causes one shipment to get selected over another, there's no denying that the importer's reputation plays a noticeable role. When you work with a licensed customs broker, you can rely on that broker's reputation to get your shipment through customs quickly. Customs brokers are CBP partners, so when a customs broker helps an importer with their shipment, that import is likely to be treated with less scrutiny.
This process works because the broker is registered as the importer of record. Brokers can use their history of successful, legal imports to prove to CBP that they know what they're doing, which typically results in faster processing times. A skilled and experienced customs broker with USA Customs Clearance can save you a lot of money and time at the border.
Assisting with Damage Claims
Nothing is worse than when you receive a shipment, open it up, and find that it has been damaged somewhere along the line. Shipping damages can come from a variety of different sources and can have a number of different causes, but those might not be clear just from looking at them. If you have cargo insurance, you could file a claim, but that process is a long and arduous one, and you likely won't have much success if you don't know what you're doing.
If you work with a customs broker, however, you're in luck! On top of all the other duties your customs broker is responsible for, they can also help you file a claim and get refunded for damages quickly. Regardless of who is responsible for the damages, whether that's your supplier, the shippers, or even the customs agents that inspected your goods, a customs broker can help you get the compensation you deserve.
Work with a specialist to make importing and exporting to the USA a hassle-free process.
Get the details you need with our import consulting services.
When you don't know what you're doing, your cargo has been damaged, and you have customers that you need to ship to, you end up dealing with a lot of stress. Let a customs broker from USA Customs Clearance, powered by AFC International take some of that stress from you. Our customs brokers will file claims on your behalf and deal with all the documentation on your behalf. When you've got damaged cargo, a customs broker advocating for you can make a big difference.
Maintaining Records
CBP requires that all importers maintain records of their imports for at least 5 years after each one is imported into the U.S. If you import frequently, that's a lot of documentation that you need to store and organize. Sometimes, documentation can get lost, and though you aren't usually required to show old import documents, you could face some serious consequences if you can't provide those documents on the off-chance CBP requests them again. This requirement is in place for legal reasons, but it can get you in legal trouble if you don't comply with it. Losing track of old customs documents could make it much harder, if not impossible, to import again in the future.
As you're probably expecting by now, this is where your customs broker can come in handy… again. Customs brokers typically manage a number of clients, meaning they have the organization and infrastructure to maintain a large database of import documentation. No matter how often you import, you can count on your customs broker to keep a copy of every single document for every single shipment. It's still a good idea to keep a record yourself, but customs brokers make an excellent fallback plan.
Usually, in order for your customs broker to be able and willing to keep records of your shipments, you need to initiate a more long-term partnership with them. Only then can you be sure that they are diligently keeping track of every single one of your shipments. As you can imagine, working with several different brokers for your shipments over the years can make it a bit messy to track down information again. 
Did you know that import data is available to the public - including your competitors? Find out how to keep your import records secure by checking out our article Manifest Confidentiality: Do Import Records Affect Business? 
Are Customs Brokers Necessary?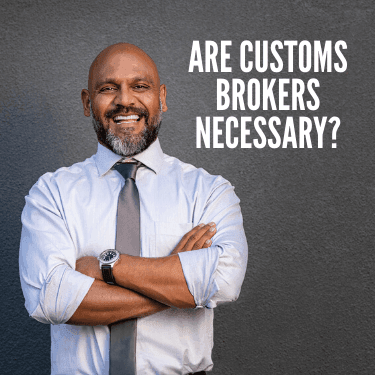 Now, you might be wondering whether or not a customs broker is specifically required for importing—and the answer is quite frankly no. You don't technically need a customs broker. If you're comfortable importing everything on your own, in almost all cases, you can do it all yourself. However, you would be missing out on all the great benefits mentioned above. Even if you know what you're doing, a customs broker can be a huge help.
However, if the incredible cost savings and free time you would get with a customs broker aren't enough to convince you, then there is one situation in which you should always consider working with a broker, no matter how much experience you have with importing.
If what you're importing is heavily regulated by multiple different government agencies, or it falls into a category of goods that is dangerous, restricted, or otherwise difficult to handle and ship, the benefits of working with a broker can far outweigh the costs. Whenever you're importing a high-stakes shipment, you should trust in the expertise of a broker just to make extra sure everything goes the way it should. When mistakes could have dire consequences, you could definitely use the help of a broker—even if all you want them to do is double-check everything you've already done.
Do I Need a Customs Broker?
So, you know that legally you are not required to have a customs broker to import into the U.S. However, you might still have some reservations about attempting to import on your own. How can you know for sure whether you should work with a customs broker or not?
Although a customs broker can help any importer, there are a few situations in which it would be far smarter to work with one than to tackle the process alone. Take a look at these examples, and if they're similar to your situation, you'll definitely be better off with a customs broker by your side.
You should work with a customs broker if:
You're new to importing, and you need some guidance for getting your shipment through customs.
You're used to importing, but you're importing a different commodity than what you're used to importing. A different commodity means different regulations, and potentially different regulatory agencies overseeing it.
You're used to importing, but you're importing from a different country than what you're used to. Different countries all have their own unique and complex laws regarding global trade, so you should work with a customs broker who is familiar with your product's country of origin.
You're working with a new supplier. You never truly know your supplier's reputation, so any time you're working with new foreign partners, you should have a customs broker by your side in case things go awry.
You import multiple times in a year. When you get to the point where you are constantly managing new imports, you should really consider handing off the responsibility to a customs broker so you can get some of your time back. Focusing too much of your attention on only one aspect in the business could mean you're neglecting other aspects of it, so it's best to divide your time up and not focus too much on one thing.
There are new regulations regarding your commodity. A customs broker can keep you up-to-date on any and all regulations that apply to your shipment.
There are new laws or regulations in the country you are importing from. Foreign laws can be a difficult thing to maneuver around. This gets even more complicated during a trade war, when prices and tariffs can be unpredictable and frustrating to deal with. A customs broker can take some of the weight off your shoulders, and navigate the complex foreign laws for you.
These are just a few of the reasons why you might want to consider working with a knowledgeable customs broker. However, this is by no means an exhaustive list of reasons. You could want a customs broker to double-check everything for you to make sure you don't make a mistake, or maybe you would like to work with a broker in case something happens to your shipment. There are countless reasons to pursue a partnership with a broker, but only you can make the ultimate decision.
While you're thinking about your decision, consider working with one of the expert customs brokers with USA Customs Clearance, powered by AFC International. No matter what you want help with, you can feel confident knowing that our brokers are up to the task.
Work with a specialist to make importing and exporting to the USA a hassle-free process.
Get the details you need with our import consulting services.
What to Look For in a Customs Broker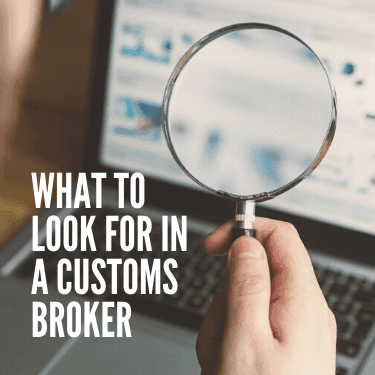 The most important aspect of a customs broker is their reputation. If you know that the broker has a long history of successfully helping people clear U.S. customs, then you can feel a lot more comfortable trusting them with your shipment. In addition to that, CBP will trust a broker that has worked with them many times in the past, which as you've learned, comes with its own benefits.
Another important thing to consider is whether the broker has ever worked with your specific commodity, or if they're familiar with the particular country that you'll be shipping from. A broker that specializes in your situation can be substantially more helpful than a regular customs broker.
In addition to those conditions, there are a few other things you should look out for in a broker, such as:
Their response time. If you can get ahold of them easily, and they reply to your correspondence in a timely manner, then that's a good sign. That usually means the broker is going to be prompt in getting things done, and you won't have to wait on them.
Attitude is another important factor. If your customs broker doesn't act professionally, that can be a sign that they don't take things seriously. You need a broker that is going to respect that your imports are a big deal, and will treat them (and you) with care and professionalism.
Their affiliations are another important factor. Working with an independent broker can be fine, but you almost always get better service when the broker is part of a larger system of brokers and freight management professionals.
And finally, the broker's success record can tell you a lot about them. You might not be able to research this ahead of time, but make sure you speak with potential customs brokers about their previous clients, and use your best judgment to interpret their answers.
In most cases, working with a customs broker can feel like a gamble—but it doesn't have to. By carefully selecting the most qualified broker, you can ensure that your shipment is managed with the utmost care. You can guarantee that your shipment will get the best possible chance of clearing through customs quickly and efficiently, so you can get back to the important aspects of running your business.
Customs Brokerage Services with USA Customs Clearance
Licensed customs brokers from USA Customs Clearance, powered by AFC International possess all of the above qualities and more. If you're looking for a broker that can handle any commodity, from any location, and at any volume, you can count on the experts at USA Customs Clearance to handle your import consulting and international expedited shipping needs. Not only do our brokers have a consistent success rate, but we can also boast having the best customer service in the industry. No matter what your reasons are for importing, we have your back!
If you're ready to work with one of our customs brokers, or you have more questions about the import process, give us a call at (855) 912-0406 today to speak with one of our representatives. We look forward to your call!