Starting an import export business from home can be a profitable venture. Quite a few challenges come along with this opportunity though. Thankfully, there are some proven steps that can be followed to overcome these challenges.
Successfully starting an import-export business from home can be accomplished by following a few key steps. These include choosing a product, registering your business, and setting up distribution in domestic and foreign markets. Following these and other steps will increase your chances of success.
The following step-by-step guide will give you a comprehensive look at six steps for how to start an import-export business from home.
How Do I Start an Import-Export Business From Home?
Starting an import-export business from home requires knowledge of many moving parts. Whether you are familiar with starting a business already or are venturing into entrepreneurship for the first time, this knowledge is critical. While the challenges involved may seem daunting, it's achievable when sticking to a proven set of steps.
Below is our list of the 6 steps you should follow when starting an import/export business from home.
1. Research and Choose Which Products You're Going to Import and Export
The first step to beginning your small business is to decide which products or services to sell via your eCommerce business. This could be anything, from something simple like textiles, to something grand, like diamonds. While it may be tempting to simply choose a product that appeals to you personally, this can be a big mistake. Proper market research must be done to ensure it has enough appeal to be in-demand and therefore profitable. Other important aspects include where and to whom you distribute to. 
Begin with your target market. For both imports and exports you should consider several questions such as:
What's in-demand?
Is it likely to be in-demand long term?
Are there a variety of related products?
Can long-term import (or export) of said products or services be sustained?
Answers to these questions can be found by analysing the demographics of the target market. In the case of imports to foreign countries, you should also research any regulations that could be in place. While it is possible to import and export highly regulated products, it's certainly challenging. There's little room for error when dealing with heavily regulated products.
If you're unsure whether products you're considering are subject to strict regulations, a Licensed Customs Broker can assist you. Customs Brokers have specific knowledge and experience when it comes to what regulations apply to which products.
Now you know your market, but how do you know your product is truly profitable? Before dusting off any crystal balls, there are official channels and studies you can check in the real world.
GlobalEdge's Market Potential Index (MPI): a study conducted by Michigan State University since 1996 to analyze the market potential of several foreign countries in a given year and ranking them on a scale from 1-100.
International Chamber of Commerce (ICC): a business organization that fosters trade and provides training and education for businesses
U.S. Census Bureau, Foreign Trade: the official source of United States export and import statistics and regulator of exports
Local government officials and websites: seek out local Departments of Commerce for local viewpoints on trending and necessary products and services
However, you come to decide on a product and regardless of how well researched it is, always test the idea before going all in. Working with a sample size will give you a feel for true demand. Never assume blindly that something will catch on.
2. Find a Reputable Supplier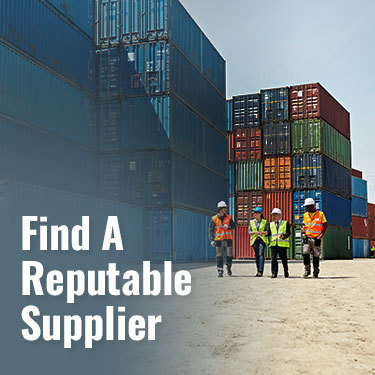 Once you've decided on your product, it's time to find a reputable supplier. If you are your own supplier, you're that much closer to getting your business ideas to fulfillment. You might have also considered local manufacturers in foreign markets for product sourcing in the case of imports. Be aware that when working with suppliers in foreign countries there may be additional obstacles to consider such as possible language barriers, cultural customs, and even time zone differences.
The most common approach is to use an established online marketplace that caters to the B2B platform. These platforms can provide access to several possible suppliers all over the world. At the same time, you can avoid some of the downfalls of seeking private suppliers on your own.
Some popular marketplaces include:
Alibaba
TradeKey
Thomas.net
GlobalSources
Of course using such a large marketplace comes with its own cons. Scammers can easily hide in the infrastructure of such large sites. Therefore, it's important to see that the supplier you are looking at has been verified.
Marketplaces such as Alibaba use 3rd party inspectors to verify companies have what they claim to have and ensure there is an actual business attached to the registered address. When deciding on a supplier, you can check for this process. Legitimate suppliers will often have more than one verification or even go outside of the marketplace they are on to be independently verified.
Other signs of a reputable supplier will be their ability to show a business license and a willingness to sell a sample size of a product. Suppliers that only sell in bulk with no exceptions should be avoided.
When shipping internationally it is also recommended to confirm Incoterms®, mutually agreed upon conditions that protect all parties involved in the shipping of commercial goods. While not mandatory, they help to clarify accountability in the case of damaged or lost shipments.
To learn more, check out our article What Are Incoterms®?
3. Register Your Business and Obtain Required Import Licenses
With product and supplier decided on, next you must register your business and obtain any required import licenses. By registering your business and making it a distinct legal entity, you are able to obtain legal benefits, such as personal liability protection, and tax benefits.
In the United States registering most small businesses is a simple matter. Registration is through the state or local government and requires the following information:
Business name
Business location
Ownership, management structure, or directors
DBA (if applicable)
These are the basics and suitable for the majority of small businesses in operation along with filing for a federal tax ID.
Because you are trying to establish an import-export business, there may be some additional items to consider. If you are trying to operate in multiple states, you would also file for foreign qualification. Should you decide to trademark any aspect of your business, filing with the United States Patent and Trademark office is also recommended. Lastly, the U.S. Department of Commerce requires import-export merchants to file for a company identification number (CIN) to track international trade activities and liabilities. This would be done through their Bureau of Industry and Security (BIS).
Depending on the selected product, you may also require an import license. While the majority of products do not require one, it's always best to ensure this before getting too far into the process.
The most reliable way to verify whether or not you'll need an import or export license is by working with a Licensed Customs Broker. Our team of licensed brokers work with importers that bring in a wide range of products. We'll be able to quickly advise you on the licensing requirements for your desired products.
Regardless of license needs, any product coming into the United States must have a CBP entry form on file within 15 calendar days of a shipment's arrival.
Similar guidelines apply to export licenses. Always check with CBP's exporting requirements. Additionally you should check with the Export Administration Regulations (EAR) which are administered by the BIS.
4. Become a Registered Importer and Obtain a Customs Bond
One of the final legal requirements to starting an import-export business from home is becoming a registered importer, or the Importer of Record. This registration is needed to determine who becomes the responsible party for ensuring import compliance and can be done through the CBP.
When commercial products being imported are valued at over $2500, a customs bond will also be needed. Aside from being a requirement, getting a customs bond on any shipment is a good idea. A Customs Bond ensures that any customs duties and taxes are properly paid and makes for smooth commerce in general.
Having a bond in place also means minimizing the likelihood of goods getting stranded at port because they are unable to pass through U.S. Customs. This type of delay can quickly become costly when fines are imposed and fees get charged for additional inspection and storage of goods.
USA Customs Clearance can help you avoid costly delays actively impacting your profit margins. We offer continuous customs bonds for only $245. Expert support is also available if you have any questions about the process.
5. Develop a Distribution Plan
Now that all your legal requirements are taken care of and your product is ready to go. How are you going to get it out to potential clients? You need a solid distribution plan.
A major component of distribution is warehousing: knowing where your goods will be until they go out to customers and being able to keep track of your inventory. If you are running your import-export business from home, keeping your inventory at your home or close by in a rented warehouse space may be the ideal solution. However, if this isn't feasible with your products, either because of size or quantity, there is another option.
You can choose to outsource your warehouse and distribution needs by using a 3PL, or third party logistics company. Partnering with a 3PL can make developing a distribution plan simple and straightforward. This allows you to streamline the logistics of maintaining inventory management, adequate storage, and customer fulfillment. Regardless of how potential clients access your product (individual orders or through a retailer), 3PLs provide the necessary infrastructure.
During a time when busy ports are overwhelmed, outsourcing to a 3PL can provide you with options for getting your products to customers that simply would not be feasible independently. An import-export consultant is a great resource for determining if a 3PL is right for your small business. This expert advice is another service you can benefit from with USA Customs Clearance.
6. Market Your Import/Export Business
Everything has fallen into place and you have your product, the legal requirements have been met and distribution has been settled. The time has come to find customers by marketing your products or services. Marketing an import-export business is much the same as promoting any small business. However, the process may take place on a slightly more global level at times depending on whether the focus is on imports, exports, or a combination of both.
Before choosing a marketing strategy, know your target audience. Use the research from your initial product search to help in this aspect. It will help you come up with the best ways to reach that group specifically and is also likely to show you who your competitors are.
Marketing strategies should include:
Online presence: A website or social media account may be the way potential clients are first introduced to your business and product. These should have all the necessary information a customer may need from price and ordering process to contact information. Participate in online forums for international trade which provide guidance as well as market research.
A marketing or SEO company: Make sure your sites have the correct look to attract customers and the needed keywords to propel your site to the top of the search engines.
Trade Shows: At these shows, there is product promotion, competition checks, and marketing research all happening at the same time.
Besides these common practices, there are other avenues to consider based on your business model. A direct mail campaign may be advisable or perhaps a more personal touch is needed. Visiting places you are exporting to know their culture and traditions is one way to confirm which marketing channels will work best. Always follow up with clients. Cultivating good relationships and recognizing customer loyalty will increase opportunities for repeat business and referrals.
Other Considerations When Starting an Import Export Business From Home
In addition to the six steps outlined above, there are other things you should consider before starting the process to help ensure your success. These, combined with what you've learned above, can help you finalize your decision.
Advantages of Starting an Import-Export Business From Home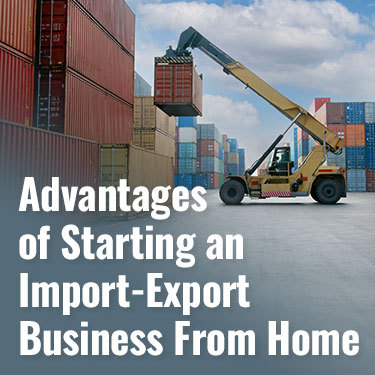 The ability to be your own boss and work from the comfort of home is a definite advantage. As owner and operator you ultimately have final say on all matters. This means that you can grow the business at your own pace. Whether you choose to maintain a small, home-bound business or expand across multiple markets - the decision is yours.
Challenges of Starting an Import-Export Business From Home
Chances are any import-export business that you start from home will be a small scale operation to begin with. If entering a saturated market, just getting noticed can be challenging. Even if you have the most innovative product out there or the only product out there. It can take time to get noticed. This is where a strong marketing strategy will be needed.
Being your own boss also means doing most of your own legwork. This includes product sourcing, arranging advertising, obtaining licenses, and more. All of this is on top of keeping an eye on your profit margins. This can quickly become overwhelming. Create a work schedule that you can stick to on a daily basis; one that will give you time to accomplish your daily goals without burning out.
What Costs are Required to Start an Import-Export Business From Home?
How much ends up getting spent on start-up costs will vary depending on what your focus is. A starting budget for import-export is generally between $5,000 - $7000.
Here is a breakdown of how that might be spent initially.
Registering a business: This averages about $300 across the United States but can be higher or lower depending on the state.
Getting connected: You need phone service, internet, and a well-designed website at minimum. Keep in mind these will also be recurring fees which you should budget another $250-300 for.
Initial product purchase: This will vary by product and amount of inventory. Whatever your budget may be, calculate that this will take up 17% - 25% of it.
These are estimates based on national averages. Your specific costs could be higher or lower depending on where you begin.
Beyond that, if you are starting from home you can save money on office space or warehousing. Marketing, insurance, taxes, and payroll (if you have employees other than yourself) all need to be accounted for as they will be start-up costs and on-going aspects of the budget. In the import/export business it might also be necessary for you to travel to secure supplies. Once everything is up and running, costs should be calculated in terms of what percent of your profit is being funneled back into the business.
Should I Consult With a Customs Broker Before Starting an Import Export Business?
The simple answer here is yes. While it might be tempting to save yourself the consultation fee in favor of the DIY approach, the import-export business is a complex industry with many moving parts and regulations.
Such is the nature of doing international business. Consulting with a Customs Broker before starting an import export business is a wise move. They'll be able to provide you with precise, accurate information relating to products you intend to import and/or export. From required documentation to calculating duties and fees, an experienced broker will cover everything you need to know.
When you're ready to consult with a Licensed Customs Broker, USA Customs Clearance is here to help you. During our consultations, you get direct, 1-on-1 support from our experienced and knowledgeable brokers.
Get Help Starting Your Import-Export Business with USA Customs Clearance
Whether this is your first venture into the import-export industry or you are looking to strike out independently after having worked for someone else, USA Customs Clearance can help you. . Our licensed and experienced customs brokers can offer expert advice on your specific needs.
Starting an import export business from home has many steps, as outlined above. USA Customs Clearance can offer consultation services specific to your product and shipping needs, affordable customs bonds, Importer of Record registration, and more.
Take advantage of 30 minutes of 1-on-1 time with our licensed import consultants as they walk you through the basic steps of starting your small business today. Give USA Customs Clearance a call at (855) 912-0406 today and put your import-export business on the path to success.