Importing Food Into the US: What You Need to Know
United States consumers crave a variety of food from all over the world. Pull up a chair and grab a plate as we walk you through the ins and outs of importing food into the U.S.
As America has become more diverse over the decades, importers are responsible for meeting food cravings by importing food into the U.S. on a daily basis.
The Basics of Food Imports
A huge number of pounds of vegetables, organic product, herbs and other food import products enter the U.S. from different nations consistently. That food is reviewed completely before it crosses any borders. Examinations are taken care of by CBP Agriculture Specialists at ports of entry. Farming Specialists ensure the food coming into the nation's ports are free of plant bugs and pests. The U.S. Fish and Wildlife is in charge of examining foods imported into the United States.
Food Compliance Issues Can Arise
Here's where you could lose cash if controls are not taken to inspect food properly. The FDA will keep shipments of food imports that aren't in compliance with U.S. laws. Food imports that do not meet requirements are flagged to be demolished. These food imports are discarded to prevent the spread of vermin and infections. Horticulture Specialists supervise the elimination of rejected food imports
Importing Dairy Products into US
Dairy products are inspected by the Department of Agriculture. Do you know the regulations for importing dairy? Utilize the following tips for importing dairy food into the U.S.:
Milk and Cream Require Permit by the FDA
Did you know that both cream and milk require a permit from the FDA? The country of origin must be printed on the wrapper or placed on the outside of the milk or cream carton.
Milk from Goats Have Other Restrictions
Are you importing milk or cream made from goat's milk? Be prepared to have a USDA permit handy from any/all regions that are affiliated with foot-and-mouth disease (FMD). The same goes for Rinderpest disease.
Importing Fruits and Nuts
Fruits Come from All Over
Learning how to import fruits to USA borders takes some time to learn. Nuts and fruits are more popular than you think. Many of them don't grow here in the United States. It doesn't matter how tiny the nuts and fruits are. They all require the necessary import documentation to become US food imports.
Mexico and Costa Rica are the top exporters of fruits to American shores. Fresh fruit, though, comes from all over, including Canada, Chile and Peru as well as others. The most popular imported fruits include:
Bananas

Avocados

Pineapples

Apples

Honeydew melons

Blueberries

Mangos

Blueberries

Lemons

Nectarines
Many fruits cannot be grown in American soil nor can they handle American climates. Countries that have warmer climates with more consistent warmer temperatures are much more suitable for many fruit crops. It's also more cost-effective to import many fruit items because the labor costs are cheaper in other countries.
Remember that fruit must be free of any visible sign of diseases. Testing of perishable fruit is performed by taking samples of imported fruit. Once laboratory testing from health and FDA safety officials receives a passing grade, the food import customs clearance process can begin in earnest.
File Notice for Fruits Ahead of Time
Many countries demand prior notice for importing fruits, melons, peel of citrus and more before the arrival of goods can enter the port of entry.
Nutty for Nuts
Countries have different importing requirements for edible fruit and nuts. This includes melons and peels of citrus. Nuts are more versatile and come from more countries around the world. A certificate of origin is needed for all edible fruits and nuts.  In particular, these are the nutty mainstays:
South American countries: Brazil nuts

Africa: Cashews

Africa, India and Vietnam: Spanish pine nuts and Guatemalan macadamias
Food Import Penalization
If any fruit and nut imports do not meet food import process qualifications, those foods can be destroyed or removed from the country. Fines can incur, as well as costs involved with shipping the food imports back to the country of origin. Avoid these issues by hiring a Licensed Customs Brokers to make sure all of your import paper is correct and your American food imports timeline is not delayed.
How to Import Seafood to USA
The United States imports billions and billions of seafood from all over the world each year, particularly from China. China ships us farm-raised tilapia, shrimp, salmon and catfish directly from their shorelines each year. Other imported seafood includes:
Haddock

Grouper

Whiting fish

Red bream

Squid

Flounder, Atlantic cod

Lobster

Crab
The FDA ensures your U.S. seafood imports are safe for American consumers. Imported seafood safety measures include:
Inspecting filers of seafood imports

Inspections of seafood importers

Sampling of imported food products

Inspection of foreign food processing facilities

Assessing country program assessments

Reviewing information from all foreign food import partners
Importing Honey and Bees to USA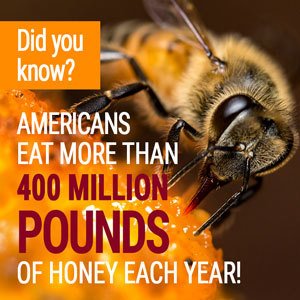 Did you know the U.S. produces more than 200 million pounds of honey annually? And altogether, Americans eat more than 400 million pounds of honey a year! Honey and honey bees are big business in the world of importing.
Importing Honey from China
Be wary of importing honey to US borders that comes from China. Chinese beekeepers use antibiotics to stop a bacterial infection from ruining the honey industry decades ago. The problem, though, is that the antibiotic, known as Chloramphenicol, is outlawed in the U.S.
The drug still finds its ways onto U.S. shelves though. China can ship its honey imports to other countries before the honey is then shipped to the U.S. under a different country of origin. Importers should check labels closely for honey imports and make sure they have one single ingredient: Honey.
Packed Honey Labeling Requirements
The United States Department of Agriculture (USDA) requires the following on its honey labels to pass import inspection:
A grade, sampling or continuous inspection mark

The country of origin

Words that are legible and in English

The words "Product of," followed by the country where the honey came from
Importing Bees
The Animal and Plant Health Inspection Service (APHIS) does not monitor the transfer of bees as long as they are moving within the United States. However, bees are not allowed to be imported to Hawaii from the continental United States. Canada also does not allow the importation of honey bees from the United States.
You can never import the following to the U.S. from other countries:
Dead bees

Honey for bee feeding only

Beeswax for beekeepers

Pollen used for bee feeding
If you obtain the proper permit, you are allowed to import royal jelly to the U.S. for bee feeding for scientific reasons.
Bee Inspections
Importation of live bees involves the queens, plus package bees or attendants only.  This means a queen plus three to five pounds of worker bees that are packaged appropriately. The export certificate must outline any diseases, subspecies or parasites that were found during an inspection. Shipments will be refused entry if they contain alarming diseases such as the Thai sacbrood virus
You should always check the General Shipping Requirements for Honey Bee Importing to make certain both the country and the bees you seek to import into the U.S. are on the list. Follow the following honey bee shipping requirements to make your importing bees to USA borders is a successful one:
Non-stop flights only for bees coming to the U.S. for bee importing inspections.

Provide full flight information

Notify APHIS headquarters of your bee shipment 10 days before importing begins. Include the full name, address, and phone numbers of both the consignee and consignor.

You need a honey bee import certificate from the birthplace of the bees, along with a manifest detailing your entire shipment.

Have a "Live Bees" sticker on every side of the package. Letters must be at least 1-inch tall.

You must submit a 10-day notification and a zoo sanitary certificate to the APHIS before the package arrives in the U.S. This mandate exists for express package delivery services too.

Schedule an inspection and a transfer for pickup of your bee imports once the bees arrive at the airport. You should also schedule a time for a Licensed Customs Broker to pick up the bees and ship them to your approved pick-up spot.
What Foods are Imported Into the United States Most Frequently?
So what foods are imported into the US? More than you think. The United States is made up of nationalities from all over the globe so American consumers love importing food into the U.S. Check out our most popular imported food products list from the U.S. Department of Commerce and U.S. Census Bureau below:
The Most Imported Types of Food in U.S. Markets
Live meat animals

Meats

Fish and shellfish

Dairy

Vegetables

Fruits

Nuts

Coffee, tea and spices

Grains

Candy and sugar

Chocolate and cocoa

Beverages

Liquor
US Food Import Statistics
Fruits vegetables, wine, tree nuts, cut flowers, essential oils and other agricultural imports make up more than 45 percent of U.S. agricultural imports.
The following nine food imports are in highest demand for American consumers because enough of these products can't be made within the country's own borders to keep up with demand:
Did you know that 20 percent of the country's food supply can be broken down into two sections?
70% seafood

35% fresh produce
Top Major Food Importers
Drum roll, please. The major players in the food importing business are:
Germany

China

Japan

United Kingdom

Netherlands

France

Italy

Canada

Belgium

Spain
FDA Approved: How Do You Get that Label
FDA Approved. Those two words mean everything in the food business. So, how do you get the U.S. Food and Drug Administration (FDA) to give you the blessing for that phrase?
Remember that the FDA does not test products or inspect food. Food importers and manufacturers of food must make sure their facilities and plants are registered with the FDA unless they have an exemption that doesn't require it. Registering to become an FDA facility means your food process and products meet requirements that can lead to customs approval.
FDA Approves Certain Food Additives
In spite of the fact that FDA does not have premarket endorsement of nourishment items, it has the expertise to support certain food additives. Those incorporate additives for coloring and for taste quality.
FDA specialists audit food additives to make sure they are safe and meet certain restrictions.
Coatings, plastics, paper and types of cement, and additionally colorants, antimicrobials, and cancer prevention agents found in bundling can sometimes find their way into food from additives. The FDA must perform tests to make sure this doesn't occur and the foods can be sold legally and are safe for consumption.
FDA Approves Color Additives
This incorporates color additives utilized as a part of nourishment and dietary supplements. These shading added substances are subject by law to endorsement by the FDA, and each must be utilized for its proper use. In the endorsement procedure, the FDA assesses wellbeing information to guarantee that shading added substance is approved for its planned purposes.
FDA Endorses Animal Drugs and Food Additives
The FDA is in charge of approving drugs for creatures, including pets, animals, and poultry.
In spite of the fact that FDA does not favor creature food additive, including pet additives, it approves nourishment added substances utilized as a part of these items. The FDA attempts to help guarantee that nourishment for creatures (which incorporates domesticated animals and poultry sustenance, pet sustenance and pet treats) is protected, made under clean conditions, and legitimately named.
The FDA Food Safety Modernization Act (FSMA) requires additive organizations to find a way to keep nourishment from being contaminated. The FSMA makes sure you use sterile procedures, satisfactory sanitation and approved hardware when making additives for creatures.
FDA Does Not Support Dietary Supplements.
Dietary supplements are not looked into and endorsed by the FDA in light of their security and viability. Unless a special case applies, dietary supplements that contain another dietary fixing (a dietary fixing not advertised in the United States prior to Oct. 15, 1994) require a warning to the FDA no less than 75 days before showcasing.
The FDA Assesses Food Through Research
The FDA doesn't endorse the food additive name, including the Nutrition Facts board.
The FDA also does not endorse singular additive names before additive items are approved. However, FDA controls require data to show up on most additives, including dietary supplements. Additionally, any cases on food items must not contain false information.
Producers must give the serving size of the additive and determined data about the supplement substance of each serving on the "Nutrition Facts" board of the food.
Abuse of FDA's Logo may Damage Government Law.
The FDA's logo can only be used for food that has been approved for consumer use in the United States.  The FDA's logo can't be utilized to distort the office or to propose that the FDA underwrites any food item.
Top 10 Food Imports Americans Crave
What is the most imported food in U.S. states that consumers love to eat?
Coffee, spices and cocoa

Fish

Shellfish

Fresh fruits

Fresh juices

Sugar

Wine

Vegetable oils

Fresh vegetables

Processed vegetables
Food Safety Regulations You Must Follow
Importers of food products are responsible for making sure there U.S. food imports are safe, clean and labeled properly according to all FDA and other U.S. requirements.
Food importers can actually import food products into the U.S. without prior approval by the FDA. This can only occur, though, if the food imports are being housed, reviewed and handled in facilities that are registered by the FDA.
The FDA will review food imports when they are ready for inspection at US ports of entry. Both imported and domestic-grown food must meet the same food inspection requirements.
American food imports must also pass the following tests:
Import Program of the FDA
Food imports are increasing 5 percent to 10 percent a year every year. The FDA works vigorously to electronically screen United States food imports being handled through the U.S. Customs and Border Protection (CBP).
Chapter 5 of the FDA Inspections, Compliance, Enforcement and Criminal Investigations Manual will help you plan ahead to pass your food imports inspection.
Prior Notice of Imported Foods
The FDA mandates that all imported food receive prior notification. This notification must be sent before foods reach ports of entry. This allows the FDA and CBP officials to prepare for inspections and secure food supply within U.S. borders.
If the FDA does not receive prior notice of imported foods, your food imports can be refused entry and may be destroyed or sent back to the country of origin.
Prior notice is needed for:
Baby formula

Animal and pet food

Live food

Fish and other seafood

Dairy

Eggs

Beverages, including bottled water and alcohol

Food additives and supplements

Fruits

Vegetables
The FDA Food Safety Modernization Act enforces this rule.
What is the Food Safety Modernization Act?
The Food Safety Modernization Act was created to keep our country's food supply safe. That's because every year, more than 45 million Americans suffer from a foodborne illness.
The legislation orders the FDA to oversee a system of food safety oversight. The act does the following:
Evaluates hazard operations

Implements procedures to decrease food contamination

Take actions when necessary to fix food enforcement rules

Allows the FDA to perform mandatory food recall procedures

Establish standards for safe harvests of fruit and vegetable crops

All high-risk facilities receive inspections within five years and follow-up inspections at least every three years

Improve training for safety officials
New FDA Safety Rules: The PREDICT SYSTEM
The FDA also started a new system that screens imports called the Predictive Risk-based Evaluation for Dynamic Import Compliance Targeting (PREDICT). This program makes the electronic screening process more efficient by focusing on products that have a higher risk of inspection needs. This makes the inspection process faster.
Foreign Inspections around the Globe
The FDA has ramped up its efforts to inspect your food imports globally. There are more foreign site inspections that work to inspect global food imports and protect the country's food supply chain. This program is ongoing and growing to handle food imports that are increasing 10 percent a year on average.
Foreign Country Assessments
Foreign country assessments are done regularly to help the FDA become more familiar with how other countries handle food imports. These assessments also help:
Target food imports and increase food sampling efficiency

Improve analytical methods

Make seafood inspections

Improve collaboration with other government entities to achieve faster food import compliance
Information Freight Forwarders of Foods Imported into the United States Want You to Know
Cargo forwarders get numerous booking demands for food shipments from everywhere throughout the world into the USA all year long. Importers looking to import food into the United States need to comprehend procedures cargo forwards use every day. Bringing in food is a more confusing process than bringing in different items because of the way that these items are identified with general wellbeing and security measure requirements. .
Foods imported into the United States must meet requirements as food made in the U.S. controls from sustenance created in the USA. The food can't contain illegal ingredients. Additionally, the naming and bundling is extremely vital. All food bundling and marking must be accurate for customs clearance approval. Mistaken bundling is one reason that your holder can be hailed by U.S. Traditions and Border Protection (CBP) for examination. What does this mean for you? Food imports are not allowed into the U.S.
Bug Control Tips
Bugs and other insects represent a danger to U.S. markets and to the nation's animal/food industry. Imported food with any indication of sickness could affect the nation's domesticated animals, which could:
Upset U.S crop production

Reduce domesticated animals

Prompt expanded expenses for meat and dairy items

Cause trees and grass to be wiped out domestically
Fun truth: CBP Agriculture Specialists stop a huge number of remote pests from entering the U.S. every year.
File the Proper Import Documents
The key to speedy customs clearance is filing the proper import paperwork. All forms need to be filed in the English language. Lastly, it's time to make sure you have these important documents in hand for customs agents to review at U.S. ports of entry:
Filing of Prior Notice
Did you know that all food and drink imported projects mandate that a Filing of Prior Notice is registered with the FDA? The best way to handle this, especially for novice importers and distributors of food worldwide, need to register with the FDA before food imports can pass clearance in other countries.
Arrival Notice
Arrival notices are basically goods news announcements. Think of them as modern-day telegrams that let you know when your goods are ready to be picked up at your designated port of entry.
Once you make an appointment to pick up your food imports, your arrival notice will be delivered.
Packing List
Why do they call it a packing list when it's really a checklist? We don't know. But you have to have the packing list to clear customs. Freight forwarders and shippers use the packing list to double check that your imports are ready to go. Customs officials also count on this document to check and double check your car imports.
Bill of Lading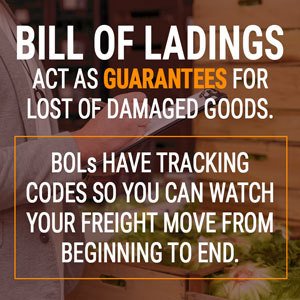 Bill of ladings (BOLs) act as guarantees for lost or damaged goods. BOLs also have numeric tracking codes you can use to watch your freight move from beginning to end.
Commercial Invoice
Commercial invoices contain the following:
Location where the product was manufactured
Buyer and seller information
The manufacturer that made the product
Incoterms Make Customs Clearance Possible
The ABCs of importing is as simple as three little letters. Used at home and overseas, these letters known as Incoterms tell a customs agent everything they need to know about your goods transactions. Customs agents utilize Incoterms to speed through the food import process.
Find a Port of Entry
Ports of entry on the east coast or west coast of the United States can be selected at any time for your food imports with a continuous bond. The location you pick is crucial for food imports that can spoil if they do not reach their final destination in time.
Sign a Power of Attorney
When you sign a power of attorney, Licensed Customs Brokers can:
Make importing and exporting transactions for you
Endorse your bill of ladings (BOLs)
Sign documents and perform clearance work for your imports
Act as your authorized customs agent for exporting needs
Be your guarantor for required  bonds
Countries around the World Have Different Importing Laws
Foods imported into the United States come from around the world. Remember that every country has its own importing regulations. When you are importing food from other countries, you must follow the rules set forth by customs agents in those countries before you can handle your importing business in America.
Connect with a Licensed Customs Broker
Licensed Customs Agents help you whiz through the customs clearance process during the food importing process. When you are importing food into the United States, Licensed Customs Brokers handle your food requirements and alleviate any importing restrictions you may come across.
Use a Customs Broker when:
Food needs to cross borders fast so it doesn't spoil.

You must meet food crop deadlines.

You need to move through the customs clearance pipeline with the U.S. Customs and Border Protection (CBP) without any problems.
The Customs Bond Type that Works for Your Needs
Were you aware there are a couple of customs bond types available to you as an importer? Use the customs bond type that molds to your business model best for your food imports.
What is a Single Entry Bond?
Single entry bonds are helpful for those seeking to import freight every so often to a US port of entry. Single entry bonds are typically utilized for import shipments that occur less than four times a year and have low-cost value.
What is a Continuous Bond?
Continuous bonds are the best form of action for importers that move shipments with high-cost value throughout the year. US customs continuous bonds work great for importers moving several import shipments around the world every year through multiple ports of entry. Even better? Continuous bonds are renewed automatically so you can focus on your importing tasks.
Purchase a Customs Bond Today
You need customs bonds when you are importing food into the U.S. are required for vehicle imports. We can help you assess your importing needs and select the customs bond type that works for you. We also offer cargo insurance through our network of supply chain companies. Let us assist you with obtaining additional insurance that protects you and your overseas imports.
Utilize a Licensed Customs Brokerage Service
Is the thought of importing food into the U.S.  still overwhelming for you? That's OK. Contact AFC International so our Licensed Customs Brokers can walk you through the process of you United States food imports. The importing skills that a Licensed Customs Agent offers make the importing customs clearance process much easier for you.
AFC International offers a variety of customs brokerage services that work seamlessly to create an importing business model that helps you thrive. Do you have any questions for us? Click the bottom right box to chat and we can answer you immediately! Clear customs easily with us today by requesting a customs bond quote! We are here to serve you!